Who else loves throwing some things into a crockpot and coming back a few hours later to pure greatness? These Crockpot Buffalo Chicken Meatballs are super easy and so tasty. My husband loved them and kept telling me how good they were. At one point he even asked me what was in them. Did I mention that they are also Whole30 and Paleo? I'd say that's a win!
We love football Sundays in our house and look forward to football season all year round. So, I am always trying to come up with recipes to make for football Sunday's and this one is going to be on heavy rotation.
If you don't already know, I love anything with buffalo sauce, like my Bacon Wrapped Buffalo Chicken Jalapeńo Poppers and my Healthy Buffalo Chicken Dip.
Sunday's are usually a pretty lazy day at my house, so I wanted this recipe to be super easy. There is hardly any thought that has to go into this recipe, which I love recipes like that on the weekends. All you need to do is throw the ingredients together in a bowl, roll the mixture into meatballs, place them in the crockpot, cover them in buffalo sauce, and that's it!
Tip:
On another note, this mixture is a bit sticky. No worries! Even though the mixture will seem a little sticky, they will hold up just fine in the crockpot. The way to keep them from totally sticking to your hands while you're rolling them is to keep your hands wet! Keeping a small bowl with water next to you is an easy way to get your hands wet when they start sticking too much. I like to line the whole bottom of the crockpot with the meatballs. If I run out of space, then I will start layering them on top of the other meatballs. Depending on how big you roll your meatballs, you may have to layer some on top.
Also, this recipe calls for ground chicken thighs because they have more fat and flavor than chicken breasts. You can totally try the recipe with ground chicken breast but the meatballs may end up being a little dry.
Finally, I love serving these Crockpot Buffalo Chicken Meatballs with Tessemae's Creamy Ranch to keep them Whole30 compliant. Also, I either use Franks Original Hot Sauce or Crystals Louisiana Hot Sauce because they are both Whole30 compliant.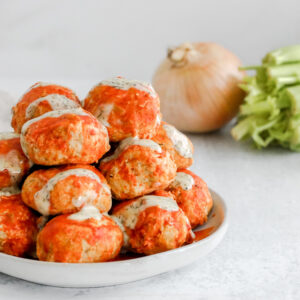 Crockpot Buffalo Chicken Meatballs
An easy Crockpot Buffalo Chicken Meatball recipe that's great for parties or tailgates
Ingredients
2

lbs

ground chicken thigh or dark meat

12

oz

hot sauce

I use Crystal's or Frank's Original Hot Sauce

1

cup

almond flour

1

egg

1

celery stalk diced

1/4

cup

diced onion

2

tsp

garlic powder

1

tsp

onion powder

1

tsp

dried dill

1

tsp

pepper

1/2

tsp

salt
Instructions
Mix the ground chicken, almond flour, egg, onion, celery, onion powder, garlic powder, dill, salt, and pepper together in a large mixing bowl

Taking small amounts of the mixture, roll the mixture into 2-inch meatballs (this is a personal preference on how big you want your meatballs and be sure to keep your hands wet to help the mixture from sticking to your hands)

Line the bottom of your crockpot with the rolled meatballs. If you run out of room, start stacking them on top of the bottom layer

Pour the hot sauce over meatballs

Set crockpot to high and cook for 2 hours or 4 hours on low
Notes
The mixture is pretty sticky so make sure to keep your hands wet while rolling it into balls. I like to keep a small bowl of water next to me to dip my hands in while rolling the meatballs
After taking the meatballs out of the crockpot, either skim the fat off the top of the buffalo sauce or strain it in a fine mesh strainer and serve the sauce on the side of the meatballs with a side of ranch
Using ground chicken thighs or dark meat will keep your meatballs moist. If you use ground chicken breast or ground turkey your meatballs might try out a bit dry