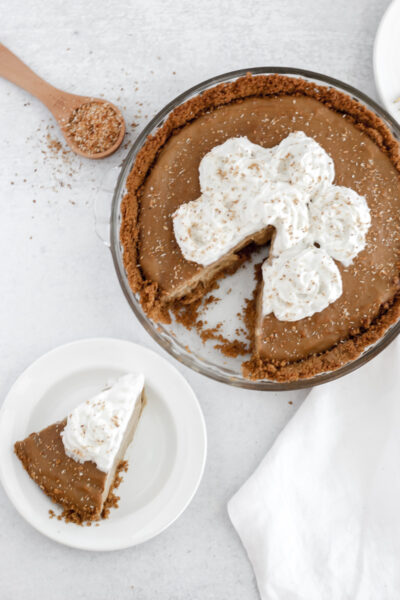 Yall, this Easy Gluten and Dairy Free Coconut Cream Pie is simply amazing! If you follow along with me on Instagram then you saw me make this for Brent's birthday the other week. It's SO easy!
About 7 years ago I started a tradition of making Brent a coconut cream pie on his birthday. Coconut cream pie is Brent's favorite dessert so it seemed fitting to make one on his birthday. As the years have gone on we have changed our way of eating a lot. We try and eat clean ingredient foods, gluten free, and dairy free. Don't get me wrong we still splurge on the weekends! We only live once right?! So each year I have tried to change up Brent's birthday pie to fit more into our lifestyle. I must say that this year I hit it out of the park!
This Easy Gluten and Dairy Free Coconut Cream pie will forever be the birthday pie now. I adapted the recipe from All Recipes and it came out perfect!
A few things you are going to need to make this gluten and dairy free are Bob's Red Mill Gluten Free 1-1 Baking Flour, coconut sugar, ghee, NutPods Oat Creamer Original (use code KALEENAS.KITCHEN for 15% off your first order), Reddi Wip Non-Dairy Coconut Milk Whipped Cream, and gluten free graham crackers. The graham crackers I used were these Kinnikinnick graham crackers and they were great, but you can use whichever ones you like. Also, the pie is going to have a brown/tan color which is totally normal. The color is because you are using coconut sugar and not white sugar. It will all be covered in whipped cream so who cares what color it is, it still tastes amazing!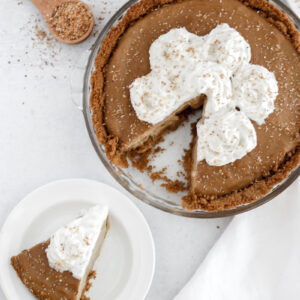 Easy Gluten and Dairy Free Coconut Cream Pie
Easy Gluten and Dairy Free Coconut Cream Pie
Ingredients
3

cups

NutPods Original Oat Creamer

2

eggs

3/4

cup

coconut sugar

1/2

cup

gluten free flour

I use Bob's Red Mill Gluten Free 1-1 Flour

1

cup

unsweetened shredded coconut

Reddi Wip Non-Dairy Coconut Milk Wip Cream

for topping the pie
For the crust
1

box

gluten free graham crackers

2

tbsp

cocout sugar

6

tbsp

melted ghee
Instructions
For the crustPreheat oven to 350Combine the graham crackers, coconut sugar, and melted ghee into a food processor and pulse till combined and crumbledPour crumbs into a pie dish and press crumbs firmly into the dishBake for 8-9 minutesFor the pieCombine the creamer, eggs, sugar, and flour into a saucepan and bring to a low boilWhisk together for about 3-4 minutes or until the mixture has formed a custard-like consistencyPour the filling into the cooled pie crust and place in the refrigerator uncovered for 3-4 hoursBefore serving, toast coconut under the broiler for 3 minutes or until brownedTop the pie with whipped cream and toasted coconut
Notes
The pie will have a tan/brown color which comes from the brown coconut sugar.