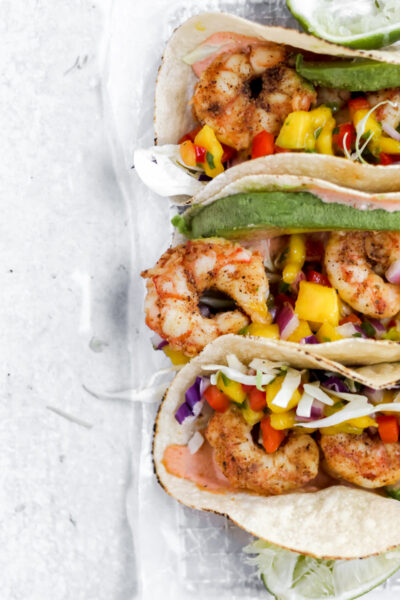 I love these Paleo Shrimp Tacos so much. They are perfect for a summer weeknight meal!
Who doesn't love tacos? I feel like tacos are always our go to meal. Any type of seafood tacos I pretty much love, but these Paleo Shrimp Tacos have to be my favorite.
There is this little hole in the wall taco place in Austin, Paco's Tacos, that has the best tacos! They have a taco on their menu called the Gringo which is my all time favorite taco. Well, that is how I came up with these Paleo Shrimp Tacos. These tacos have the perfect combination of seasoned shrimp, mango pico (mango salsa some might call it), avocado, cabbage, and chipotle mayo.
Do you feel like you eat a little lighter in the summer? I know I do! There are so many amazing salads, cold salads (my Whole30 BLT Chicken Salad is a summer favorite), ceviche, the list goes on and on. One of the reasons I love these tacos so much is they have a summer lightness to them if that makes any sense.
Mango Pico
The star of these tacos has to be the mango pico! If you haven't tried mango pico before, get ready to blow your mind. Mango pico is just a fun twist on traditional pico de gallo. It's super easy to make from scratch or if you're lucky like us here in central Texas, then HEB makes some from scratch and sells it in their produce section. Buying the pre-made mango pico is a nice little hack if you're short on time. Making mango pico is not hard at all and it goes great on pretty much everything! All you have to do is mix together a diced mango, 1/2 of a red bell pepper diced, 1/4 cup diced red onion, 1tbsp finely diced jalapeno, 1/4 roughly chopped cilantro, and the juice of half a lime.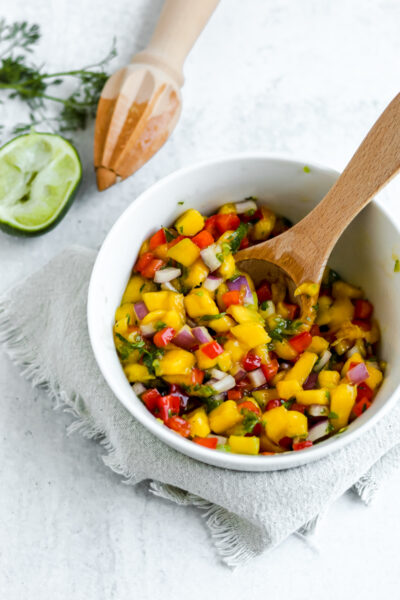 Keeping It Paleo
Keeping these tacos paleo is super easy. The tortillas that I use are Siete's Cassava Flour Tortillas, which are amazing! A little tip when it comes to using the tortillas, heat them up before using them. I like to heat mine up on the direct flame of my gas stove. It gives them the best texture! If you don't have a gas stove you can heat them in a pan on your stove or even just microwave them. I do think their texture is better when heated up on a gas stove or in a pan on the stove.
The other key thing to keeping these tacos paleo is the mayo that you use. Most mayonnaise on the market isn't paleo approved, but Primal Kitchen's Avocado Mayo and Chosen Foods Avocado Mayo are!
If you are doing a Whole30 or just want to keep the carbs down, you can totally make these into lettuce cups and they are just as good!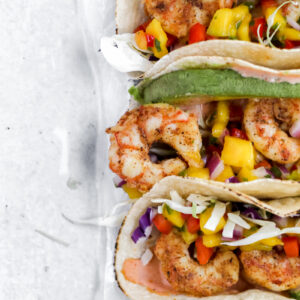 Paleo Shrimp Tacos
These Paleo Shrimp Tacos are topped with a homemade mango pico de gallo and a creamy chipotle mayo sauce. They are perfect for a weeknight meal!
Ingredients
1/2

lb

wild caught shrimp peeled and deveined

4

Siete tortillas

1/8

tsp

garlic powder

1/8

tsp

cumin

1/8

tsp

chili powder

1/8

tsp

salt

1/8

tsp

pepper

1/2

cup

shredded cabbage

1

avocado
Mango Pico
1

mango diced

1/2

large red bell pepper diced

1/4

cup

diced red onion

1/4

cup

chopped fresh cilantro

1

tbsp

finely diced jalapeno

optional

1/2

lime juiced
Chipotle Mayo
1

tbsp

mayo

1/2

lime juiced

1/8

tsp

chipotle powder

pinch

of salt
Instructions
Mix mango pico ingredients and set aside

Mix chipotle mayo ingredients and set aside

Add a drizzle of avocado oil to a pan and heat to medium heat

Place shrimp in the pan and sprinkle with garlic powder, cumin, chili powder, salt, and pepper

Cook shrimp until pink (about 5-8 minutes)

Heat tortillas till slightly crisp

Spread chipotle mayo evenly onto the tortillas

Top with shrimp, cabbage, mango pico, and avocado