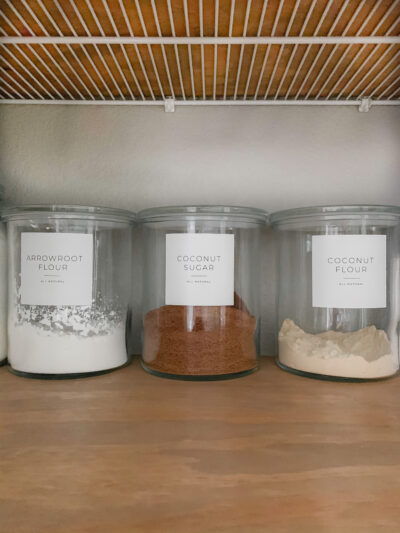 When I shared my pantry on my Instagram Stories the other day I got so many questions. Yall loved my jars and labels so I thought I would share all the info on My Kitchen Pantry with you.
I have kept all my flours in jars for about 5 years but it was time for an upgrade. The jars that I had before were a little small and had labels that I made myself on my computer.
For the last few months, I have been on the hunt for the perfect jars to replace my old ones. There are so many cute jars out there but wow they are expensive. I found the perfect ones but of course, this was all going on during quarantine and they wanted $49 for shipping!! Heck no!
After things opened back up, I went to grab these jars and I 'm so glad I waited to get the ones that I wanted. I love them so much! I got two different sizes for my pantry flours, large and medium. The large containers are used for the things I use the most, like almond flour (I use almond flour to make my Crispy Buffalo Chicken Breast all the time).
When I got my jars, it was time to get some labels made! I knew I wanted to have labels made this time instead of making them on my own. There is an Etsy shop that I used to make these custom labels and they are amazing. I am in love with My Kitchen Pantry.
Jars:
Custom Labels:
Minimalist Custom Pantry Labels