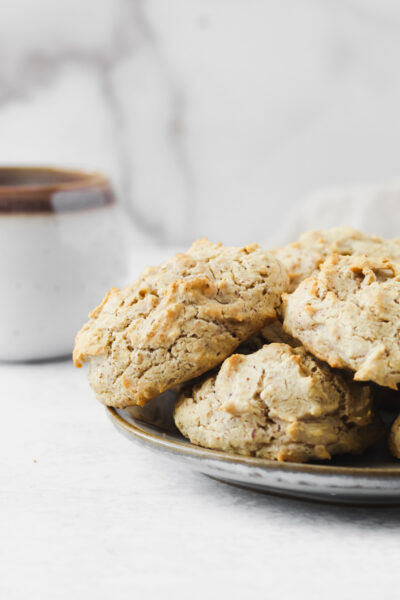 Oh my goodness. These Easy Paleo Drop Biscuits have changed my life! That's a pretty bold statement but it's true.
Growing up in the south, biscuits are a part of almost every dinner. I remember my mom would always make a batch of biscuits for dinner each night. She of course made the biscuits from the tube but they were always my favorite part of dinner.
Not only did we eat biscuits with every dinner, my ALL TIME favorite breakfast dish is biscuits and gravy. There is this hole in the wall breakfast place in my hometown that makes the best biscuits and gravy. I grew up going there regularly and miss it so much! To be honest, it's made me a bit picky with the dish. I order it out on occasion and am always disappointed because nothing will compare to theirs. Since I can never find a restaurant that makes biscuits and gravy that I like, I have just given up eating it. Until now!
I have been wanting to come up with an easy dairy free, gluten free, paleo biscuit for a while. I finally tried a version of this recipe a few weeks back and was pleasantly surprised. The recipe needed some tweaking, so I made another batch and changed some things and they came out perfect!
One of the things I love about these easy drop biscuits is that you can serve them up with some ghee with your dinner, slather them with jam with your breakfast, or pair them with dairy-free sausage gravy for delicious biscuits and gravy!
Making Easy Paleo Drop Biscuits:
Making biscuits can be super intimidating, but drop biscuits are so easy! These Easy Paleo Drop Biscuits are so simple you will be shocked how easy they are to make. Drop biscuits are great because just like the name, you simply drop the batter on a baking sheet with a spoon. There is no cutting into the dough or having to use a biscuit cutter!
This recipe is pretty much as simple and easy as you can get. All you need to do it mix the ingredients into a mixing bowl and spoon the dough onto a parchment paper lined baking sheet.
You will see that the recipe calls for chilled coconut oil. DO NOT skip this step. If you have ever read a biscuit recipe you will see they all call for chilled butter to be cut into the dough. Since we aren't using butter, you need to chill the coconut oil. The first thing I do when starting to make these Easy Paleo Drop Biscuits is to put the coconut oil in a bowl and stick it in the freezer while I get the other ingredients together. Putting the coconut oil into the freezer for 5 minutes will do the trick!
Also, I like to use NutPods Original Creamer for the milk in this recipe, but any nut milk or oat milk should work!
Paleo Baking Powder:
I want to make a quick note that this recipe calls for baking powder. Baking powder is technically not paleo. If you are doing strict paleo then you can make your own, which is super easy. To make your own you need to mix 1 part baking soda to 2 parts cream of tartar. Since this recipe calls for 2tsp baking powder you would mix 1/2tsp baking soda with 1tsp cream of tartar.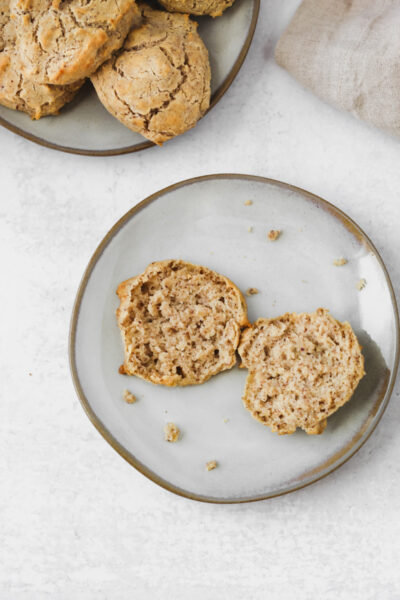 Looking For More Side Dishes? Check These Out:
Maple and Bacon Brussel Sprouts
Garlic and Rosemary Roasted Red Potatoes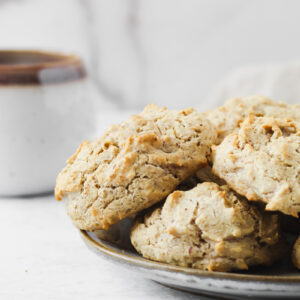 Easy Paleo Drop Biscuits
Easy Paleo Drop Biscuits that are perfect for serving with your dinner or with jam from breakfast!
Ingredients
3/4

cup

cassava flour

1

egg

3/4

cup

nut milk

I use NutPods original creamer

2

tbsp

flaxseeds

2

tbsp

chilled coconut oil

put in the freezer for 5 minutes to chill

1

tbsp

tapioca flour

2

tsp

baking powder

to keep this strict paleo, mix 1/2tsp baking soda with 1tsp cream of tartar

1/2

tsp

salt
Instructions
Preheat oven to 450

Add 2tbsp of coconut oil to a small bowl or dish and place in the freezer for 5 minutes

While the coconut oil is chilling, add the remaining ingredients to a mixing bowl and stir or whisk together

Stir the chilled coconut oil into the batter

Using a big spoon, spoon 2x2 sized biscuits onto a parchment paper lined baking sheet

Bake for 15 minutes
Notes
make sure to chill the coconut oil in the freezer while you get your other ingredients combined in a bowl then add it to the dough (chill the coconut oil for about 5 minutes in the freezer)
I use NutPods Original Creamer in this recipe but it should still work with your favorite nut milk or oat milk
You can make your biscuits bigger if you want big biscuits. I would just watch the cooking time. You may need to add some extra time