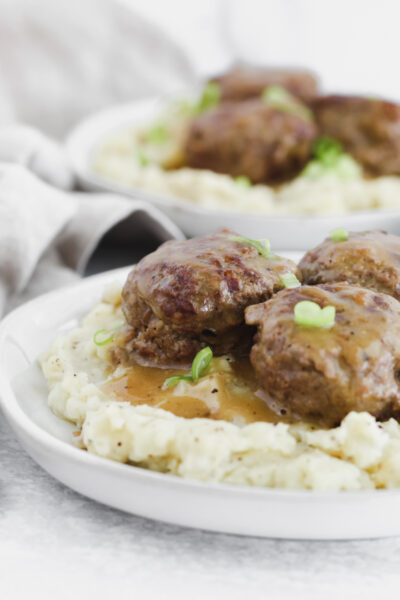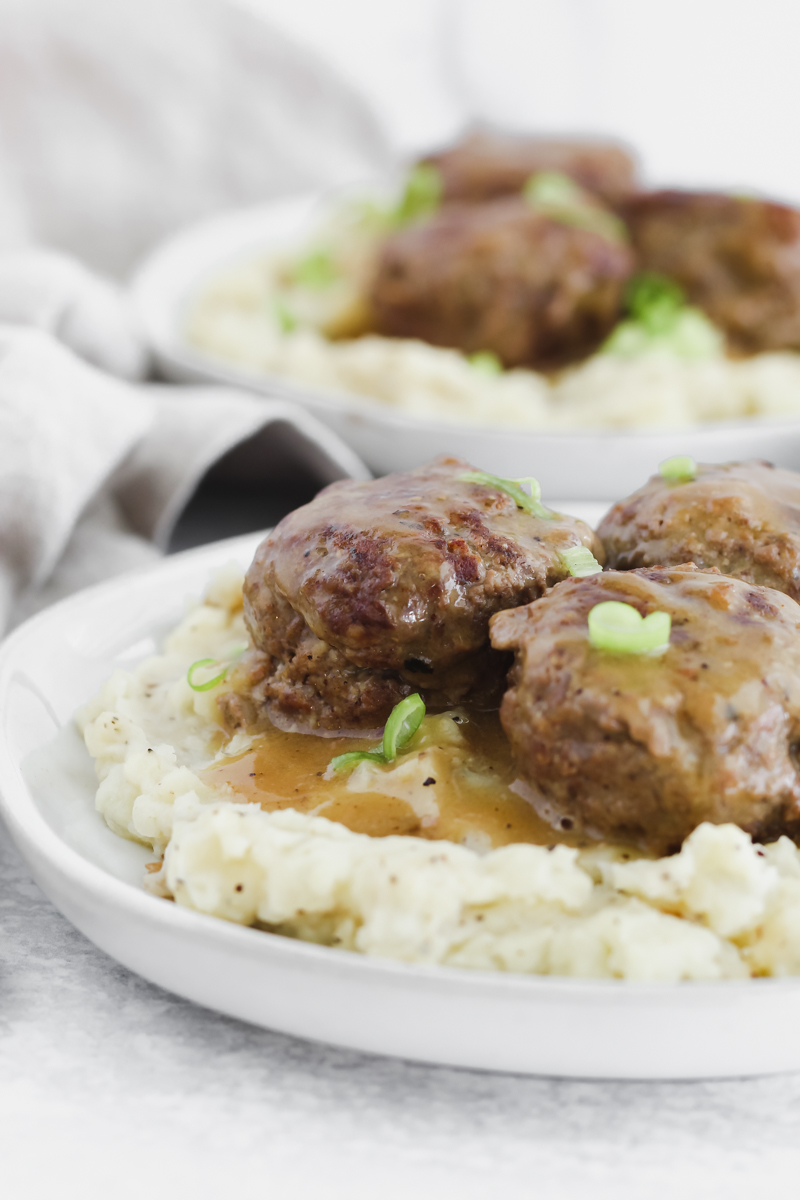 I have to confess something to you, I use to live on Lean Cuisines. By live, I mean literally every night that was my dinner and sometimes even my lunch! My all-time favorite Lean Cuisine was Swedish Meatballs. So naturally, I had to come up with a gluten-free, dairy-free, and Whole30 Savory Swedish Meatballs and Mashed Potatoes recipe.
As we head into fall, this recipe is perfect for a crisp fall evening. It is so full of flavor and gives you all the warm cozy feelings of true comfort food.
I make these meatballs with ground bison but you can totally make them with ground beef! If you watch my stories on Instagram then you hear me talk about eating ground bison a lot. Within the last year or two, I have made the switch from buying ground beef to buying ground bison. I'll fill you in on why.
Bison vs. Beef
First let me say, bison isn't as hard to find as you think it is. My local HEB store sells ground bison and so does Whole Foods and Sprouts.
To me, one of the most surprising differences between bison and beef is that bison has 25% fewer calories and is lower in total saturated fat than beef. I would have never thought there would be that big of a difference between the two.
Since bison has less fat, the fat marbling is finer which makes it softer and more tender than beef.
Another big difference between the two types of meat is that bison is more likely to be grass-fed and sustainably sourced than beef. Beef is more likely to be gain fed and factory-farmed.
Making The Meal
Making these Savory Swedish Meatballs and Mashed Potatoes may seem like a lot of work, but it isn't so bad. It may take a little more time and have more steps than a fast and easy meal but let me tell you it's worth every minute!
First, you'll start by adding all your meatball ingredients into a bowl and combining them together. Then you will roll the mixture into 2-inch sized meatballs (or whatever size you prefer) and place in a hot pan.
While the meatballs are cooking, you will cut your potatoes and add them to boiling water. By the time your potatoes are done boiling your meatballs will already be done.
Once your meatballs are done you will remove them from the pan and start making your gravy in the same pan you cooked the meatballs. Once you add the gravy ingredients to the pan you will let it cook and thicken up for about 5-6 minutes.
When the gravy is done, you will add the meatballs back into the pan with the gravy and let them hang out on low while you finish your potatoes.
While your meatballs and gravy are hanging out together, you will add the rest of the potato ingredients in and either mash them together or pulse in a food processor. It's a personal preference! I tend to just mash mine so they don't get overly gummy.
Looking for more bison dinner ideas? Check these out: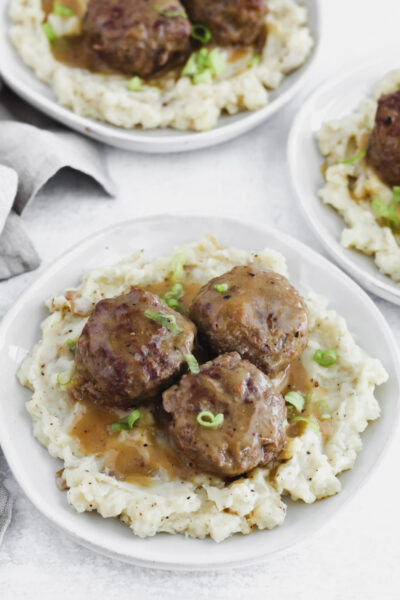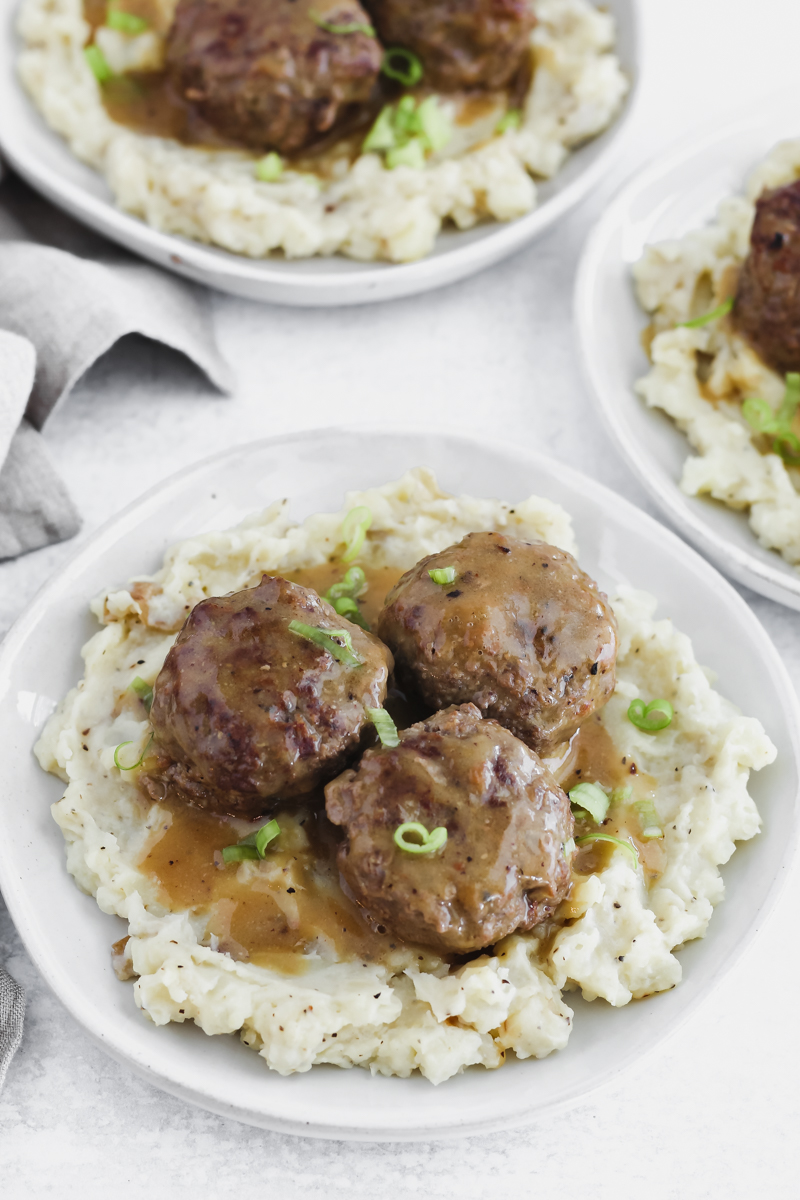 Print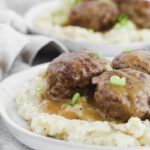 Savory Swedish Meatballs and Mashed Potatoes
---
Author:

Prep Time:

15 minutes

Cook Time:

30 minutes

Total Time:

45 minutes

Yield:

10

big meatballs

1

x
Description
This Whole30 Savory Swedish Meatball and Mashed Potatoes recipe is the ultimate comfort food dish
---
Scale
Ingredients
For the meatballs:
1

lb ground bison

1/4cup

almond flour

1

egg

1tbsp

ghee

1/4

unsweetened nut milk (I use Nutpods Original Creamer) 

1 1/2tsp

garlic powder

1/4tsp

allspice

1/4tsp

nutmeg

1/2tsp

salt

1/2tsp

pepper

2tsp

parsley
For the gravy
1/4cup

ghee

1tbsp

arrowroot powder

2cups

broth (chicken or beef broth would both work)

2tsp

dijon mustard

2tbsp

coconut aminos

1/2

unsweetened nut milk (I use Nutpods Original Creamer)
For the potatoes
1

lb yukon potatoes

1tbsp

ghee

1/2

unsweetened nut milk (I use Nutpods Original Creamer)

1/2tsp

salt

1/2tsp

pepper

1/2tsp

garlic powder
---
Instructions
Cooking the meatballs
Add all the meatball ingredients except for the ghee to a bowl and combine well
Add the ghee to a pan and heat to medium
Using your hands, roll the meatball mixture into 2 inch (or whatever size you prefer) sized balls and place in the pan
Cook meatballs for about 7 minutes and then turn them upside down and cook the other side for another 7 minutes
Once you have cooked both sides of the meatballs, using tongs, turn the meatballs on their sides and cook each side for 2 minutes then remove from the pan and place on a plate
Making the Gravy
To the pan that you cooked the meatballs, add the ghee and let it melt a minute or two on medium-low heat then whisk in the arrowroot flour and let cook for 2 minutes
After you have whisked in the arrowroot flour and let cook for a few minutes whisk in the coconut aminos, dijon, and nut milk
After combined, slowly add in the broth and whisk everything together
Let the gravy thicken for about 5 minutes whisking occasionally 
Once the gravy is thickened add the meatballs back into the pan with the gravy and turn the heat to low
Cooking the potatoes
Cut the potatoes into chunks and add to a pot halfway filled with boiling water
Let the potatoes boil till fork tender (about 15 minutes)
Once the potatoes are fork tender, drain the water and return the pot with the potatoes to the stove
Add in the ghee, nut milk, salt, pepper, garlic powder and mash together
Serve the meatballs and sauce over top of the mashed potatoes
---
Category:

Dinner

Method:

Stove
Keywords: whole30, swedish meatballs, mashed potatoes, gluten free dinner, dairy free dinner, gluten free, dairy free, comfort food