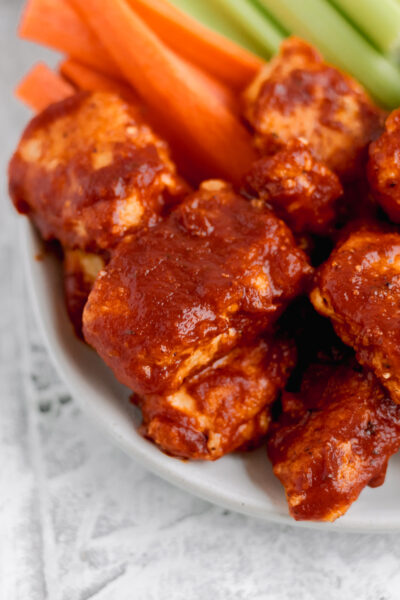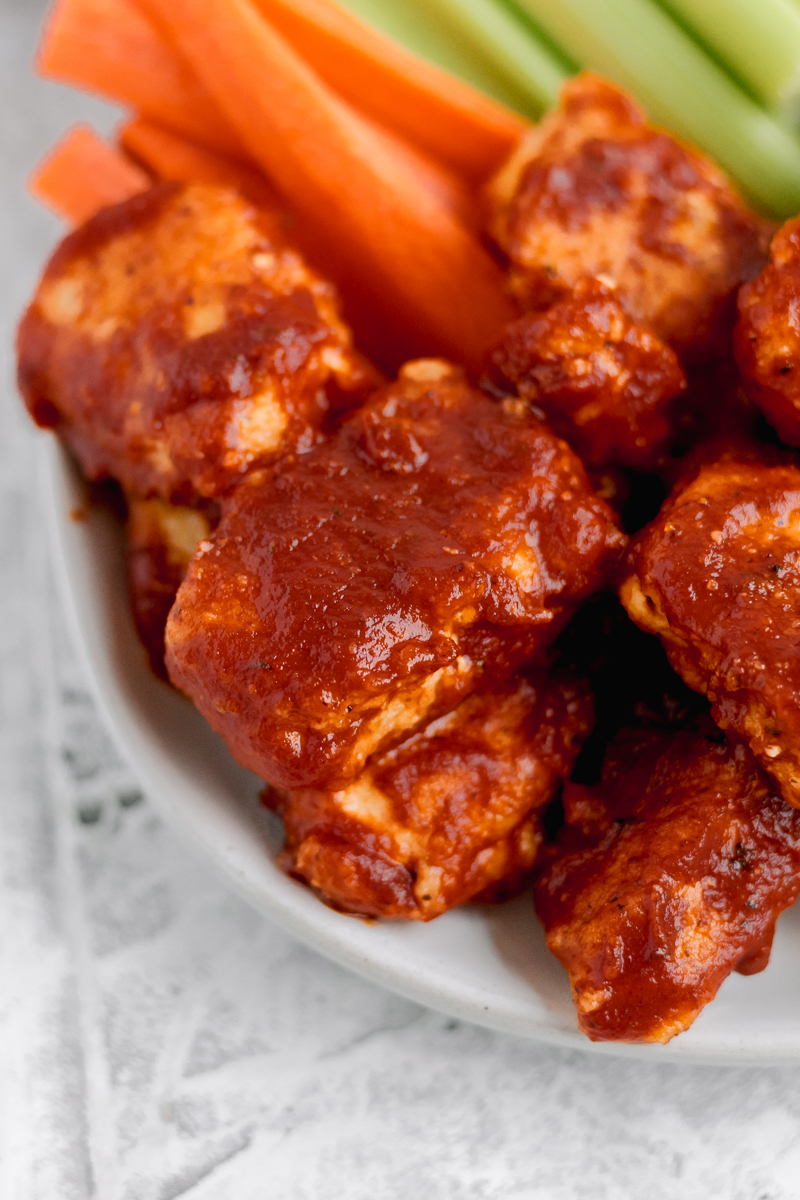 Boneless wings are one of my favorite types of wings. These homemade Whole30 BBQ Boneless Wings are packed with flavor and are perfect for game day!
Are boneless wings really wings?
Boneless wings aren't really from the wing of the chicken. These Whole30 BBQ Boneless wings are made with boneless skinless chicken breasts.
How to make Whole30 BBQ Boneless Wings?
Making boneless wings are easier than you might think. I use a mix of almond flour and tapioca flour to keep these boneless wings gluten free, Paleo, and Whole30. The BBQ sauce that I like to use is The New Primal Classic BBQ Sauce. In my opinion, it is the best Whole30 or Paleo bbq sauce that I have ever tried.
Here are the step for making boneless wings.
In a large mixing bowl, whisk two eggs
Cut 1lb of boneless skinless chicken breast into 1-1.5 inch chunks and add them to the mixing bowl with the whisked eggs
On a large plate, mix together 1/3cup of almond flour and 1/3cup of tapioca flour
Heat 2tbsp of avocado oil in a large pan to medium heat
Using tongs, one at a time take a piece of chicken and cover it in the almond flour mixture then place it into the pan. Try to not overcrowd the chicken. You may need to do this in batches.
Cook the chicken for about 5-6 minutes per side then set aside on a clean plate.
While the chicken is cooking, in a small saucepan add 1 cup of bbq sauce, 1/2tsp pepper, and 1/2tsp salt and turn the heat to low.
Once the chicken is done cooking, using clean tongs, pick up chicken pieces one at a time and dunk them into the saucepan with the bbq sauce till all sides are covered.
Serve with a side of celery, carrots, and your favorite ranch.
Substitutions
The biggest substitution you can make for this recipe is the sauce that you want to use. There are a ton of different bbq sauces that you can use. Also, you can add a tablespoon or two of honey to the sauce to make amazing Paleo honey bbq boneless wings. Another great sauce option would be a buffalo sauce. You can use the buffalo sauce from my Whole30 Crispy Buffalo Chicken recipe and it would work perfectly in this recipe!
Tapioca flour and arrowroot flour are interchangeable in this recipe. So, if you don't have tapioca flour then you can use arrowroot flour. If you don't have either of those, then you can just use almond flour.
I have not tested this recipe in an air fryer yet so I can't speak to how it would turn out.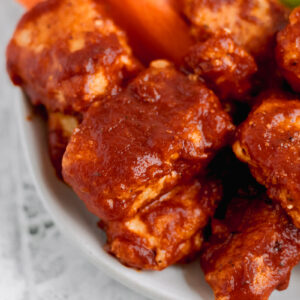 Whole30 BBQ Boneless Wings
A healthy Whole30 BBQ Boneless Wings recipes that's great for game days
Ingredients
1

lb

boneless skinless chicken breast

1

cup

bbq sauce

I like to use The New Primal Whole30 Classic BBQ Sauce

2

eggs

2

tbsp

avocado oil

For cooking the chicken

1/3

cup

almond flour

1/3

cup

tapioca flour

1/2

tsp

salt

1/2

tsp

pepper
Instructions
In a large mixing bowl whisk together two eggs

Cut the chicken breast into 1-1.5 inch pieces and add them to the bowl with the whisked eggs

On a large plate, mix together the almond flour and tapioca flour

Heat avocado oil in a large skillet pan to medium heat

Using tongs, taking one piece of chicken at a time, coat all sides of the chicken pieces with the almond flour mixture then place in the hot pan. Try not to overcrowd the chicken in the pan. You may need to do this in batches.

Cook the chicken on each side for about 5-6 minutes then set aside on a clean plate

While the chicken is cooking, add the bbq sauce, salt, and pepper to a small sauce pan and heat to low

Once the chicken is done, using clean tongs, take each piece of chicken and dunk it into the saucepan with the bbq sauce making sure to coat all the sides

Serve with celery, carrots, and your favorite Whole30 ranch
Nutrition
Calories:
432
kcal
Carbohydrates:
40
g
Protein:
29
g
Fat:
17
g
Saturated Fat:
3
g
Trans Fat:
1
g
Cholesterol:
154
mg
Sodium:
1188
mg
Potassium:
621
mg
Fiber:
2
g
Sugar:
24
g
Vitamin A:
314
IU
Vitamin C:
2
mg
Calcium:
62
mg
Iron:
2
mg