This post contains affiliate links. I earn a small commission if you choose to purchase through qualifying links.
If you haven't ever tried chia pudding then you are totally missing out. Chia pudding is so easy to make! This Blueberry Lemon Chia Pudding is one of my go-to chia pudding recipes. Another chia pudding I love is my Pumpkin Spice Chia Pudding.
If you follow me on Instagram then you know I am all about meal prepping. Every Monday I meal prep breakfast and lunch for the week for both me and my husband, Brent. Meal prepping helps take some of the thinking out of my day. Having breakfast and lunch ready to just pull out of the refrigerator and take to work is such a lifesaver for me. Making these Blueberry Lemon Chia Pudding seriously takes no time and you'll have breakfast ready to go for a handful of days.
Chia seeds are filled with great health benefits. Some of their health benefits are they are high in fiber, protein, and omega-3's. Letting chia seeds soak in a liquid gives them a slipper almost gelatin-like texture.
Making chia pudding:
To make this chia pudding all you have to do is add your choice of milk (I like to use unsweetened almond milk or banana milk), chia seeds, cinnamon, and maple syrup. The blueberry lemon topping is pretty easy too! Add the blueberries and lemon juice to a small saucepan and boil on low till the blueberries have burst. I don't add any honey or maple syrup to the blueberries, but you can if you want some added sweetness. This recipe makes 6-8 servings so be sure to put it into sealable jars or containers. I like to use small to medium size mason jars with plastic lids, the metal lids tend to rust over time. If 6-8 servings are too much, you can easily cut this recipe in half and make 3-4 servings.
Recipe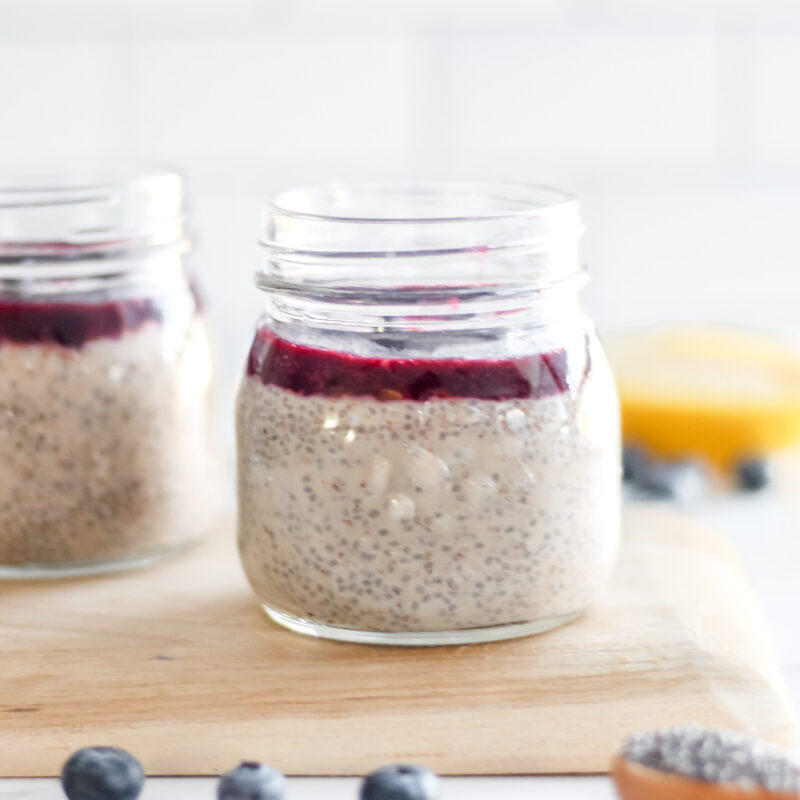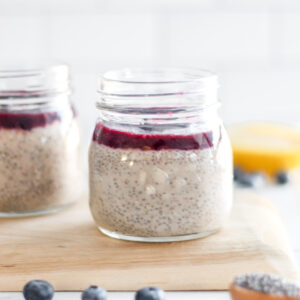 Blueberry Lemon Chia Pudding
An easy Blueberry Lemon Chia Pudding that is prefect for weekday breakfast
Ingredients
5

cups

milk of choice

I like to use unsweetened almond milk or banana milk

1

cup

chia seeds

½

cup

maple syrup

1

tablespoon

cinnamon

2

cups

blueberries

1

lemon juiced
Instructions
In a large mixing bowl mix together the milk, chia seeds, cinnamon, and maple syrup

Fill small to medium sized mason jars with the liquid

In a small saucepan, add the blueberries and juice of one lemon

Bring blueberries to a low boil and cook till most of the blueberries have burst

Layer the blueberry mixture over the chia pudding mixture

Cover the jars with a lid and keep in the refrigerator
Notes
You can add maple syrup or honey to the blueberries and lemon juice if you want a little extra sweetness
*nutrition information is an approximate
Share this recipe on Facebook