Chicken and sage are one of the best combinations, in my opinion. That's why these Garlic and Sage Chicken Thighs are such a hit! They are also super crispy, juicy, and Whole30!
I go through stages where I get bored eating chicken breasts over and over. When I am getting bored with chicken breasts, my go-to is chicken thighs. Chicken thighs have so much more flavor and don't dry out like chicken breasts. And bone-in chicken thighs are even better! My husband, always requests that I use chicken thighs over chicken breasts.
One of the reasons I love this recipe, other than it's just so dang good, is that I can make a big batch of these and use the rest for leftovers. Making a big batch of these, shredding the chicken, and using it to make my Whole30 BLT Chicken Salad is awesome!
Cooking these Garlic and Sage Chicken Thighs is super easy! One tip that I have is to make sure you pat dry the skin before rubbing the ghee mixture on them, it helps it stay.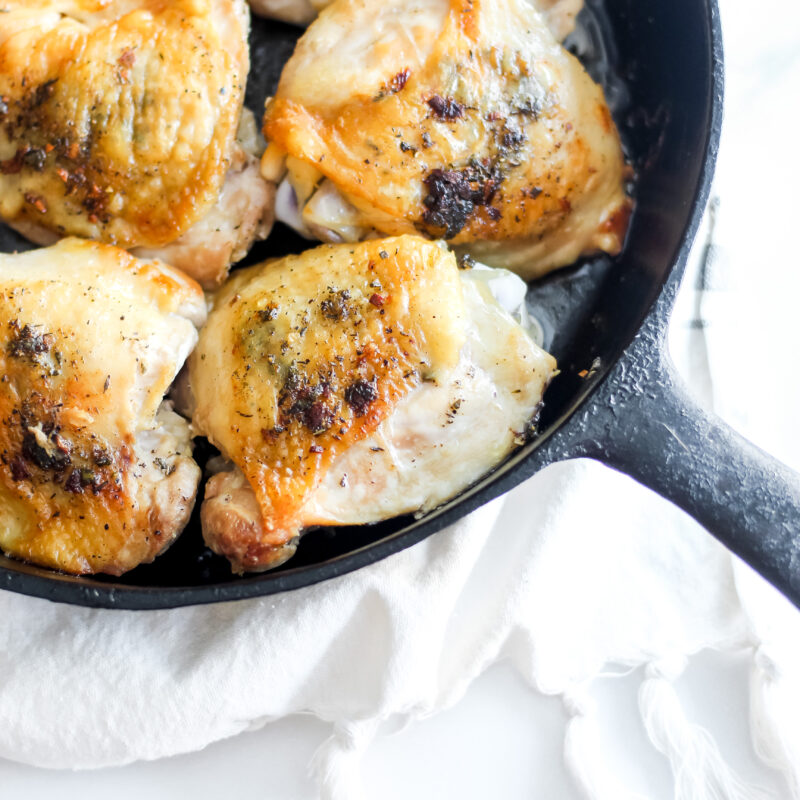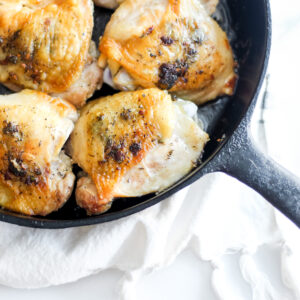 Garlic and Sage Chicken Thighs
Easy and crispy Garlic and Sage Chicken Thighs
Ingredients
3.5

lbs

Bone in and skin on chicken thighs

2

TBS

Ghee

2

TBS

Avovado Oil

1

large Garlic Clove Minced

1

TBS

Finley Chopped Fresh Sage

¼

tsp

Dry Thyme

¼

tsp

Poultry Seasoning

¼

tsp

Salt

¼

tsp

Pepper
Instructions
Pre heat oven to 475

Pat chicken thighs with a paper towel to soak up any moisture

In a small bowl add ghee, minced garlic, sage, thyme, poltury season, salt, and pepper and combine well

Using your fingeres, spread the ghee mixture under the skin of each of the chicken thighs. Using about half of the mixture

Using the other half of the ghee mixture, spread on top of the chicken skin

Add avocado oil to a cast iron skillet and heat on medium heat

Once cast iron is hot, place chicken thighs skin side down in the pan and cook on medium for about 8-10 minutes

Tranfer the cast iron pan into the pre heated oven and cook for another 10 minutes (leaving chicken skin side down)

Remove skillet from the oven, flip the chicken, and cook for another 5 minutes
Share this recipe on Facebook