Do you ever get bored cooking the same side dished over and over? I know I sure do! I am always on the hunt for side dishes other than broccoli and green beans (my go-to's). That's how this simple and easy Honey Garlic Roasted Carrots recipe came alive.
These paleo Honey Garlic Roasted Carrots are so good and such a nice change from the boring go-to dinner sides. I love how easy these carrots are to throw together! Fast, easy, and healthy side dishes are my jam! The longest part about making this recipe is peeling the carrots (insert eye roll emoji). I'm all about those fast and healthy dishes that I can whip up after a long day of work.
One of the things I love about this recipe is that it's easy enough to make during the week to go along side your main dish (like my Whole30 Crab Cakes) or fancy enough to make for a date night dinner or dinner party with friends.
Honey has so many health benefits and using local honey is even better! If you live in the Austin, TX area, I love using Round Rock Honey. Using honey local to you is great if you have seasonal allergies, and lord knows I do!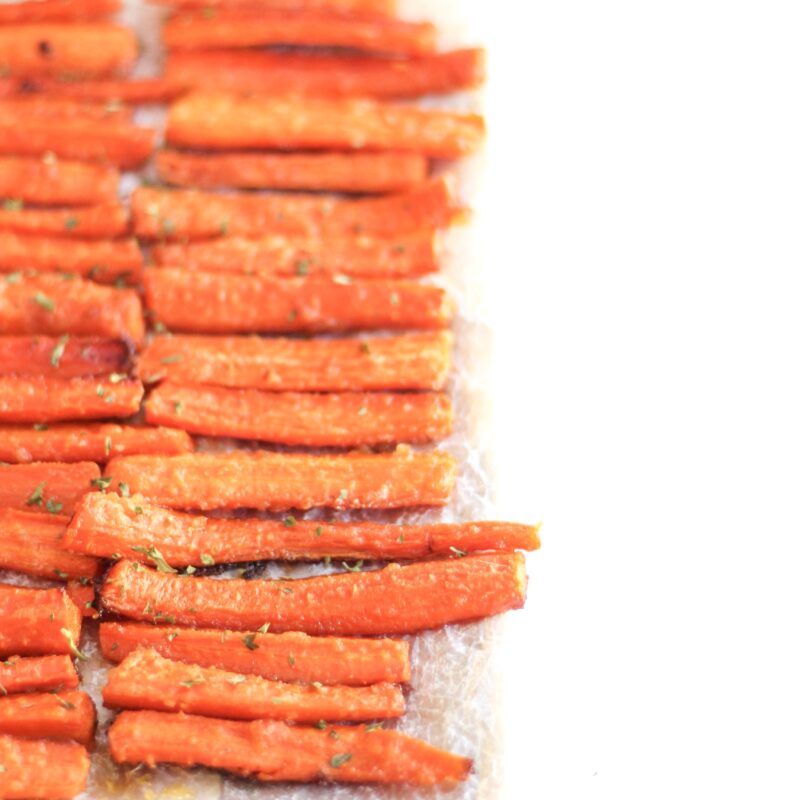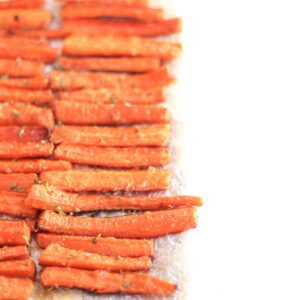 Honey Garlic Roasted Carrots
These Honey Garlic Roasted Carrots are the perfect mix of savory and sweet and easy to make for a weeknight side dish or holiday appetizer 
Ingredients
8

large Carrots

2

tbsp

Ghee

1

tbsp

Honey

1 ½

tsp

Garlic Powder
Instructions
Pre-heat oven to 425

Peel and wash carrots

Trim both ends of carrots and then cut carrots in half (short ways) to make 3-4 inch pieces

Take halved carrots and cut in half again but long ways

Melt ghee in a small saucepan on low heat then add honey and garlic powder and combine. There will be some separation from the melted ghee and the honey/garlic mixture, that's normal.

Place carrots in a bowl and pour ghee/honey/garlic sauce over carrots and toss to coat

Lay carrots in a single layer on a foil-lined baking sheet and bake for 25-30 minutes.

Optional: garnish with dried or fresh parsley 
Share this recipe on Facebook