This post contains affiliate links. I earn a small commission if you choose to purchase through qualifying links.
Did someone say maple and bacon? What can be better than maple and bacon? Maple and Bacon Brussel Sprouts, that's what!
Isn't it funny how your taste changes as you get older? I remember growing up and hating Brussel sprouts. Now that I am in my 30's, Brussel sprouts are probably one of my favorite foods. Make them extra crispy and they move up even higher on my favorites list.
Weeknight side dishes always seem to be a struggle for me. I feel like I get in a rut and make the same things over and over. I have started to focus on creating more side dish recipes to help me get out of the repetitive funk. These Maple and Bacon Brussel Sprouts have become some of my new favorite side dishes.
These Maple and Bacon Brussel Sprouts are easy to make after a long day at work or for a holiday party. I love making this recipe for Thanksgiving and Christmas dinner! It's so simple but full of so much flavor that will totally wow your holiday guests.
Did I also mention that this recipe is Paleo? I didn't? Now you know! To keep this recipe paleo, I love using Applegate's No Sugar Bacon. I also use pure maple syrup to keep the ingredients as clean as possible.
Tip:
One tip that I think helps SO much with the flavor in this dish is using the rendered bacon grease. When your bacon strips are nice and crisp, remove them from the pan but leave the grease in the pan. Add the Brussel sprouts right to the pan with the bacon grease and use that as your cooking fat.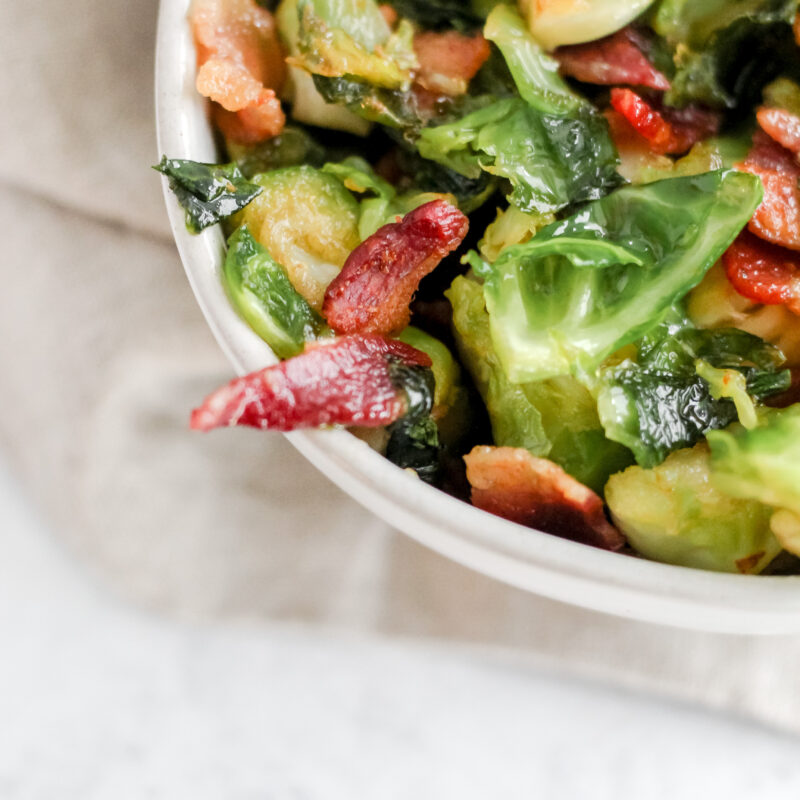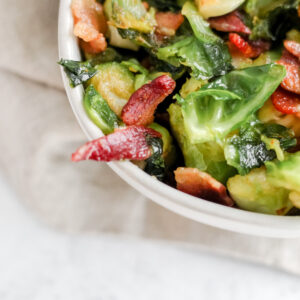 Maple and Bacon Brussel Sprouts
A weeknight side dish or holiday side dish that is the perfect marriage between savory and sweet.
Ingredients
12

oz

Bag of brussel sprouts

3

Strips of bacon

1

TBSP+ 1tsp

Maple syrup

¼

teaspoon

Garlic powder

1

teaspoon

Pepper

¼

teaspoon

Salt
Instructions
Place bacon strips in saute pan and cook till crisp

While bacon is cooking, cut the brussel sprouts into quarters

Once the bacon is crisp, remove and set aside leaving the grease in the pan

Add the cut brussel sprouts to the pan with the grease and saute on medium heat for 8-10 minutes until they start to brown

Add the garlic powder, pepper, and salt and cook for two minutes

Add the maple syrup and cook for another 3-5 minutes
Share this recipe on Facebook