When I started changing my way of eating I felt overwhelmed and didn't know where to even begin. So, I wanted to write a post for y'all with My Favorite Clean Kitchen Staples.
This is a great starting point for anyone who feels overwhelmed! One of the biggest things I hear people say about changing to a cleaner lifestyle is how it's so expensive to switch everything out. I always tell everyone that you don't need to swap everything out all at once. That would be crazy expensive! I started slowly and bought one or two things here and there. When something ran out, I would replace it with something a little cleaner. I finally got to the point where these now are my favorite clean kitchen staples and I always have them on hand.
There are so many great-tasting and clean products on the market nowadays. Almost three years ago when I started being more aware of what goes in the food I eat there weren't that many clean sauces and condiments out there. I remember a few times I tried to make ketchup and it was horrible! Thank goodness things have changed!
In this post I don't just have pantry items on the list, I also have fresh produce that I keep on hand. This list is all the things that you would find in my house on any given day of the week. During the week I will also buy specific things that I need for a certain meal. These are the produce items that I cook a lot with and the things that we like in our house. But, feel free to explore other fresh produce or add things that you and your family love. I know there are a few produce items that I would love to use all the time but my husband hates them so those are off the list.
The List: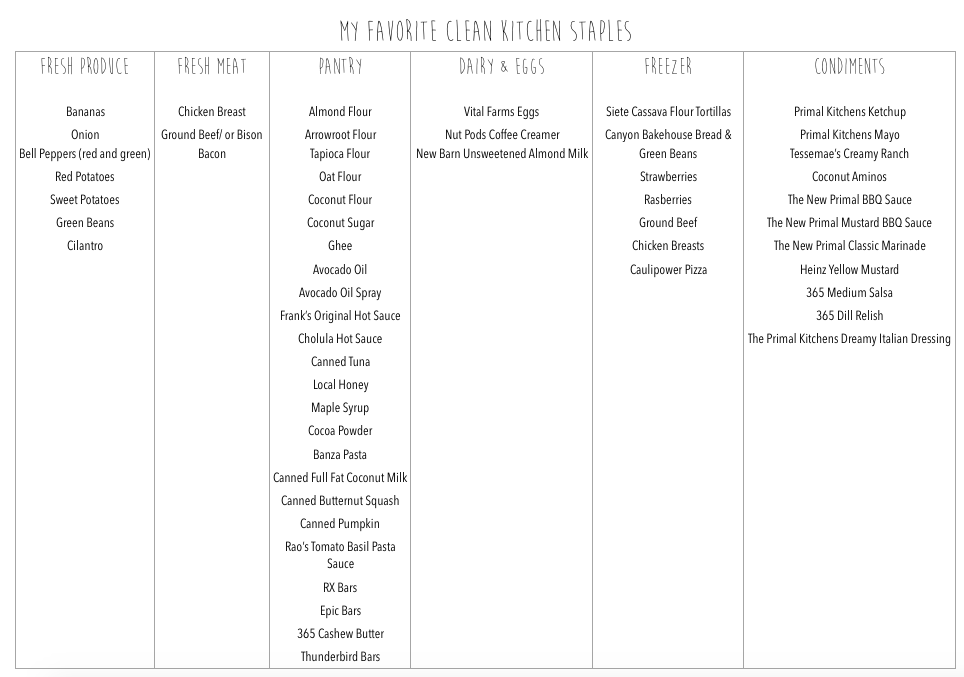 Links
Here are some helpful links if you want more information on a product.
Noble Made by The New Primal Classic BBQ Sauce
Noble Made by The New Primal Mustard BBQ Sauce
The New Primal Classic Marinade