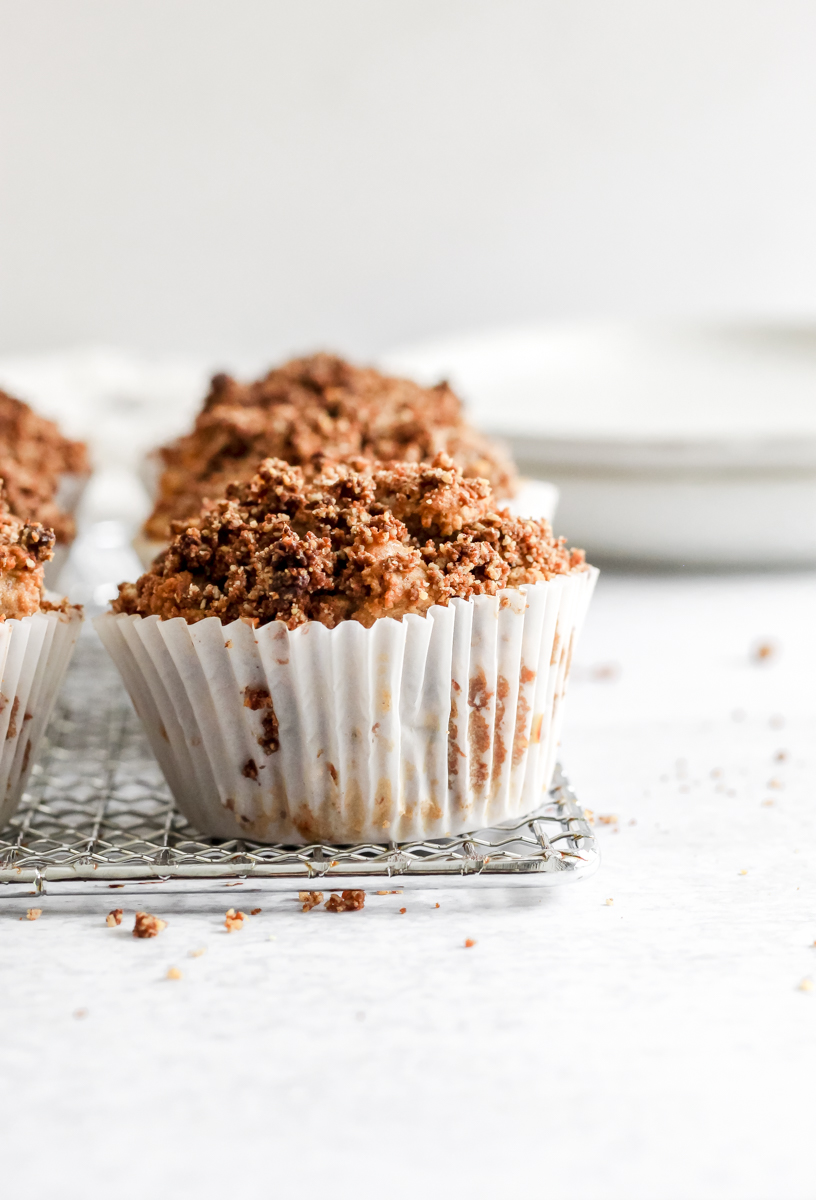 Oh my goodness these Paleo Banana Walnut Muffins With Cinnamon Sugar Streusel topping are the bomb! They are sweet, but not overly sweet, moist, and perfectly cinnamon-y. I have been loving them for a fast and yummy breakfast, but you really can eat these for a snack or an after dinner dessert.
Lately I have been playing more and more with cassava flour and trying to use it in cooking and baking. Cassava flour is gluten free, grain free, nut free, Paleo, and Whole30. Cassava is a root vegetable and when made into flour it has a light and fairly neutral taste.
This Paleo Banana Walnut Muffins recipe calls for cassava flour which you can find at your local Whole Foods, possibly your local grocery store (in the gluten free section), or on Amazon. Bobs Red Mill makes a cassava flour which is what I used in this recipe. I haven't tried substituting the cassava flour for any other gluten free flours in this recipe yet.
I am all about easy and fast recipes and this one is just that. No big equipment is needed, just some bowls and a whisk. Throw it all together and bake! I should warn you that your house is going to smell SO good and you will probably have to fight off your kids and spouse from devouring them right from the oven!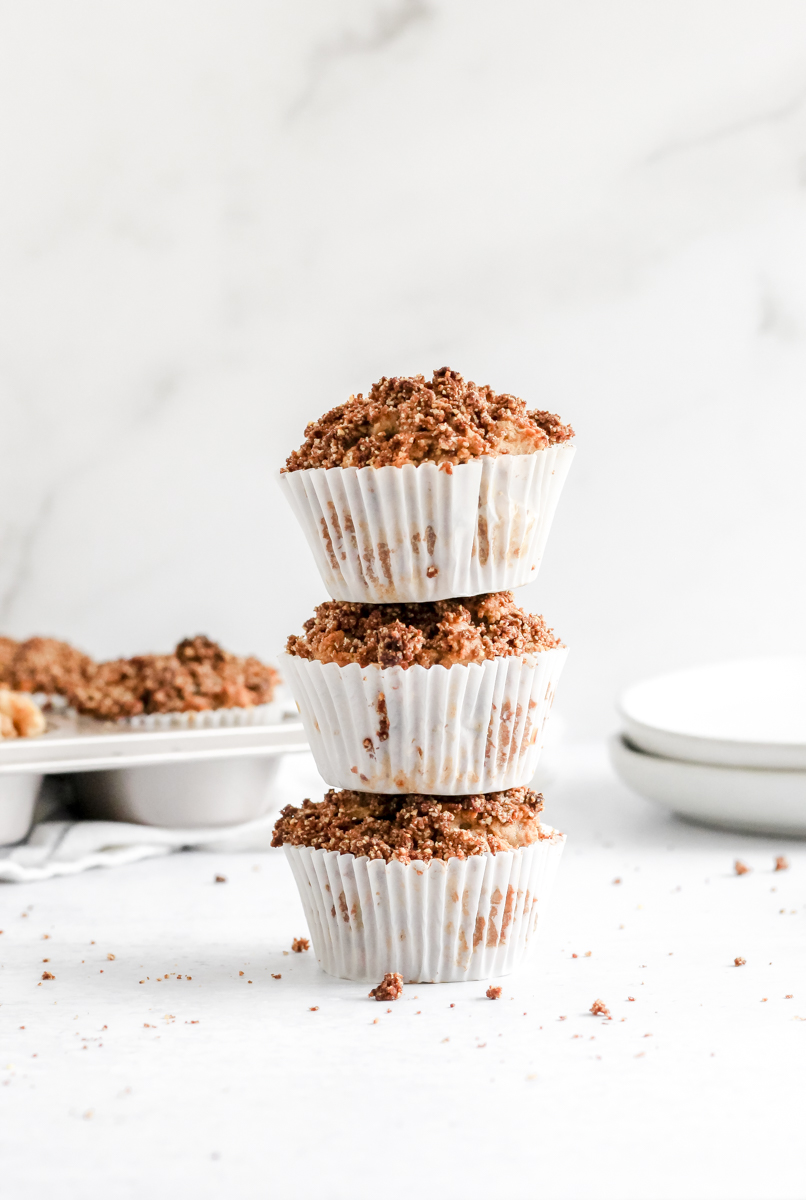 Recipe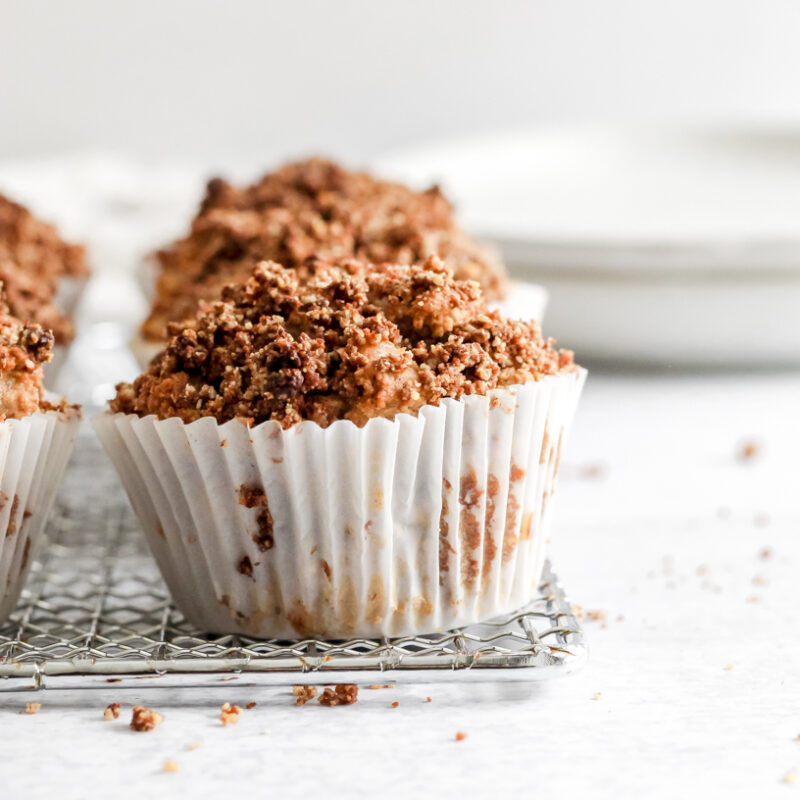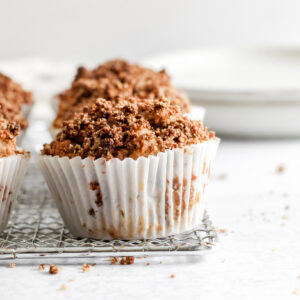 Paleo Banana Walnut Muffins
A healthy and clean Banana Walnut Muffin recipe that is great for breakfast or a sweet treat
Ingredients
For The Muffins
1 ½

Cup

Cassava Flour

3

Very Ripe Medium Sized Bananas

¾

teaspoon

Baking Powder

½

teaspoon

Baking Soda

1 ½

teaspoon

Cinnamon

½

teaspoon

Nutmeg

½

teaspoon

Salt

1

Egg

1

teaspoon

Vanilla Extract

½

Cup

Maple Syrup

½

Cup

Melted Ghee

2

tablespoon

Coconut Sugar

⅓

Cup

Crushed Walnuts
For the Streusel Topping
4

tablespoon

Coconut Sugar

4

tablespoon

Almond Flour

4

tablespoon

Melted Ghee

1

teaspoon

Cinnamon
Instructions
Pre heat the oven to 375°

In a large mixing bowl using a fork, mash the bananas really well

To the mashed bananas, whisk in the egg, vanilla extract, maple syrup, melted ghee, and coconut sugar

In a smaller mixing bowl, whisk together the cassava flour, baking powder, baking soda, cinnamon, nutmeg, and salt

In small batches, slowly add the dry ingredients to the wet ingredients and combine well.

Once mixture is combined well, fold in the walnuts

Fill a muffin pan with liners and evenly distribute the mixture into each muffin tin
For the Streusel Topping
Add coconut sugar, almond flour, melted ghee, and cinnamon to a small bowl and mix together

Using a spoon or your hands, sprinkle the streusel topping evenly over all 12 muffins

Bake at 375° for 23 minutes or until topping is browned and you can stick a toothpick into a muffin and it comes clean
*nutrition information is an approximate
Share this recipe on Facebook