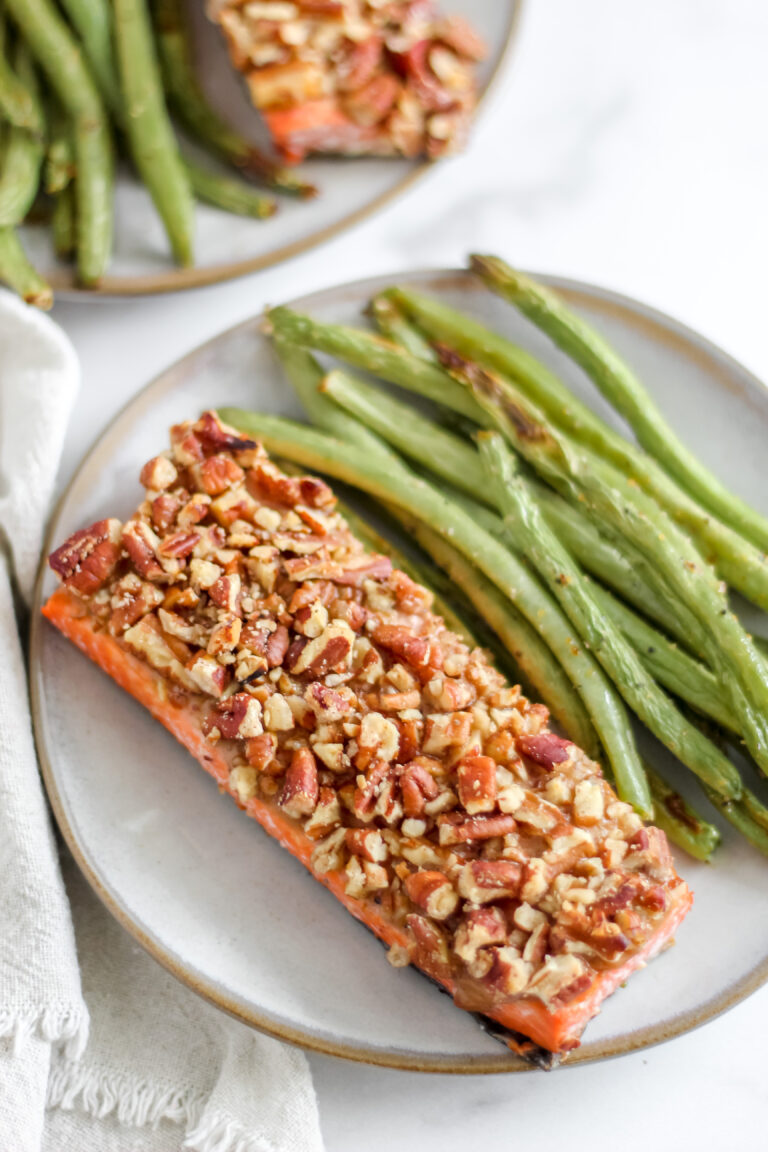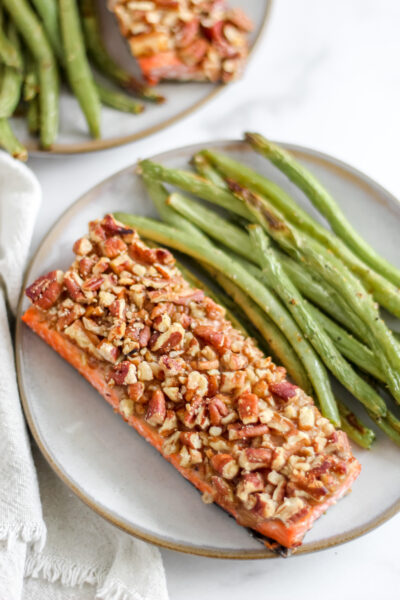 Finding fast, easy, and healthy meals to cook during the week can be hard. That's why I love making this Pecan Crusted Honey Mustard Salmon. Not only does it take under 30 minutes to prepare and cook, but it's also paleo!
I love buying salmon to cook during the week because it can be prepared so many ways and is so fast to bake in the oven. Salmon is easy to throw on a sheet pan with some veggies and cook everything at the same time. I love sheet pan meals, like this Easy Sheet Pan Pison Steak meal.
Wild Caught vs. Farmed
One thing I always make sure of when I'm buying salmon is to get wild-caught salmon. I used to not know that there was a difference until I started researching. The first thing you'll notice right away is the difference in color. At my local grocery store, they have precut and prepackaged wild and farmed salmon in the same case and this when I started questioning things.
Shocking right? I took these pictures and shared them on my Instagram stories and everyone was surprised. The other thing that was so shocking was the ingredient list for both of the salmons.
The picture is a little hard to read but you might be able to read what I wrote on the picture. The wild-caught salmon's only ingredient was salmon. the farm-raised salmon's ingredient list says "salmon, salmon color added". This totally blew my mind!
The difference between the two doesn't stop there. Farm-raised salmon has a lot more calories and fat than wild-caught salmon. Wild-caught salmon also has a lot more omega-3s and minerals than the farm-raised salmon.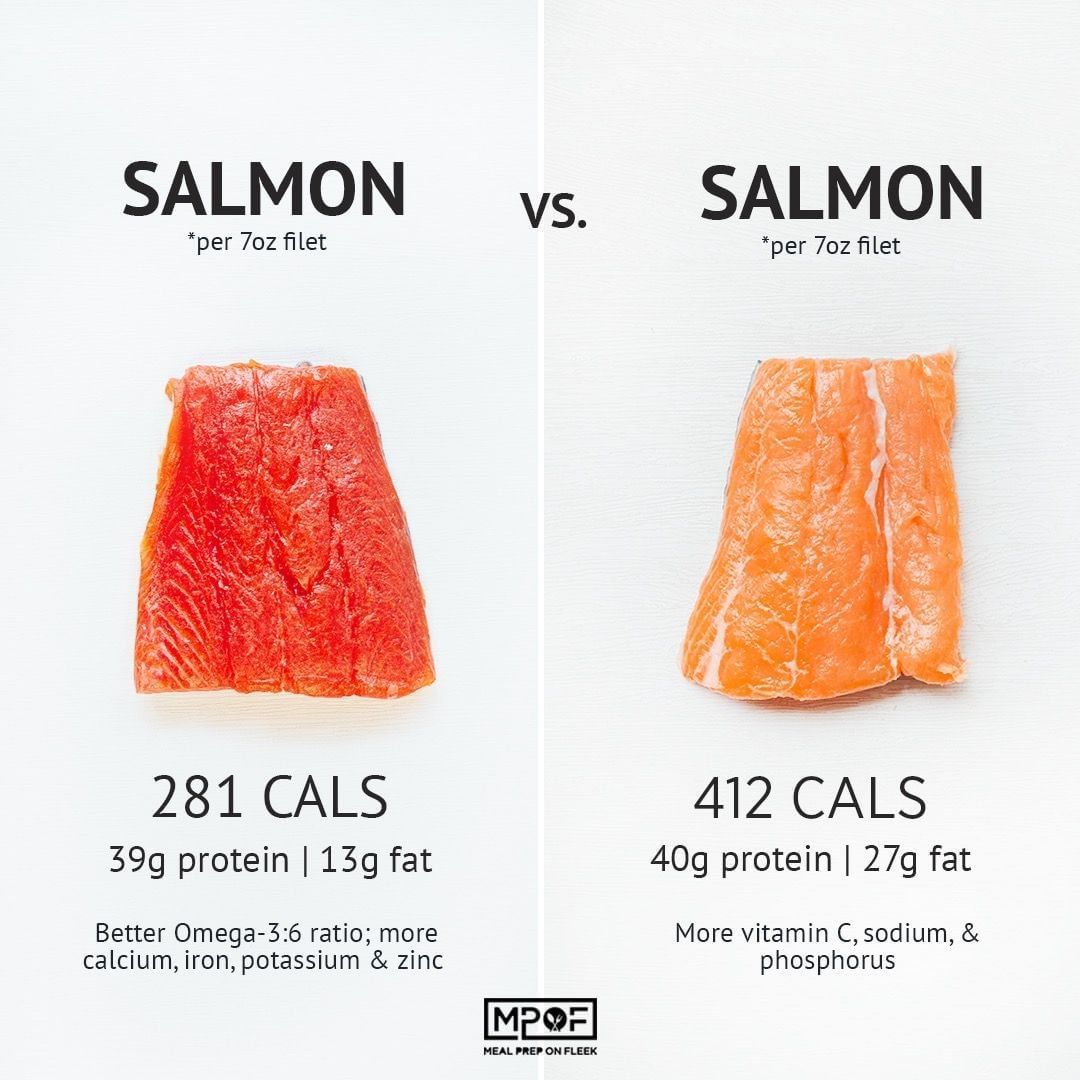 Hopefully, all of this information gets you thinking and the next time you buy salmon you go for the wild-caught! Ok, now on to the recipe for this amazing Pecan Crusted Honey Mustard Salmon.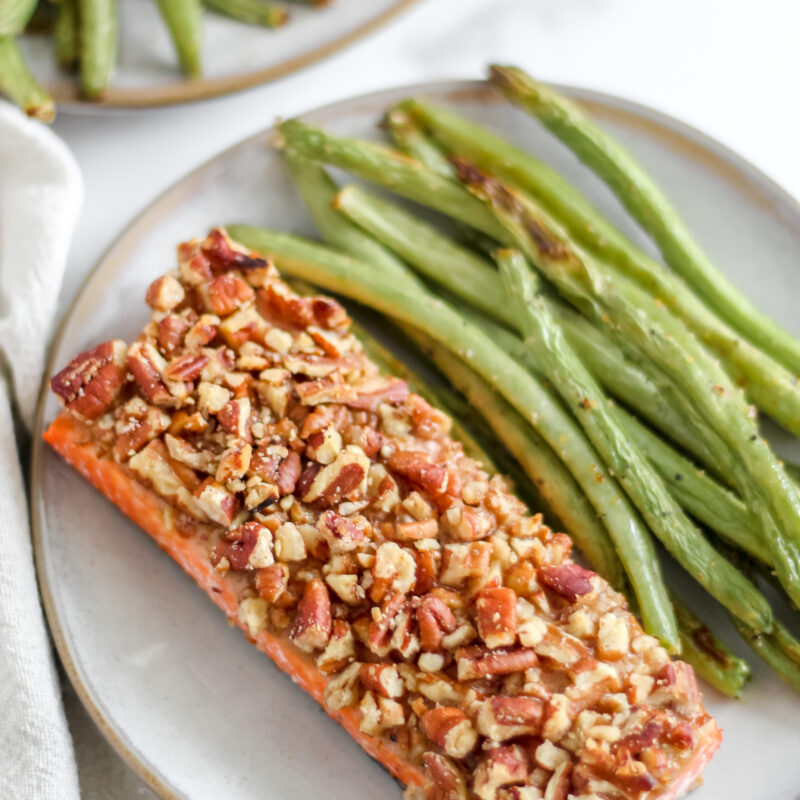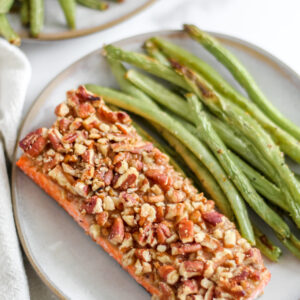 Pecan Crusted Honey Mustard Salmon
An easy, fast, and healthy weeknight meal
Ingredients
1

lb

wild caught salmon cut into 4 filets

2

tbsp

dijon mustard

2

tsp

honey

1

cup

crushed pecans

pinch

of pepper
Instructions
Preheat oven to 425

In a small bowl mix the honey, dijon, and pepper

Using the back of a spoon, coat the top of each of the salmon filets

Top each salmon filet with the crushed pecans being sure to lightly press the pecans down to stick to the filets

Places filets on a foil lined baking sheet and bake at 425 for 12-15 minutes
Notes
Serve with your favorite sides
Share this recipe on Facebook