This post contains affiliate links. I earn a small commission if you choose to purchase through qualifying links.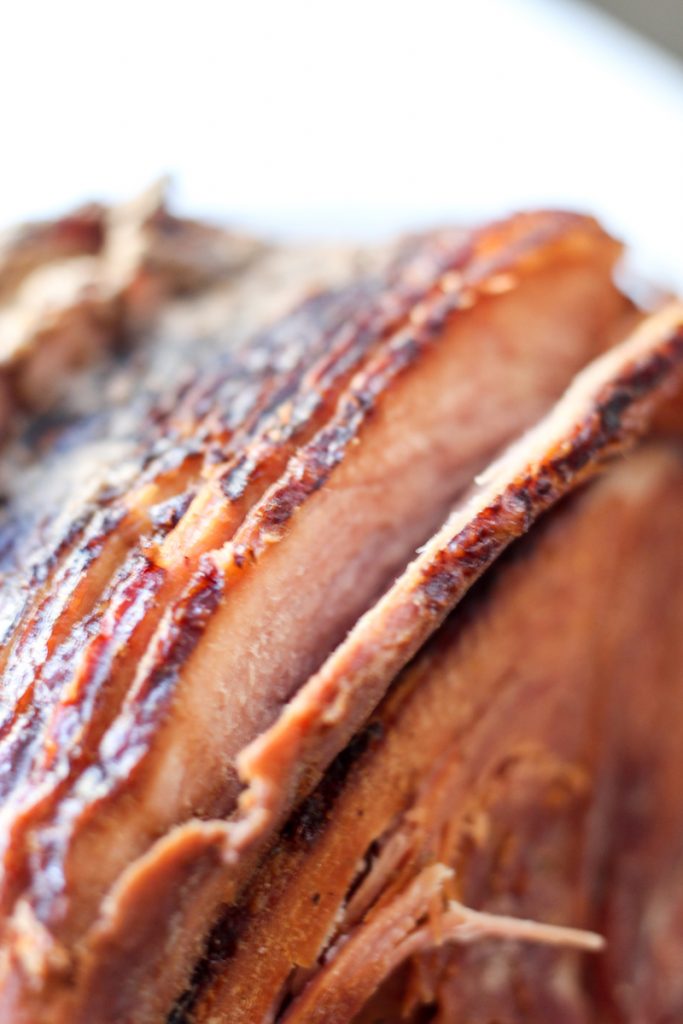 I don't even want to say this out loud. Turkey isn't my favorite meat at Thanksgiving or Christmas. I know I know! Don't get me wrong, I love turkey! But, ham at Christmas (or Thanksgiving) is my favorite, and this Simple and Savory Crockpot Ham has become my family's favorite.
One of the best things about this recipe is that it's all done in the crockpot! With the chaos of hosting a holiday dinner (I hope your drinking some Cranberry Orange Holiday Sangria while you're cooking), this recipe is so nice to have in your back pocket. All you have to do is throw everything in the crockpot a few hours before your ready to eat and that's it!
This Simple and Savory Crockpot Ham recipe calls for pecan apple butter, and you might be thinking "huh?". I think that the pecan apple butter is the star of this recipe! I use Fischer & Wieser Pecan Apple Butter which is sold at my local grocery store. If you can't find it or something similar, I would recommend purchasing it from their website. The leftover pecan butter is seriously SO good on toast or biscuits! Like oh my gosh, so good!
Now keep in mind while selecting your harm at the store, it has to fit in your crockpot. Use caution when picking out your ham and try and find the smallest out of the selection (around 7lbs). I love using this Spiral Sliced Ham from HEB (which is my local grocery store). I always throw away the packet of glaze that comes with the ham, it's not needed for this recipe.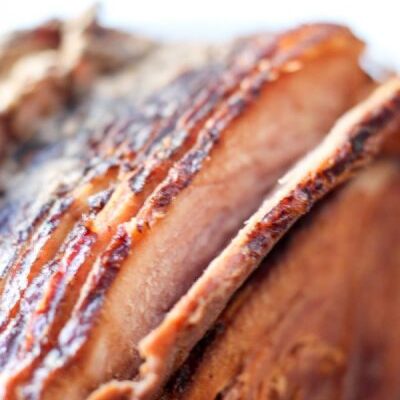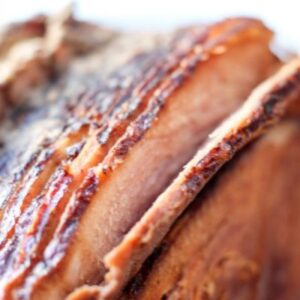 Simple and Savory Crockpot Ham
a Simple and Savory Crockpot Ham that is sure to be the star of your holiday dinner!
Ingredients
Ham

¼

cup

coconut sugar

or brown sugar
For the Glaze
½

cup

coconut sugar

or brown sugar

½

cup

pecan apple butter

¼

cup

dijon mustard

3

tablespoon

apple cider vinager

¼

teaspoon

pepper
Instructions
Add all the glaze ingredients to a small sauce pan and combine over medium/low heat till mixed well

Sprinkle ¼ cup coconut sugar on the bottom of the crockpot

Place ham in crockpot and cover with the glaze

Cook on low for 4-5 hours
Notes
I like to open the crockpot a few hours into cooking and using a spoon, I spoon the melted glaze inbetween the slices of the ham.
Share this recipe on Facebook