Did someone say ranch? These Whole30 Crispy Ranch Chicken Tenders are the bomb!
Every time Brent, my husband, and I go to a wings restaurant he orders ranch wings. The first time he ordered them I was fully expecting them to be covered in ranch. They weren't, but how amazing would that be?! Instead, they were dried rubbed with a ranch seasoning. Since he loves ranch wings so much, I decided to come up with my own Whole30 Crispy Ranch Chicken Tenders.
These chicken tenders are easy to make on a busy weeknight and will be a hit with kids and husbands! Pairing these chicken tenders with my Garlic and Rosemary Roasted Red Potatoes (which are also Whole30) would be amazing! Adding a side of Primal Kitchen's Ketchup (my favorite) will keep the whole meal Whole30 compliant and kid-approved. I call that a win-win!
A few tips I have for cooking up these yummy chicken tenders are, not flipping them too much and cooking them in batches. When using almond flour as a "breading" the biggest thing to keep in mind is to only flip whatever you're cooking one time. The more you try and flip what you are cooking, the bigger chance you have for the "breading" to fall off. The other tip is, don't try and overcrowd your skillet. Depending on how many tenders you're making, you might need to cook them in batches.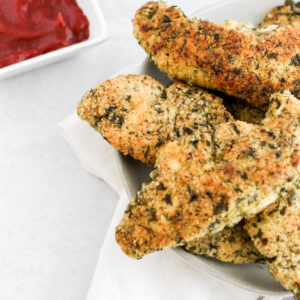 Whole30 Crispy Ranch Chicken Tenders
Easy Whole30 Crispy Ranch Chicken Tenders the whole family will love
Whisk the eggs in a medium to large mixing bowl

Add chicken tenders to the whisked eggs and mix to coat the tenders with the egg

On a large plate, mix the amlond flour, tapioca flour, and seasonings together with your hands or a spoon

Heat avocado oil or ghee in a large skillet

Taking one tender at a time, place in the almond flour mixture and coat evenly. Place in the skillet

Cook 5 minutes per side being sure to only flip the tenders once
Serve with your favorite dipping sauce