This post contains affiliate links. I earn a small commission if you choose to purchase through qualifying links.
This Whole30 Steak Sheet Pan Dinner with potatoes is easy to throw together on one pan and have dinner ready in no time.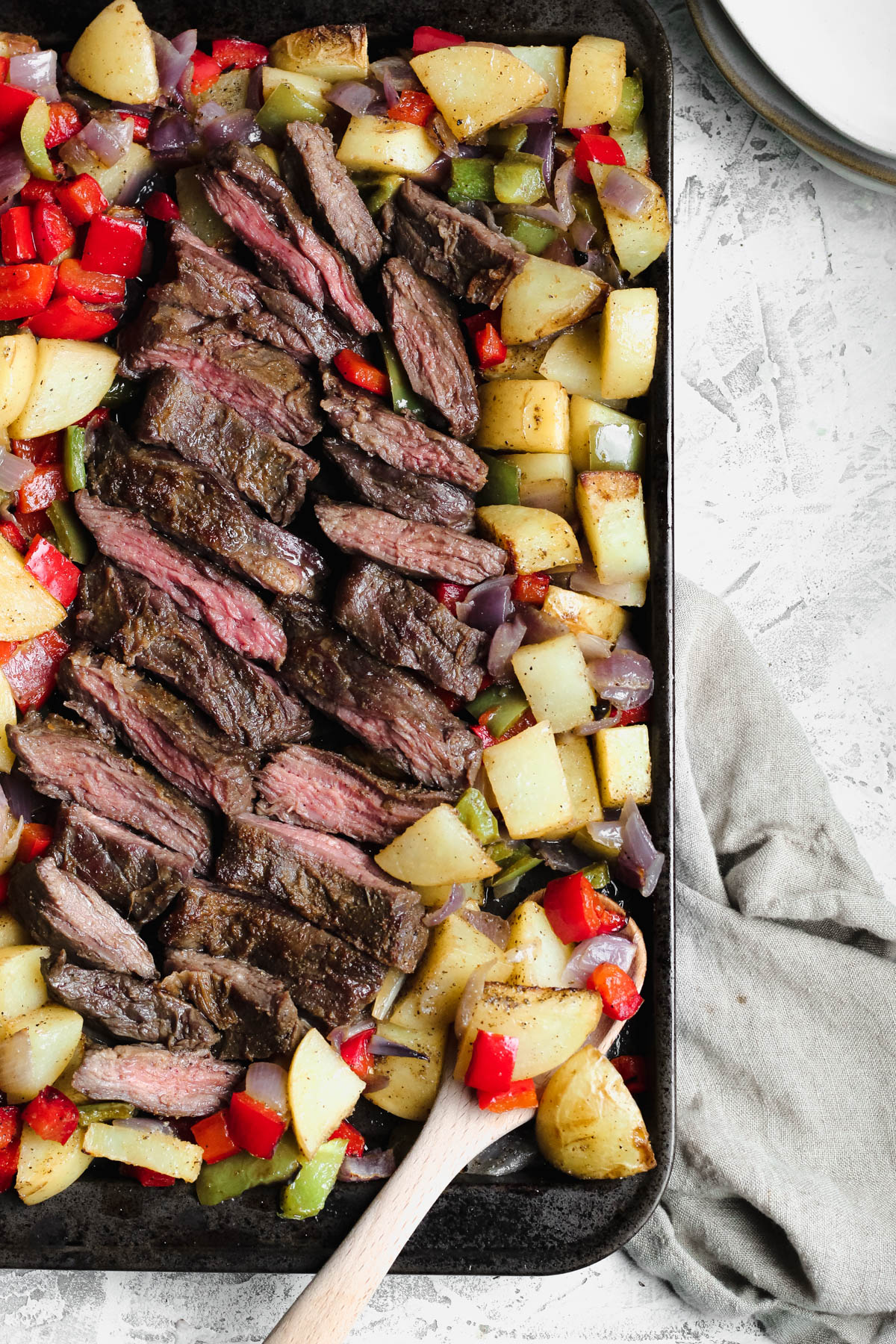 I am all about coming home from a long day at work and making an easy and fast dinner. This Whole30 Steak Sheet Pan Dinner recipe is so good and can be thrown together all on one pan, which is the best. Since it has steak, potatoes, peppers, and onions you have your whole meal all on one pan. You can change up the vegetables to whatever you like and make this a few times a week!
Sheet pan meals are the best because you don't have to do a lot of prep work or dirty up a ton of pans. If you are looking for ideas for fast and easy weeknight dinners, sheet pan meals will be your new best friend. If you're looking for more easy dinner recipe, check out my Whole30 Crab Cakes with Tartar Sauce. They are fast and easy to make during the week and who doesn't love a crab cake?
Jump to:
Ingredients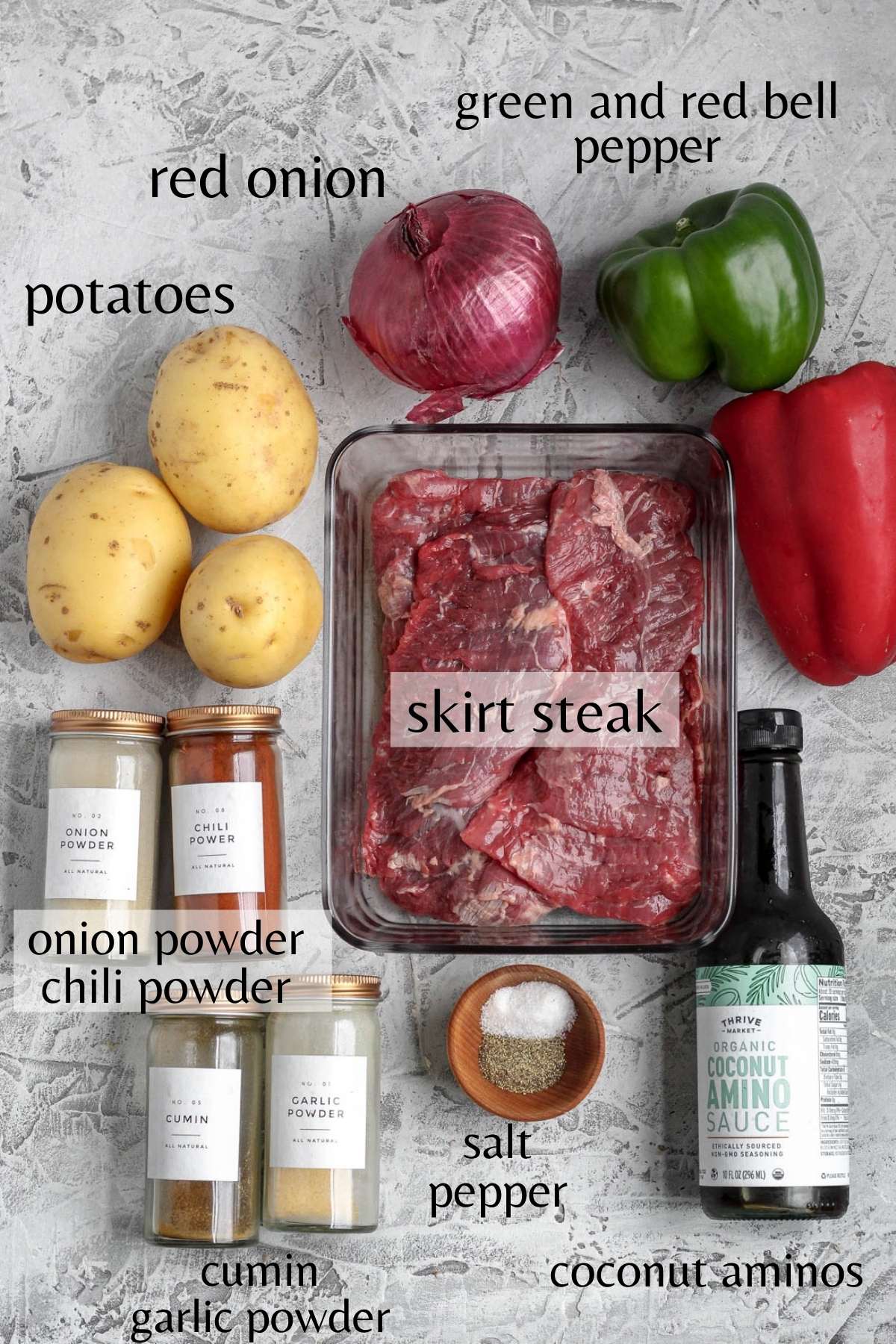 Substitutions
Steak- you can use flank steak or even bison skirt or flank steak in this recipe. I love using bison skirt or flank steak if I can find it at the grocery store
Bell peppers- any color bell pepper will work in this recipe
Potatoes- If you don't have Yukon gold potatoes, you can use red or purple potatoes
Step by step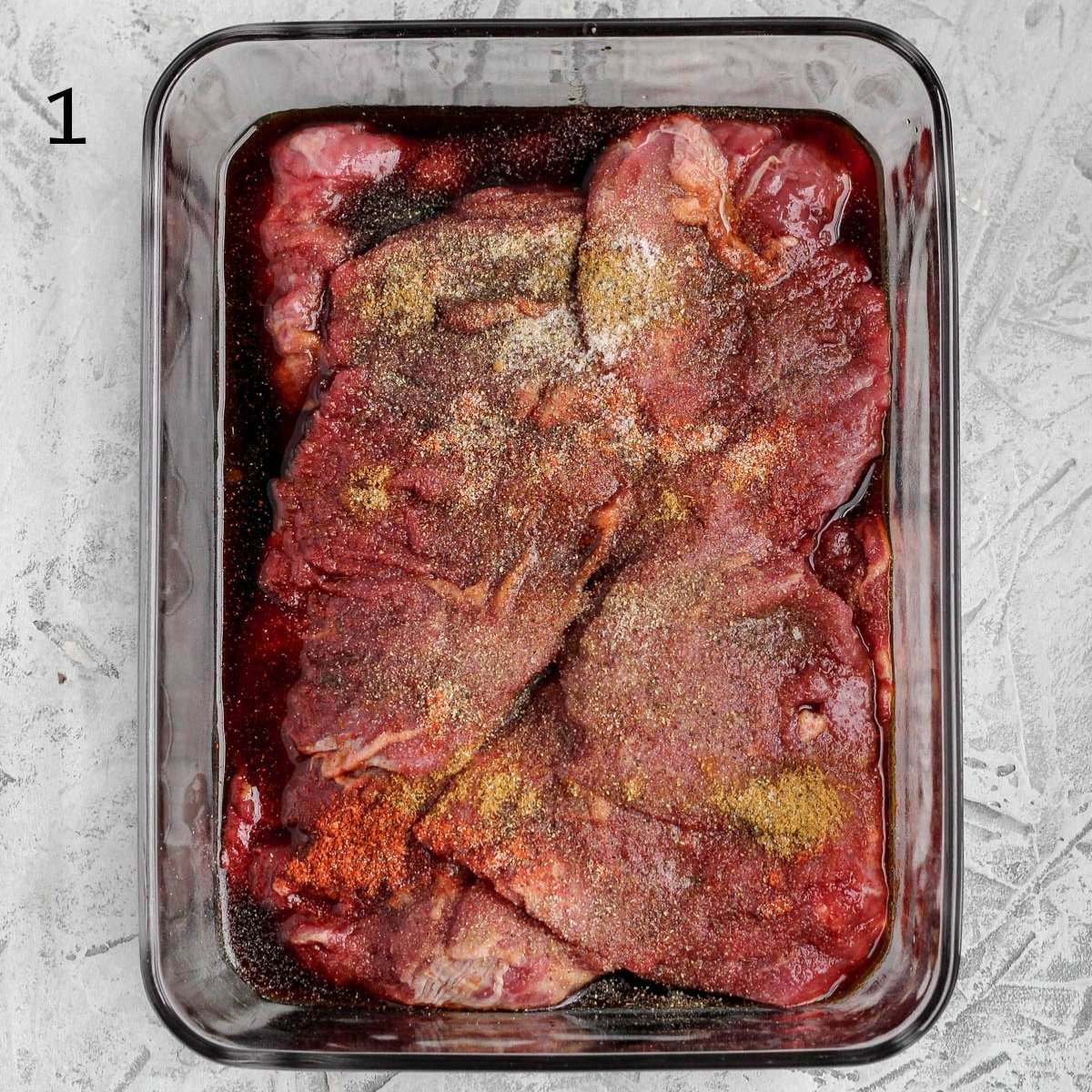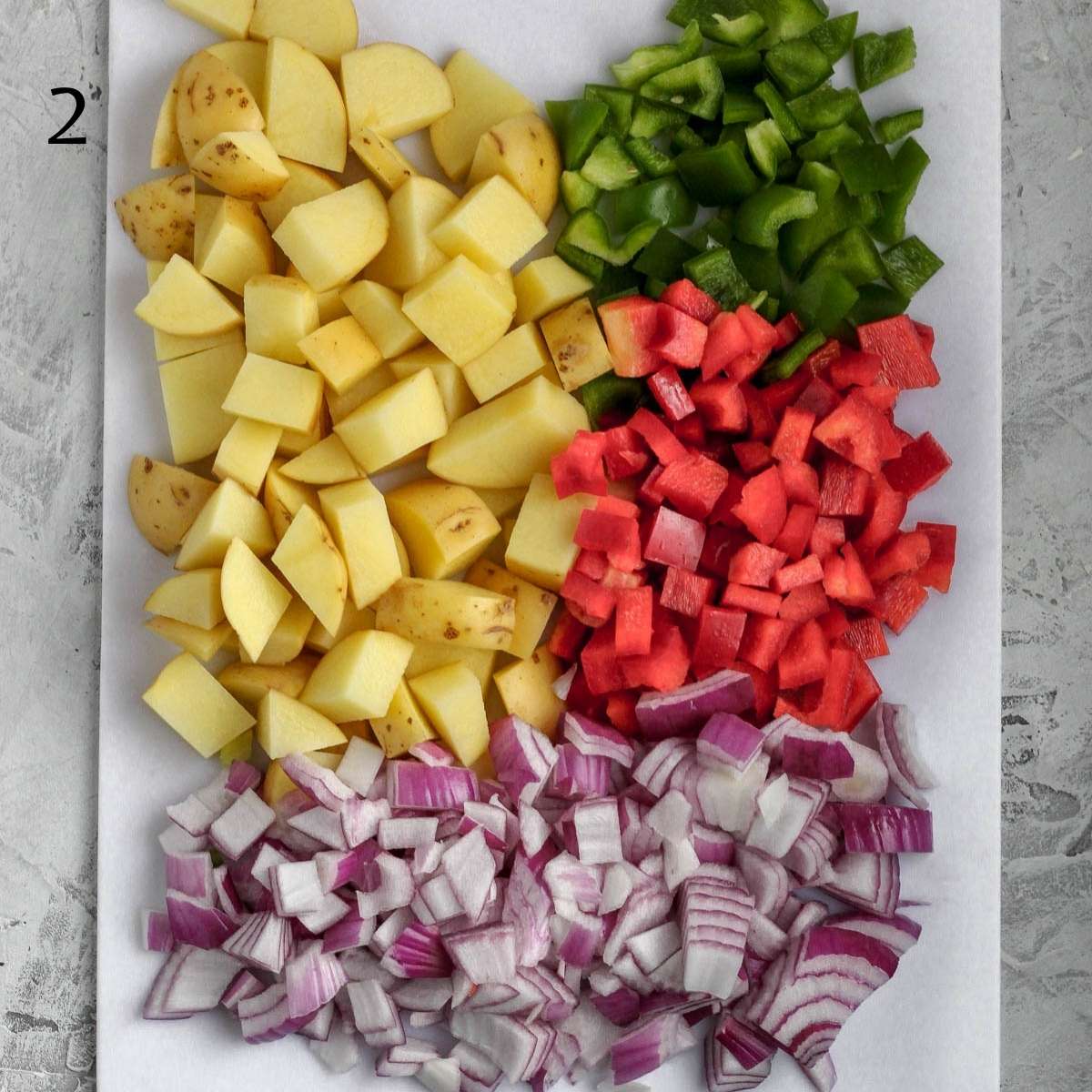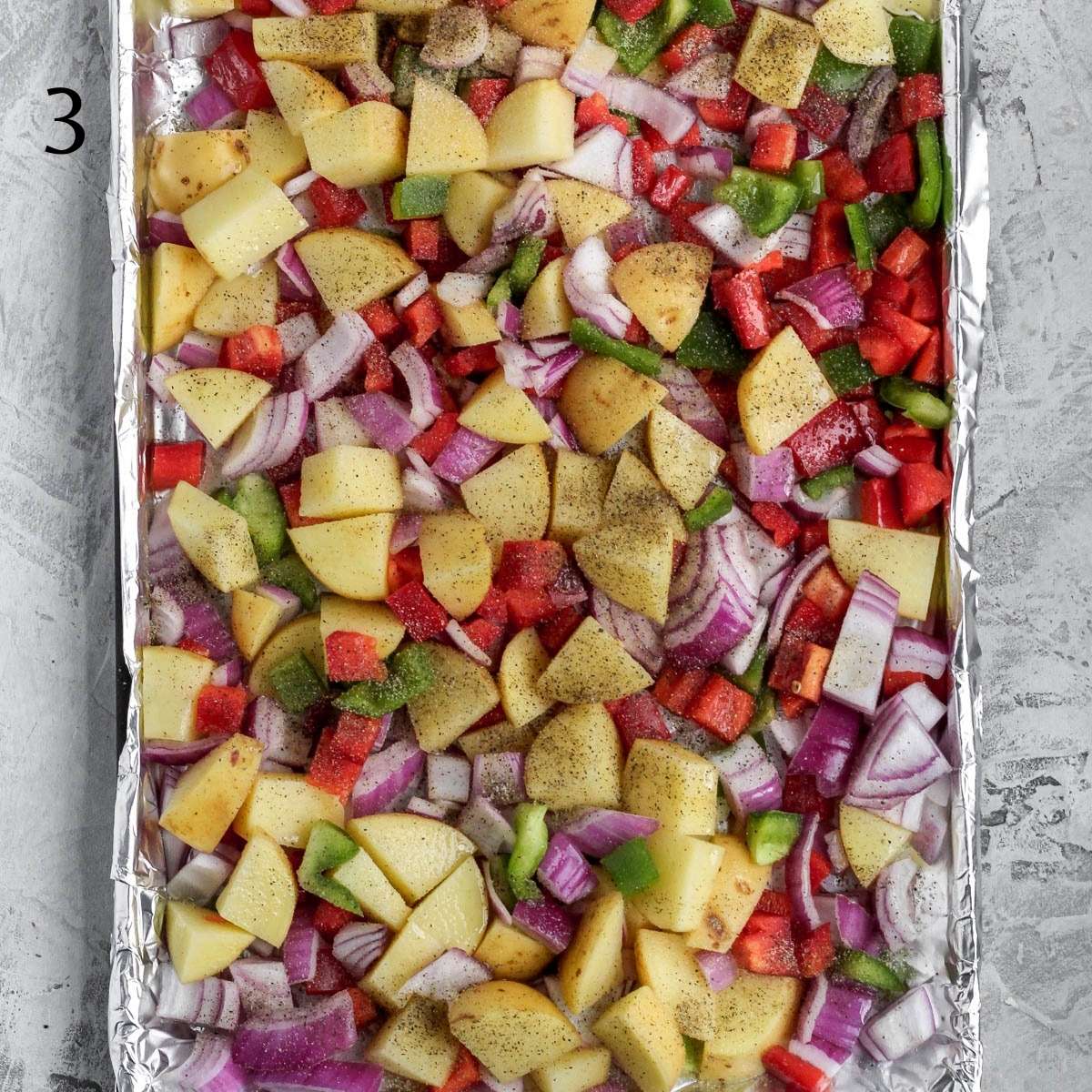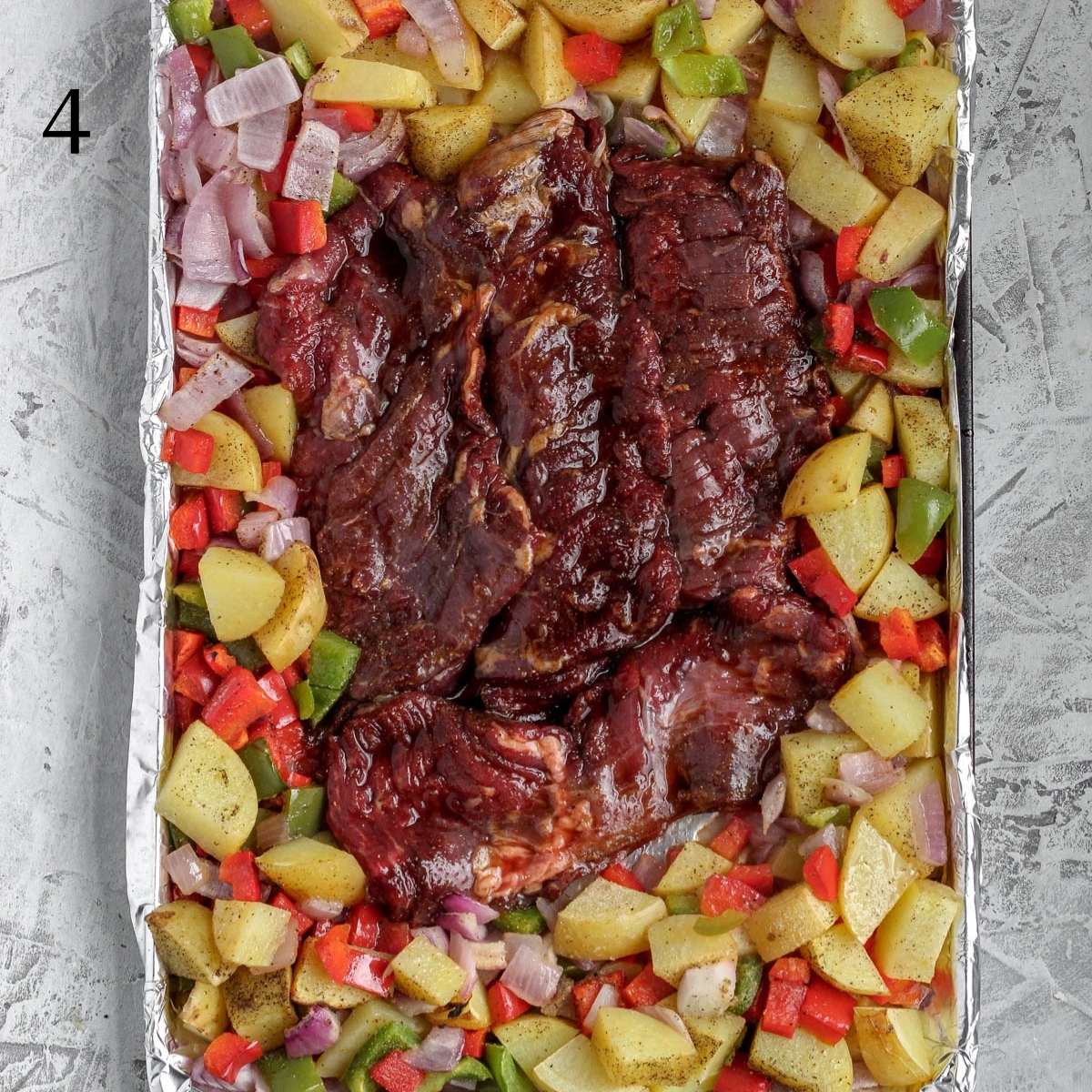 Whisk the marinade ingredients together in a bowl and then pour the marinade in an airtight container with the steak. Let the steak marinate for at least 30 minutes or up to 24 hours. I prefer to do this the day before cooking to let it marinade and then it's one less thing to do the night of cooking
Preheat the oven to 475 degrees Fahrenheit
Dice the onion, bell peppers, and potatoes and place them on a foil lined baking sheet
Drizzle the vegetables with avocado oil, sprinkle with onion powder, garlic powder, salt, and pepper and toss to combine
Cook the vegetables for 15 minutes then take them out of the oven and turn the oven to a high broil
Nestel the steak in the middle of the vegetables and place it under the broiler for 4 minutes then flip the steak and cook for another 4 minutes. This will give you a medium steak so if you prefer more well done adjust the time accordingly.
Frequently asked questions
What is the difference between skirt steak and flank steak?
The main difference between the two comes down to how tough they are. Skirt steak is tougher than flank and carries a more intense flavor. This means that it can only be cooked as rare or medium-rare, and is usually best seared. If you prefer your steak well done or tender then I advise going for flank.
Storing/reheating
You can store leftover in an air tight container in the fridge for up to 5 days.
The best way to reheat this is by placing it on a baking sheet and cooking at 350 degrees Fahrenheit for 10-15 minutes. You can reheat it in the microwave but it will make the meat tougher.
Recipe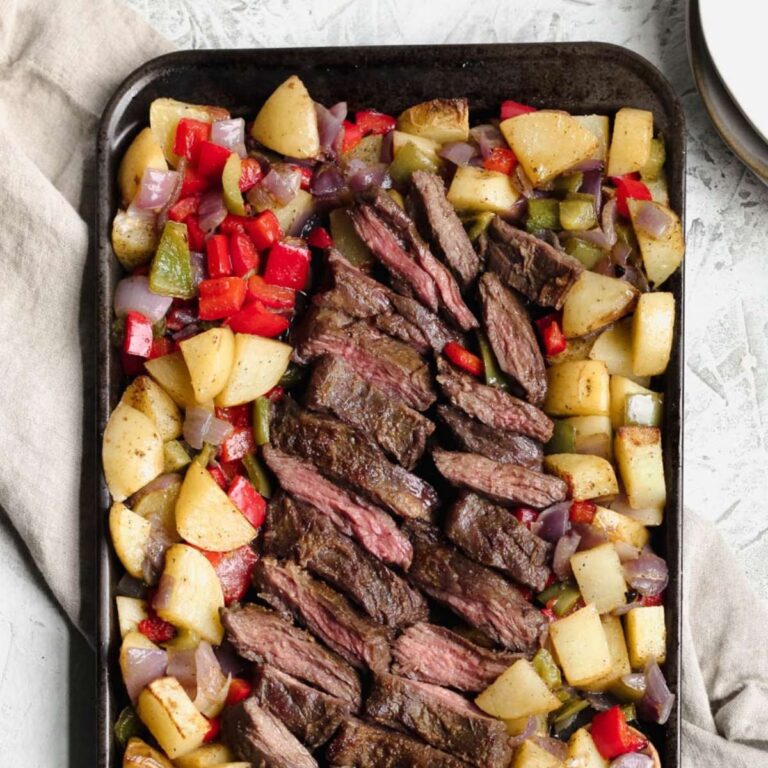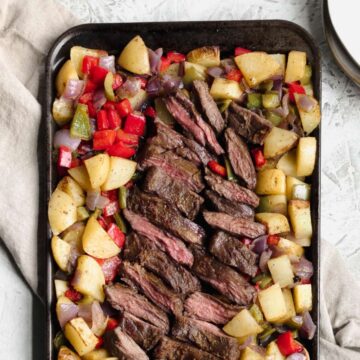 Steak Sheet Pan Dinner
This Whole30 Steak Sheet Pan Dinner recipe is an easy meal that you can have ready in uder 30 minutes
Ingredients
1

lbs

skirt steak

1

red onion diced

3

yukon gold potatoes diced

1

green bell pepper diced

1

red bell pepper diced

2

tablespoons

avocado oil

¼

teaspoon

garlic powder

¼

teaspoon

onion powder

½

teaspoon

pepper

¼

teaspoon

salt
For the marinade:
⅓

cup

coconut aminos

¼

teaspoon

chili powder

¼

teaspoon

garlic powder

⅛

teaspoon

onion powder

⅛

teaspoon

cumin

⅛

teaspoon

salt

⅛

teaspoon

pepper
Instructions
Whisk the ingredients for the marinade in a small bowl

Place the skirt steak and the marinade in an air tight container or zip lock bag and marinade for at least and 30 minutes or up to 24 hours. I like to do this the night before and let it sit in the fridge and marinate the whole next day.

Pre heat the oven to 475 degrees Fahrenheit

Line a baking sheet with foil and place bell peppers, onion, and potatoes on the sheet pan

Coat veggies with avocado oil and season with salt, pepper, garlic powder, and onion powder

Bake veggies for 15 minutes then take the pan out of the oven and turn the oven to a hi broil

Remove the skirt steak from the marinade and nestle it between the veggies on the sheet pan

Return sheet pan to the oven and broil for 4 minutes a side (this will give you a nice medium steak. Cook a few minutes longer per side for a more well done steak)
Notes
Steak- you can use flank steak or even bison skirt or flank steak in this recipe. I love using bison skirt or flank steak if I can find it at the grocery store
Bell peppers- any color bell pepper will work in this recipe
Potatoes- If you don't have Yukon gold potatoes, you can use red or purple potatoes
*nutrition information is an approximate
Share this recipe on Facebook