I am all about coming home from a long day at work and making an easy and fast dinner. Making an elaborate dinner is the last thing that I want to do after a long day. This Easy Sheet Pan Bison Steak is so good and can be thrown together all on the same pan. Right up my alley!
Sheet pan meals are the best because you don't have to do a lot of prep or dirty up a ton of pans. If you are looking for ideas for fast and easy weeknight dinners, sheet pan meals will be your new best friend. If you ever watch my stories on Instagram then you know I'm all about those fast and easy weeknight meals, like my Whole30 Crispy Buffalo Chicken Breasts with roasted veggies or potatoes.
This Easy Sheet Pan Bison Steak recipe calls for a bison skirt steak but you can use a regular skirt steak if you want. I got my bison skirt steak from my local Whole Foods. Skirt steak is best when marinated for a while. I like to let my skirt steak marinate for 24 hours but if you can't, then I would recommend that you let it marinate for at least an hour.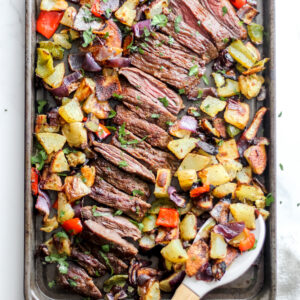 Easy Sheet Pan Bison Steak
An easy Whole30 Sheet Pan Bison Steak with roasted vegetables 
1

lbs

bison skirt steak

1

red onion diced

2

yukon gold poatoes diced

1

green bell pepper diced

1

red bell pepper diced

2

TBSP

avocado oil

1/4

tsp

garlic powder

1/4

tsp

onion powder

1/2

tsp

pepper

1/4

tsp

salt
For the marinade:
1/3

cup

coconut aminos

1/4

tsp

chili powder

1/4

tsp

garlic powder

1/8

tsp

onion powder

1/8

tsp

cumin

1/8

tsp

salt

1/8

tsp

pepper
Combine the ingredients for the marinade in a small bowl and whisk together

Place the skirt steak and the marinade in an air tight container or zip lock bag and marinade for at least and hour or up to 24 hours.

Pre heat the oven to 475

Line a baking sheet with foil and place bell peppers, onion, and potatoes on the sheet pan

Coat veggies with avocado oil and season with salt, pepper, garlic powder, and onion powder

Bake veggies for 15 minutes then take the pan out of the oven and turn the oven to hi broil

Remove the skirt steak from the marinade and nestle it between the veggies on the sheet pan

Return sheet pan to the oven and broil for 4 minutes a side (this will give you a nice medium steak. Cook a few minutes longer per side for a more well done steak)