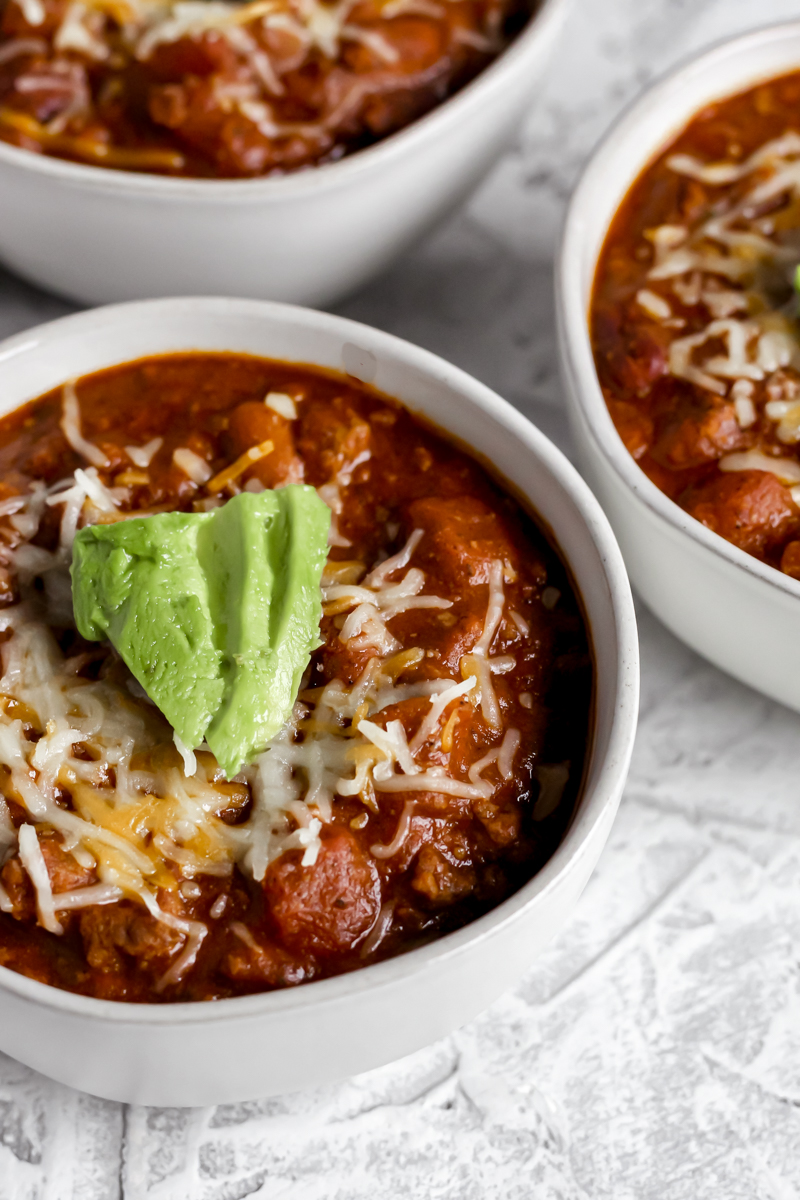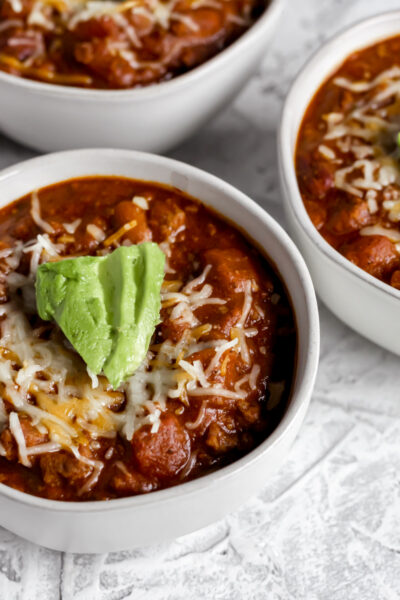 There really isn't anything better on a cold day than a big bowl of chili. Am I right? This easy slow cooker or stovetop Southwestern Bison Chili has all the flavors of traditional chili but with a southwestern twist.
What does bison chili taste like?
Bison chili tastes similar to a regular ground beef chili. In my opinion, ground bison has a better taste than ground beef. The taste profile is very similar to a lean cut of beef. I bet you if you didn't tell anyone this was bison they would never know. Bison is also healthier for you than beef.
How is bison healthy?
You might be surprised to find out that bison is a lot healthier for you than beef.
One of the biggest differences between bison and beef is the fat content. Bison has over half the amount of fat as beef! It also has more protein in one serving than beef and less calories.
Bison is rich in omega-3, vitamin b, iron, and zinc. It is also a lot lower in cholesterol than beef.
Can I make this Paleo?
This recipe can totally be made paleo! To make this a Southwestern Paleo Bison Chili all you need to do is remove the beans. The recipe calls for an optional cheese topping, which you can omit. Everything else in this recipe is paleo and it will be just as tasty! If I was going to make this paleo, I would add in some diced red and green bell peppers.
Substitutions
There are so many substitutions you can make to this recipe! The biggest substitutions you can make is with what kind of protein you want to use. If bison isn't something you want to try or is hard to find, you can totally make this with ground beef.
If you like to stay away from red meat, you can substitute the bison for ground chicken or ground turkey for an awesome Southwestern Chicken Chili or Southwestern Turkey Chili.
How to make bison chili
This Southwestern Bison Chili recipe might be one of the easiest recipes to make. I personally like to cook chili in a slow cooker if I have the time. There is something about slow cooker chili that is just so dang good!
If you are going to cook this in a slow cooker then you are going to have to brown the bison in a skillet first then add everything to your slow cooker. I have a Ninja Slow Cooker that is super awesome and can be used as a stovetop and a slow cooker. So, I actually brown my meat right in my slow cooker then add in the other ingredients.
If you forgot to add everything to your slow cooker in the morning, you can totally make this in a big dutch oven and it will be ready in about 15 minutes. I tend to do this method a lot!
Looking for more bison recipes? Check these out!
Easy Sheet Pan Bison Steak Meal
Savory Swedish Meatballs and Mashed Potatoes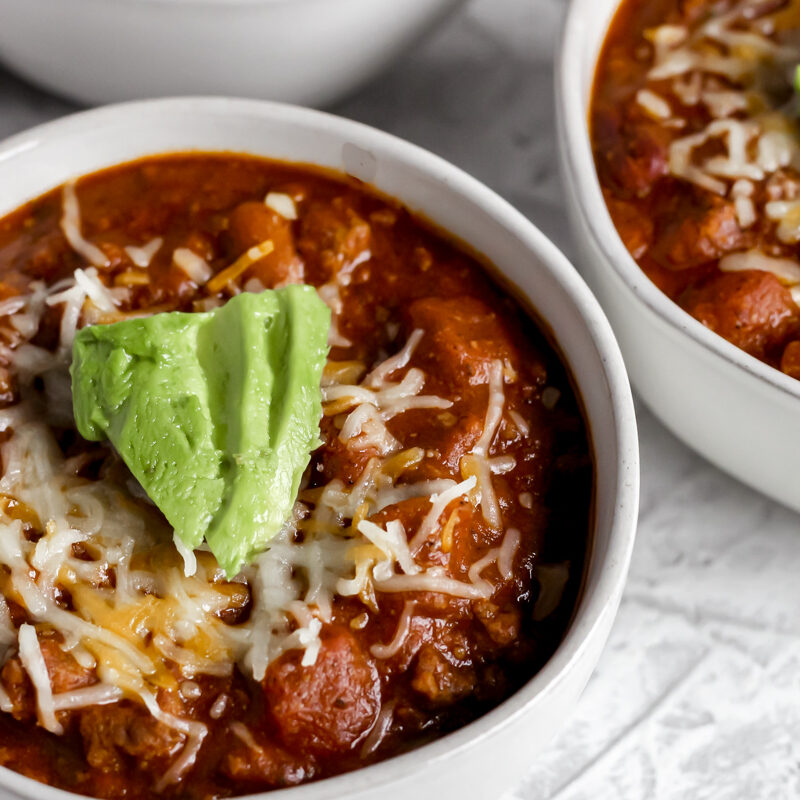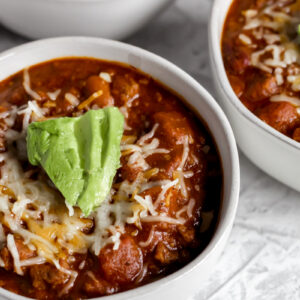 Southwestern Bison Chili
Easy classic chili recipe with a southwestern twist
Ingredients
1

lb

Ground Bison

32

oz

tomato sauce

2

tbsp

Avocado Oil

½

Onion Diced

1

can

Rotel (green chilies and diced tomatoes)

1

can

chili beans

1

can

dark red kidney beans (rinsed and drained)

2

tbsp

Chili Powder

1

tsp

Garlic Powder

1

tsp

Cumin

½

tsp

Onion Powder

1

tsp

salt

1

tsp

pepper

shredded cheese for topping (optional)

avocado for topping (optional)
Instructions
Add avocado oil to a dutch oven and heat to medium heat

Add diced onions to the pot and sautee for 3-4 minutes until translucent

Add ground bison to the pot and cook till browned. About 8 minutes

To the pot, add the whole can of Rotel, chili beans, kidney beans, and tomato sauce. Stir to combine

Add in the chili powder, garlic powder, onion powder, cumin, salt, and pepper. Let cook on low for as least 15 minutes or cover and let sit on low for a few hours
Notes
You can also cook this in a slow cooker. Brown the bison and onions in a pan on the stove and then add everything to a crockpot and cook on low for 8 hours or high for 4 hours.
Nutrition
Calories:
342
kcal
Carbohydrates:
26
g
Protein:
21
g
Fat:
18
g
Saturated Fat:
6
g
Cholesterol:
53
mg
Sodium:
1795
mg
Potassium:
1257
mg
Fiber:
7
g
Sugar:
12
g
Vitamin A:
1534
IU
Vitamin C:
19
mg
Calcium:
85
mg
Iron:
6
mg
Share this recipe on Facebook