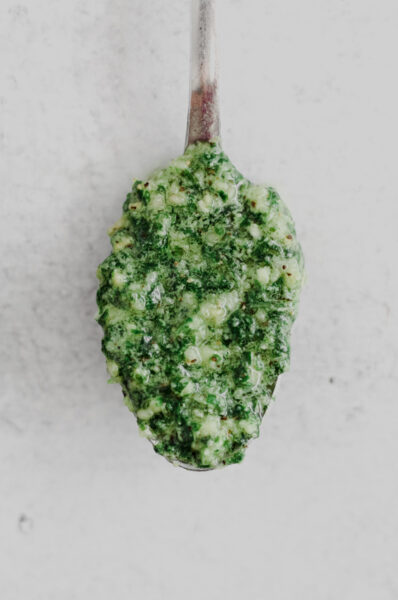 Who else loves them some pesto? I sure do! The only thing I don't like about pesto is all the cheese. Don't get me wrong, I love cheese, but eating a lot of dairy makes my face break out like I'm 16 again. So, that's why I came up with this Fast and Easy Dairy Free Pesto recipe. And let me tell you, it's so good I would eat it by the spoonful (I may or may not have done that after shooting these pictures).
I love pesto because you can put it on pretty much anything and it takes no time to make. This Fast and Easy Dairy Free Pesto takes about 5 minutes to make! There are so many ways you can use this pesto, like with pasta, topping your chicken, steak, pork, on top of my Whole30 Crab Cakes, or just plain eating it by the spoonful. No judgment here! Also, did I mention that it's Whole30 compliant? I didn't? Well, now you know!
To make this magical pesto, all you need is fresh basil, garlic, pine nuts, avocado oil, fresh lemon juice, salt, and pepper. I like using Chosen Foods Avocado Oil in this recipe because it has such a nice flavor, but you can use good olive oil if you want.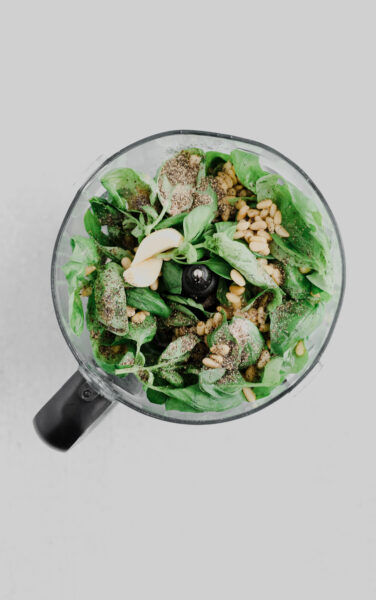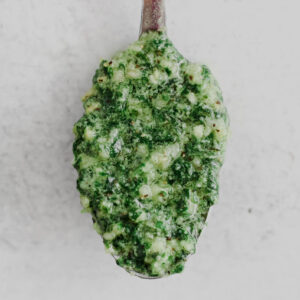 Fast and Easy Dairy Free Pesto
A Fast and Easy Dairy Free Pesto that is so good you'll want to eat it by the spoonful
2

cups

packed cups fresh basil

1/2

cup

avocado oil

1/4

cup

pine nuts

1

tbsp

lemon juice

2

large garlic gloves

1/2

tsp

pepper

1/2

tsp

salt