"The mountains are calling and I must go" -John Muir. I love this quote so much! To me, being in the mountains is good for my soul. For our annual snowboarding trip this year we went to Jackson Hole, Wyoming. Spoiler alert, this might be one of my favorite ski trips that we have been on.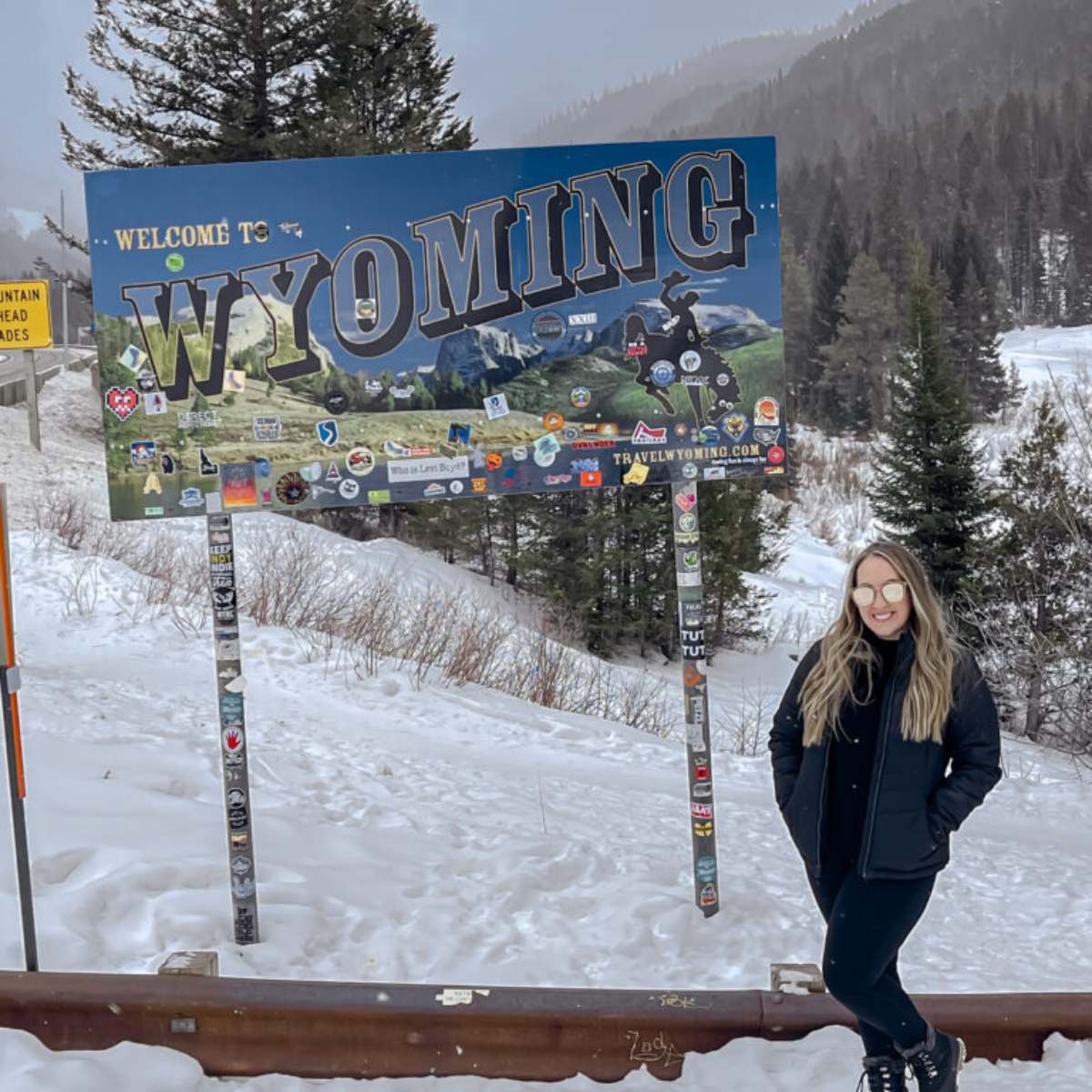 Jackson, Wyoming Airport
Let's start off with the airport in Jackson. First off, it is the cutest airport that I have ever been to!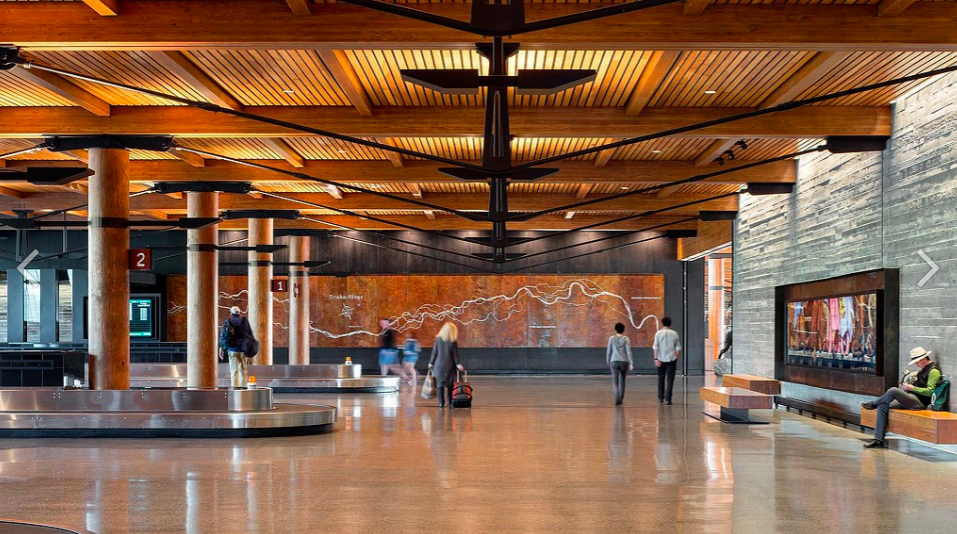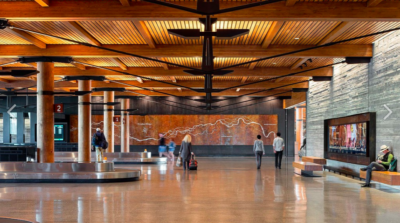 Not only is the airport beyond cute, but it's also the perfect size. I think there were 3 baggage claims and 8 gates.
Flying into Jackson Hole was so easy! We flew American Airlines from Austin to Dallas and Dallas right into Jackson. Because of Covid, the flights into Jackson were dirt cheap. We paid roughly around $280 round trip for each ticket to fly right into Jackson. Pre-Covid ticket prices were around $1200 to fly directly into Jackson during the winter. So, if you're thinking about going, now is the time!
Where to stay in Jackson Hole?
When we travel we always stay in an AirBNB or VRBO. The first night that we stayed in Jackson we actually stayed at the Snow King Resort because we couldn't check into our AirBNB until the next day.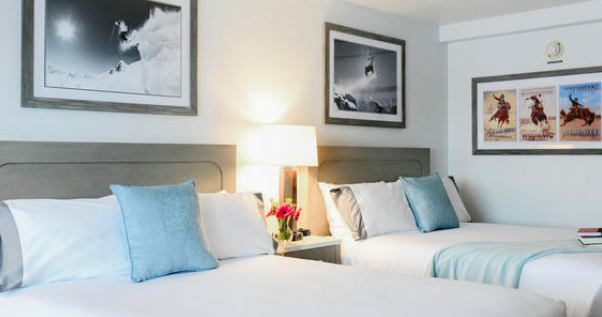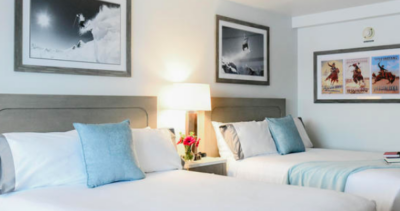 We had a room with double queen beds (it looked exactly as pictured) and it was clean and the beds were comfy. It was perfect for our one night stay in town!
After checking out of the hotel we drove to Victor, Idaho to check into our AirBNB. We chose to stay in Victor because it was WAY cheaper and the house we found was amazing. The drive from Jackson to Victor was only about 30-35 minutes and was beautiful!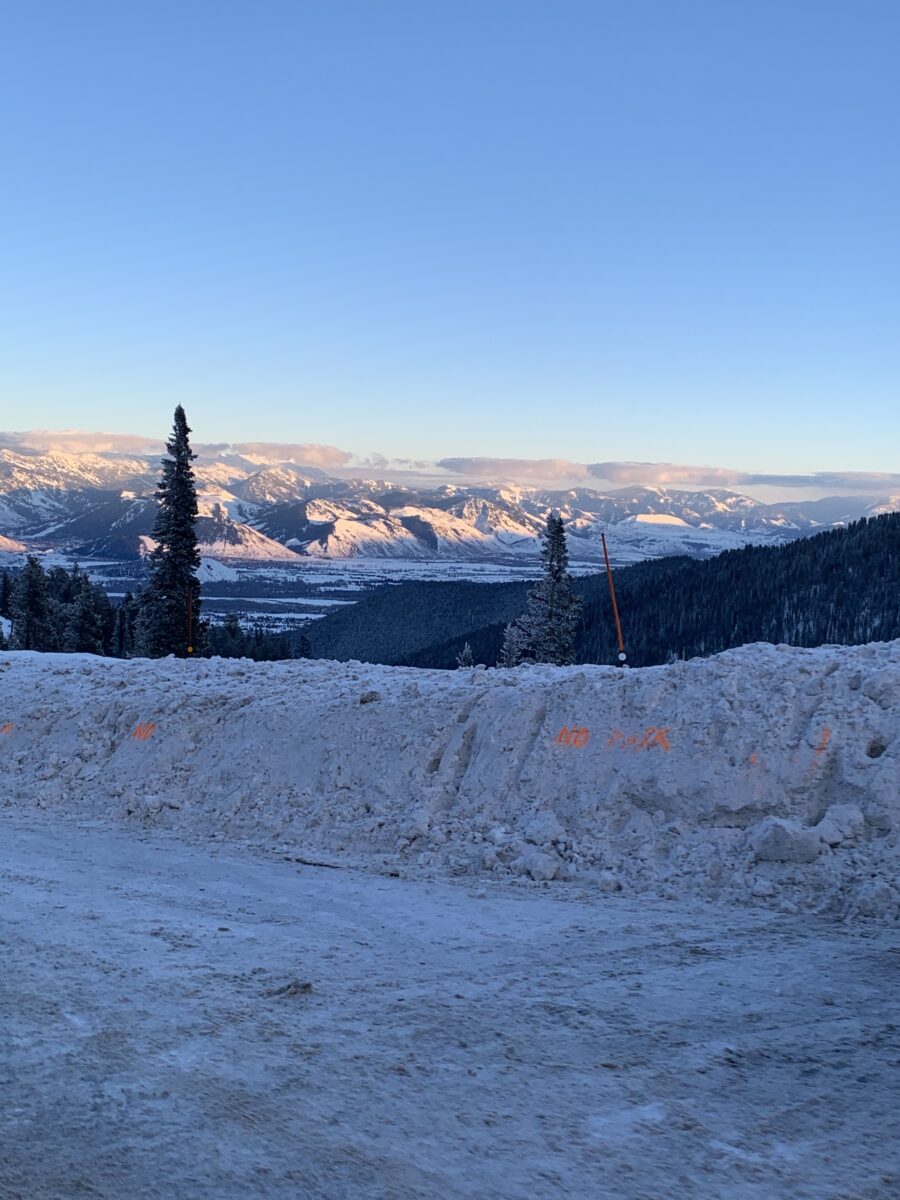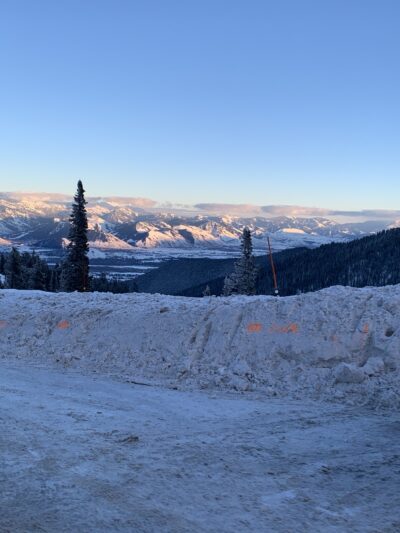 I don't think I can even put into words how amazing our house was. It was by far the best AirBNB we have ever stayed in. Totally worth staying 30 minutes outside of Jackson. It sits on 3 acres on a quiet road just north of downtown Victor. It's a 2 bedroom, 2.5 bathroom house with views of the Tetons and with a custom Finnish sauna. You heard that right, the house has a sauna!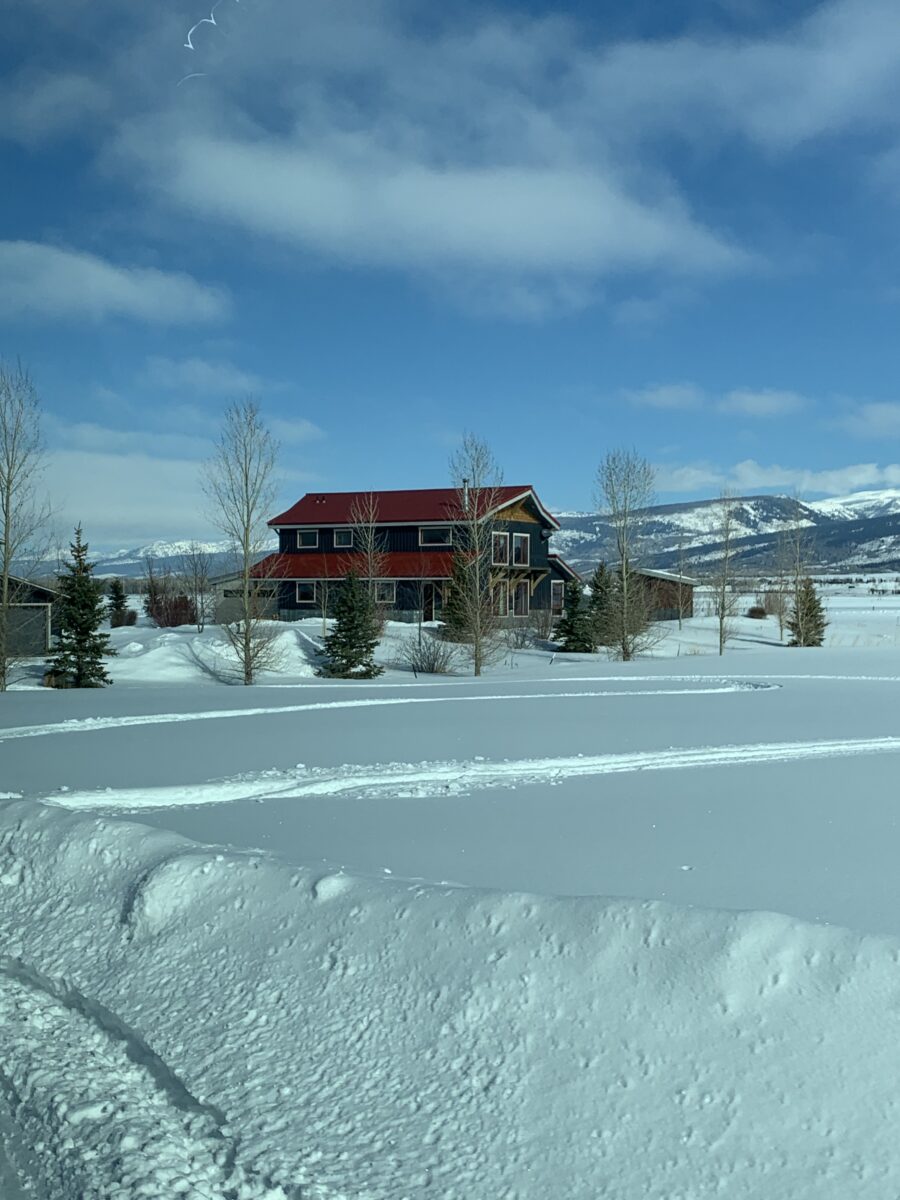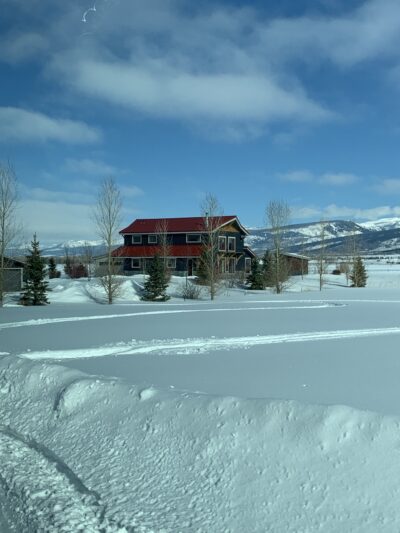 Things to do in Jackson Hole, Wyoming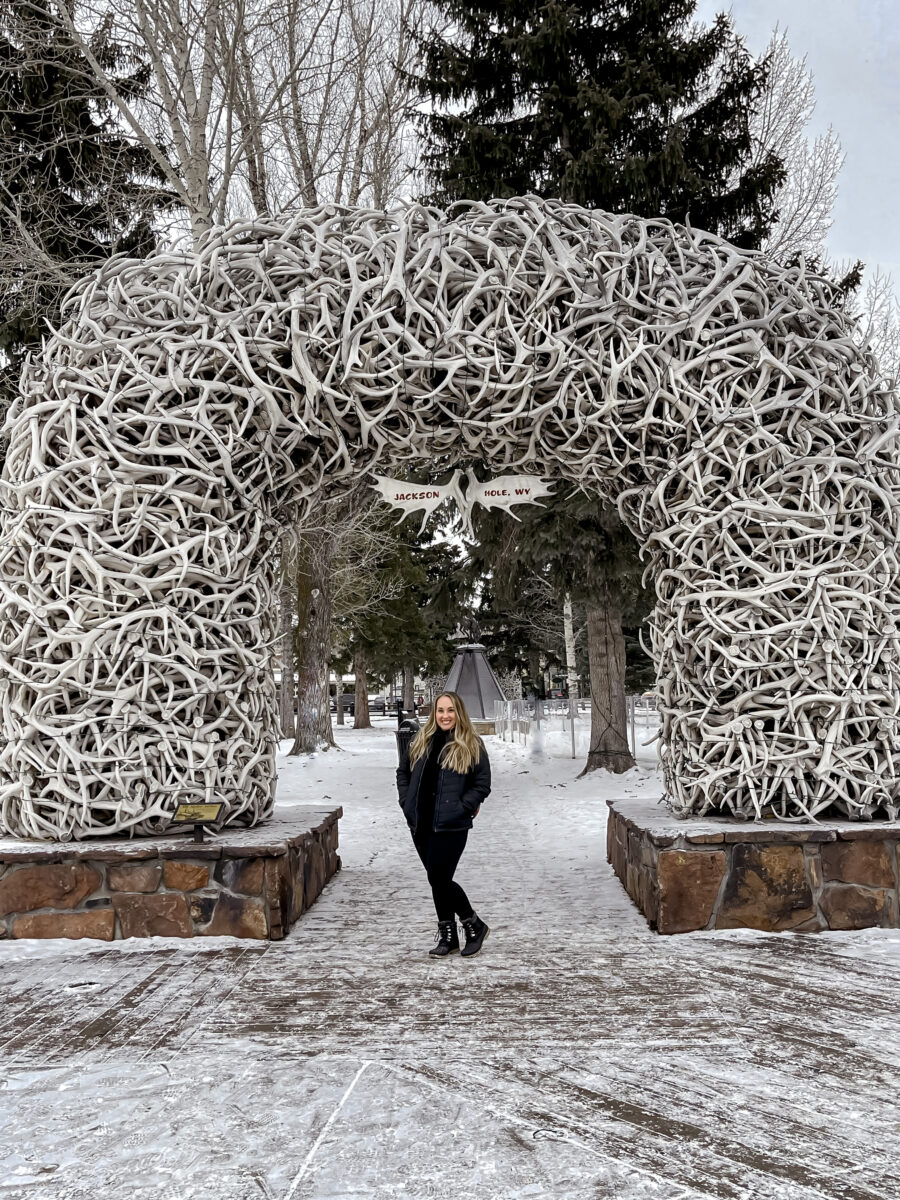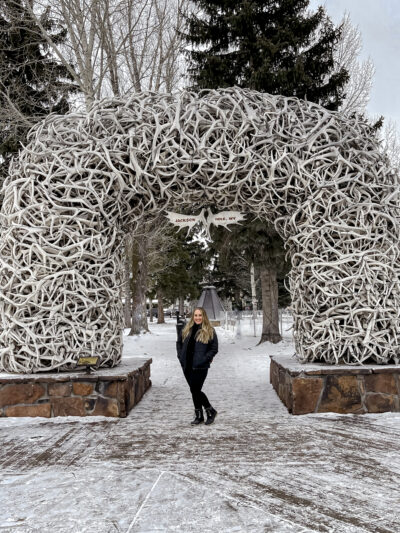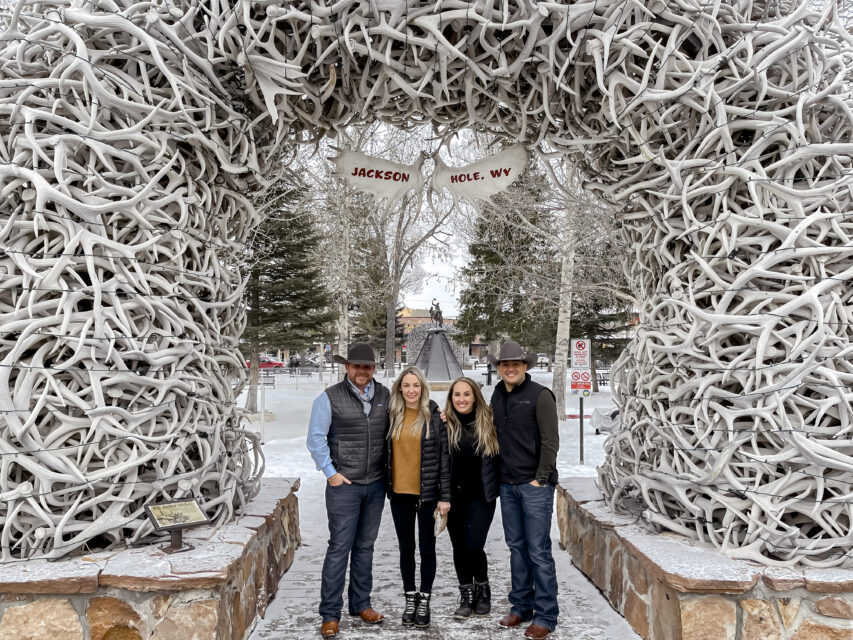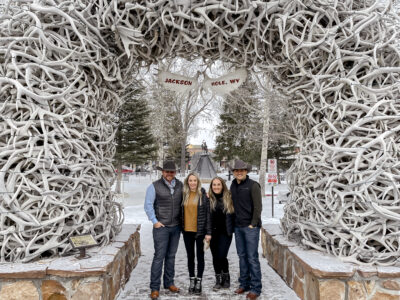 The square in Jackson is a must do. It's filled with amazing local shops and the famous antler arch!
Skiing and Snowboarding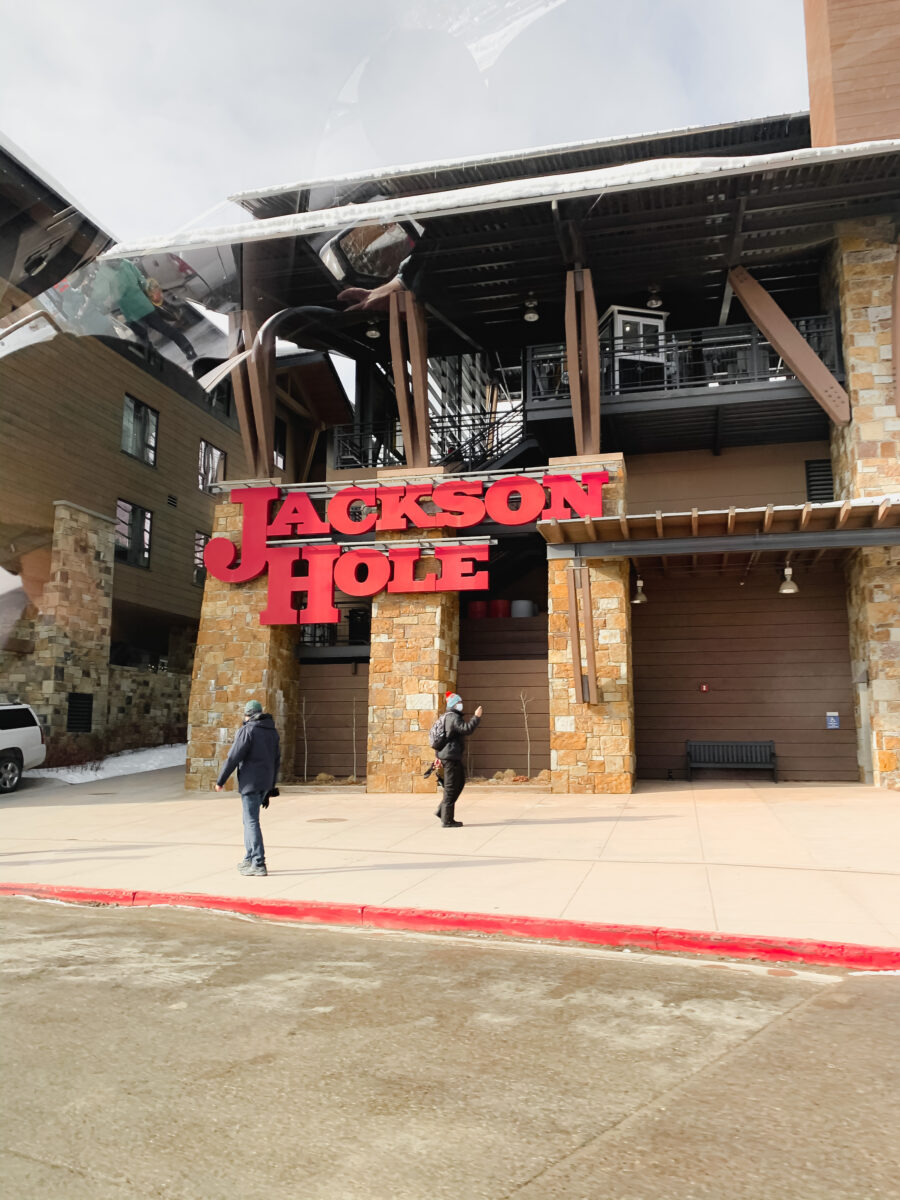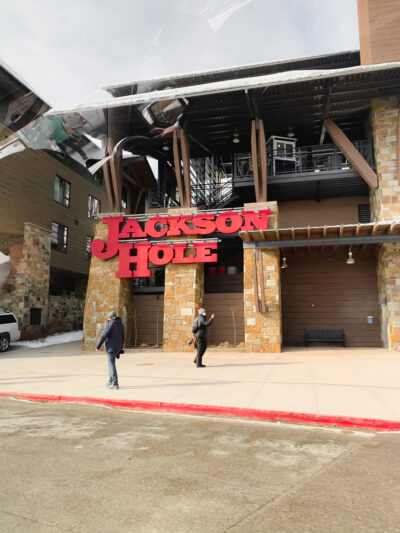 I'd say the most popular thing to do in Jackson Hole during the winter is skiing or snowboarding.
The skiing and snowboarding in Jackson Hole is world known! The resort is located in Teton Village, which is super cute. To be honest, I was surprised at how small Teton Village is. In my mind, Teton Village was going to be huge, like Whistler. At the base of the mountain they had one restaurant and one cafe I believe. There are a few more restaurants on the mountain you can stop off for a lunch break.
Lift tickets for Jackson Hole are priced about the same as the rest of the big named resorts. We bought our lift tickets well in advance online and paid about $155 a day. Right now with Covid, you have to buy your lift tickets in advance, which we always do since you usually get a discount for buying them early.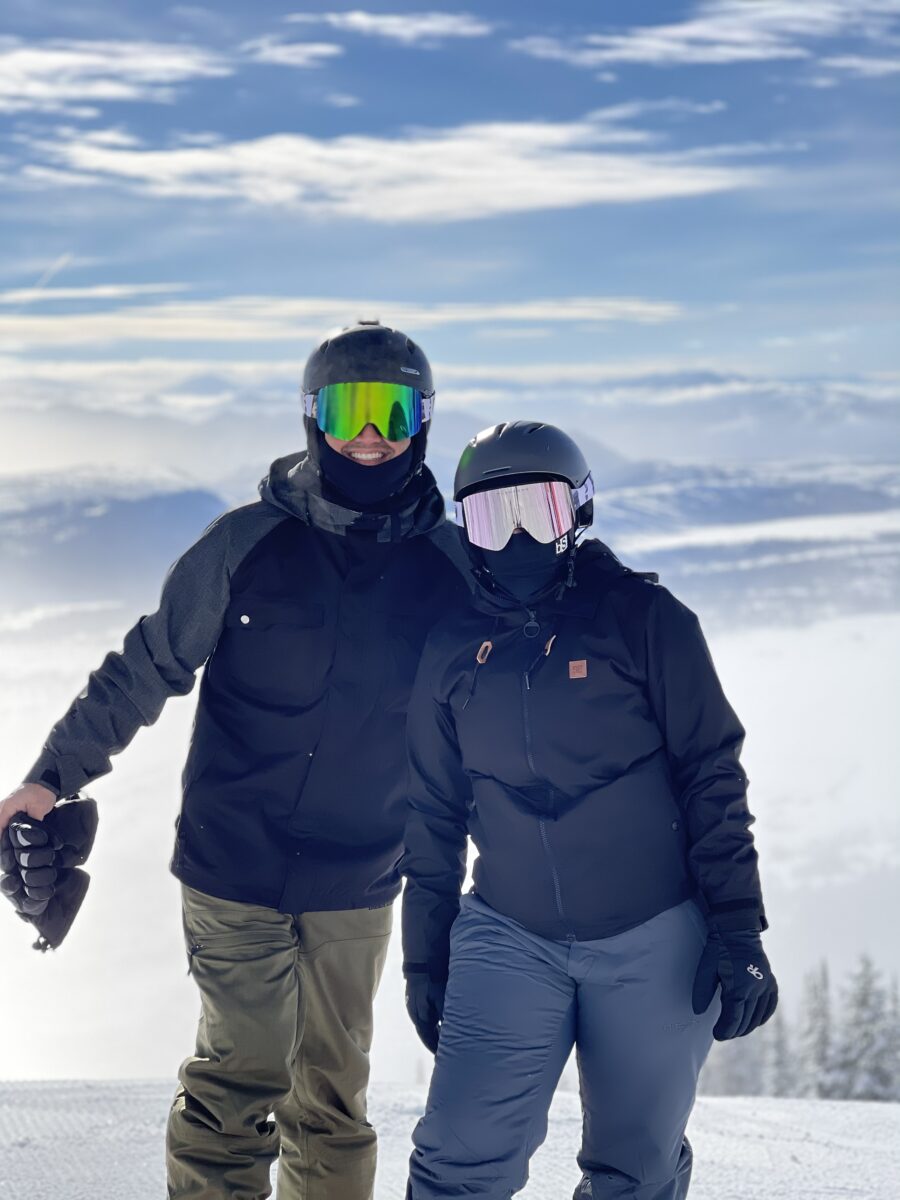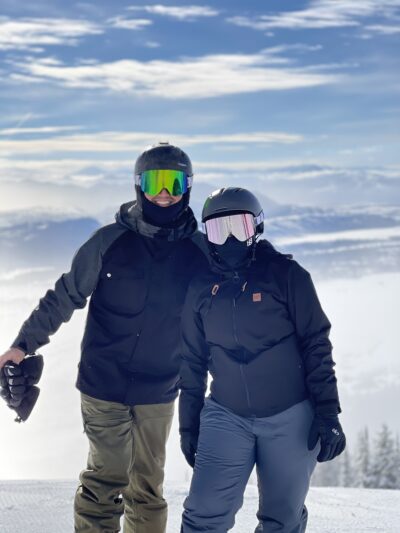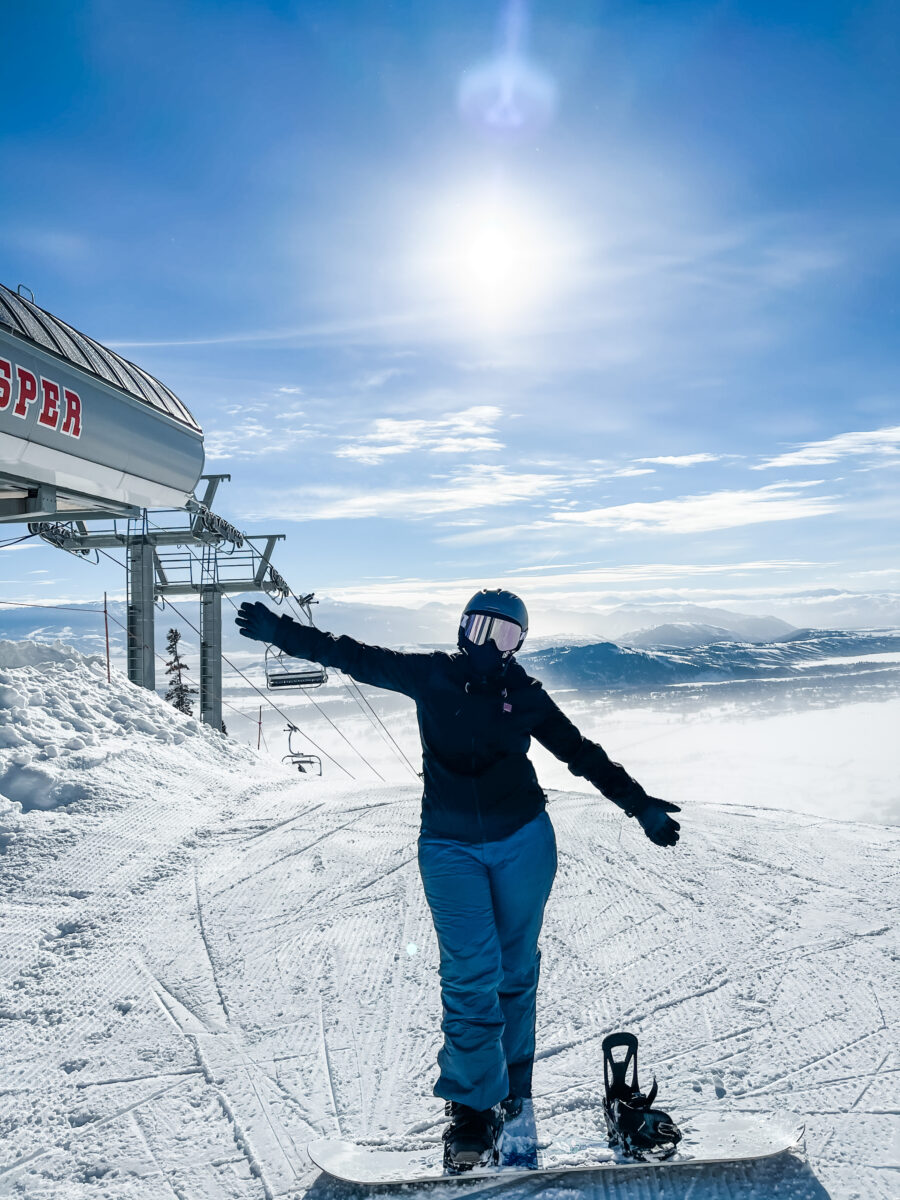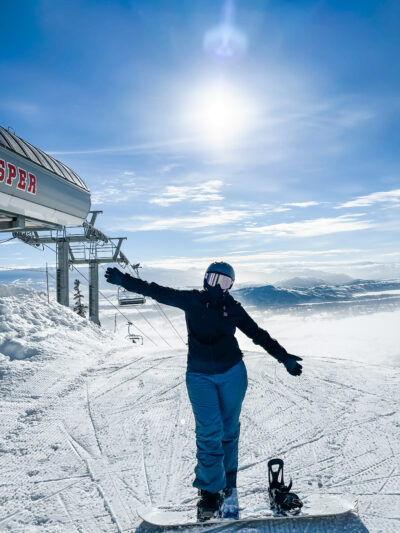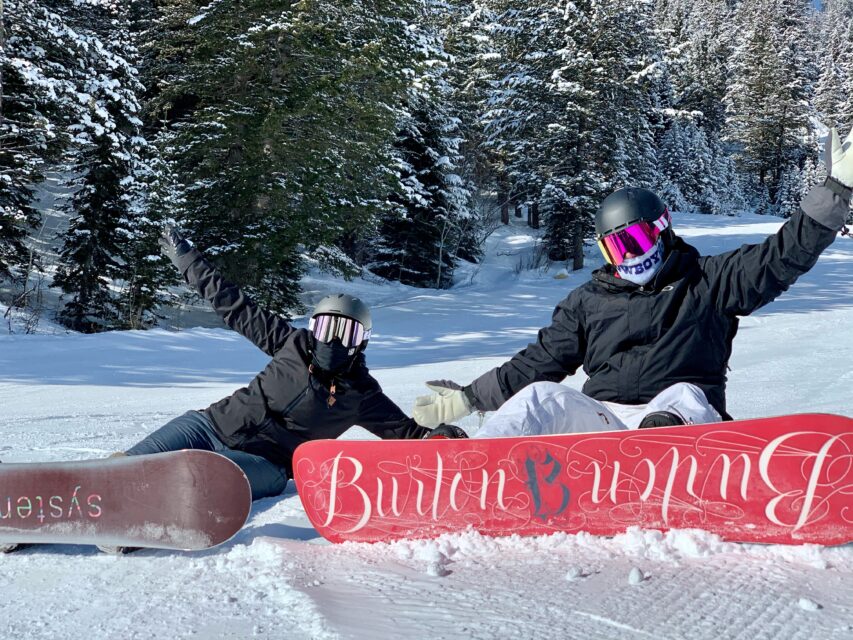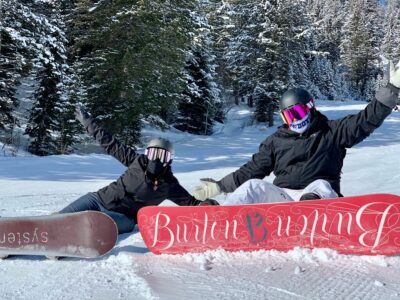 Grand Targhee
We spend two days snowboarding at Jackson Hole and then ventured over to Grand Targhee to snowboard one day. Grand Targhee was my favorite. Grand Targhee is located in Alta, Wyoming just on the other side of Grand Teton. Part of the reason we stayed in Victor, Idaho is because it is pretty much halfway between Grand Targhee and Jackson. I loved Grand Targhee so much because I loved that it was small, not packed with people, and their green runs were more like short blues, which I loved. Usually, I hate green runs because I am not fast enough on my snowboard to keep a good pace for flat greens. Typically, I stick with blue runs but Grand Targhee's greens were the perfect steepness for me. If you have the time, I highly recommend checking it out while you are in Jackson Hole.
Million Dollar Cowboy Bar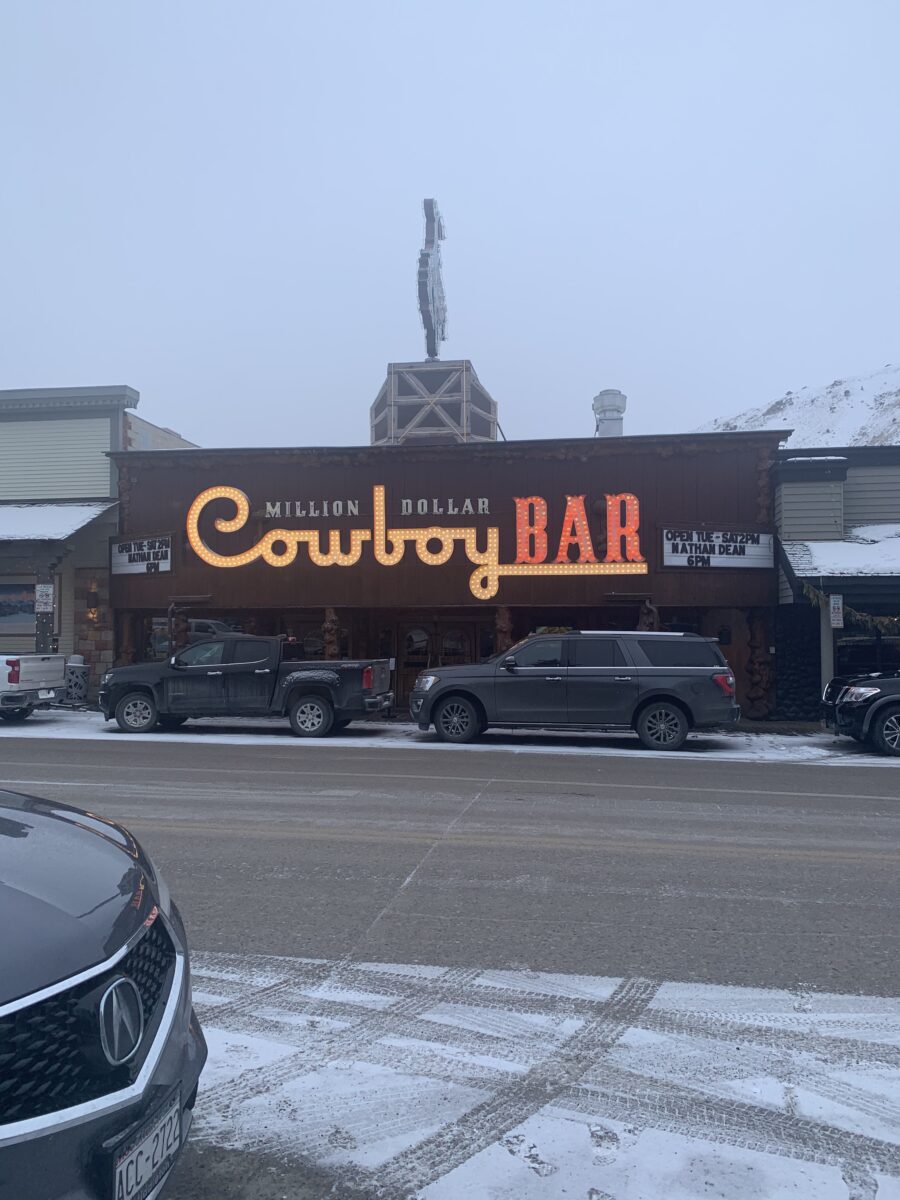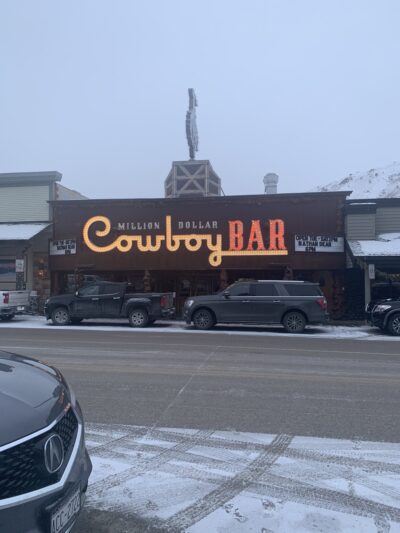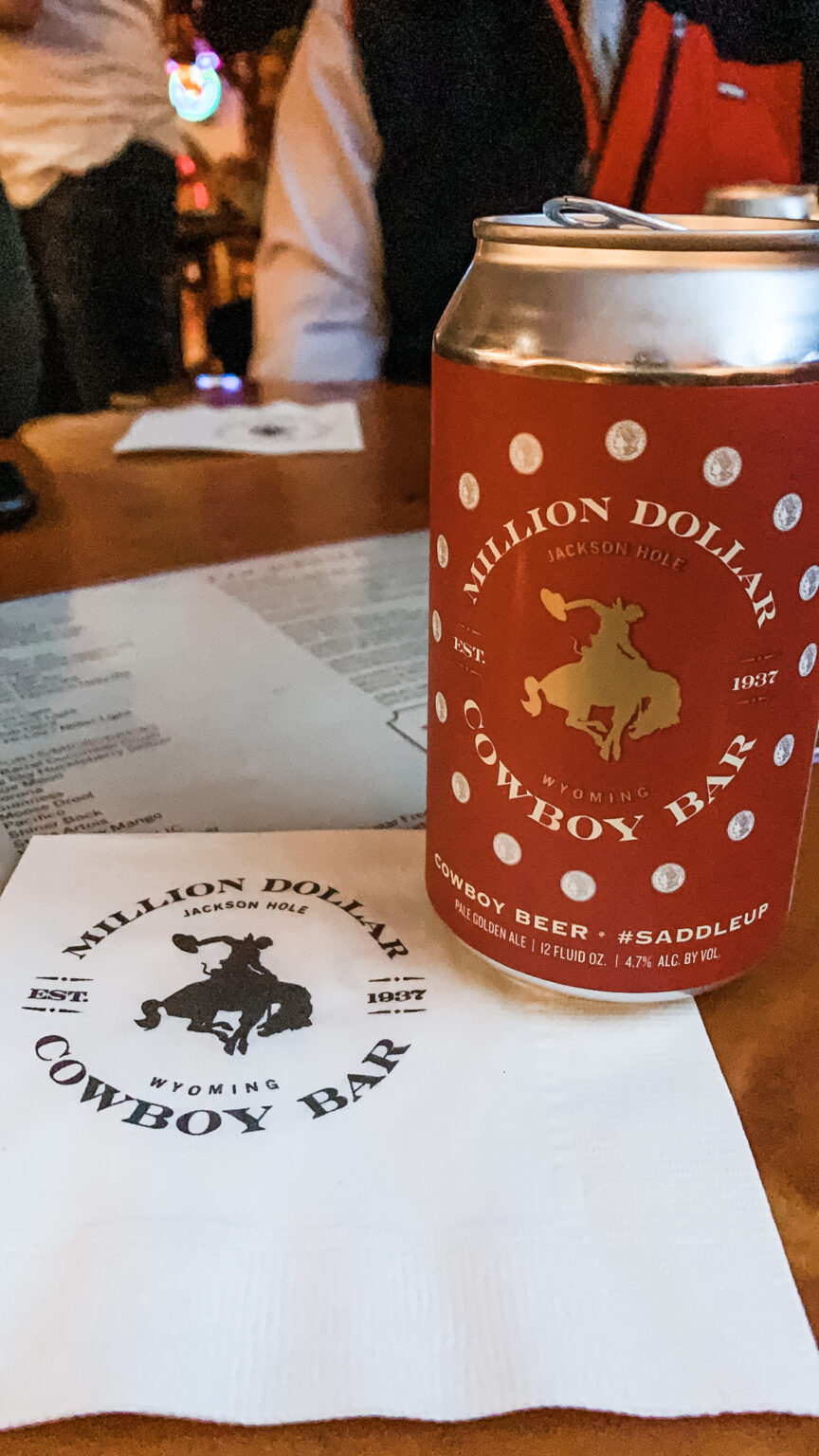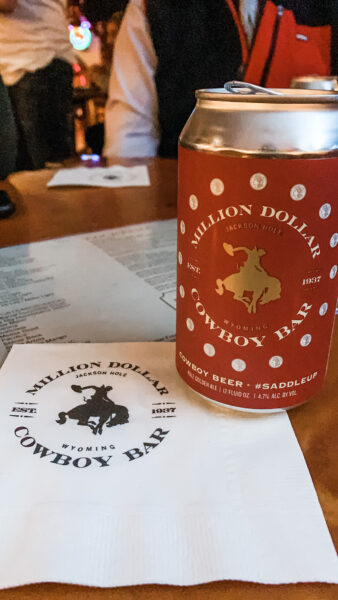 One of the most popular things to do/see while you are in Jackson Hole, Wyoming is going to the famous Million Dollar Cowboy Bar.
The Million Dollar Cowboy Bar is located on the square in the heart of Jackson. When you walk in you are greeted with all the vibes of a classic watering hole. They are probably most known for having saddles instead of bar stools at the bar.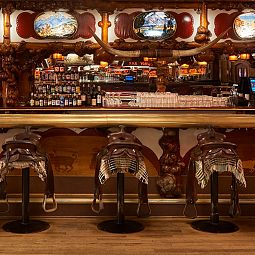 We got lucky and there was a great cover band playing. I recommend checking their website to see if a band is playing and going then. We got there around 4pm and it wasn't too packed and was able to get a good table where we could see the band. As the evening went on, it got pretty full!
Ok, I just have to take a minute to talk about their drinks. First, their Cowboy Beer is pretty darn good! Second, they have some pretty awesome hot cocktails that I highly recommend you try. Between all of us, we tried the Hot Apple Pie, Hot Buttered Rum, and the Peppermint Patty. We all agreed, the Hot Apple Pie was the best out of the three!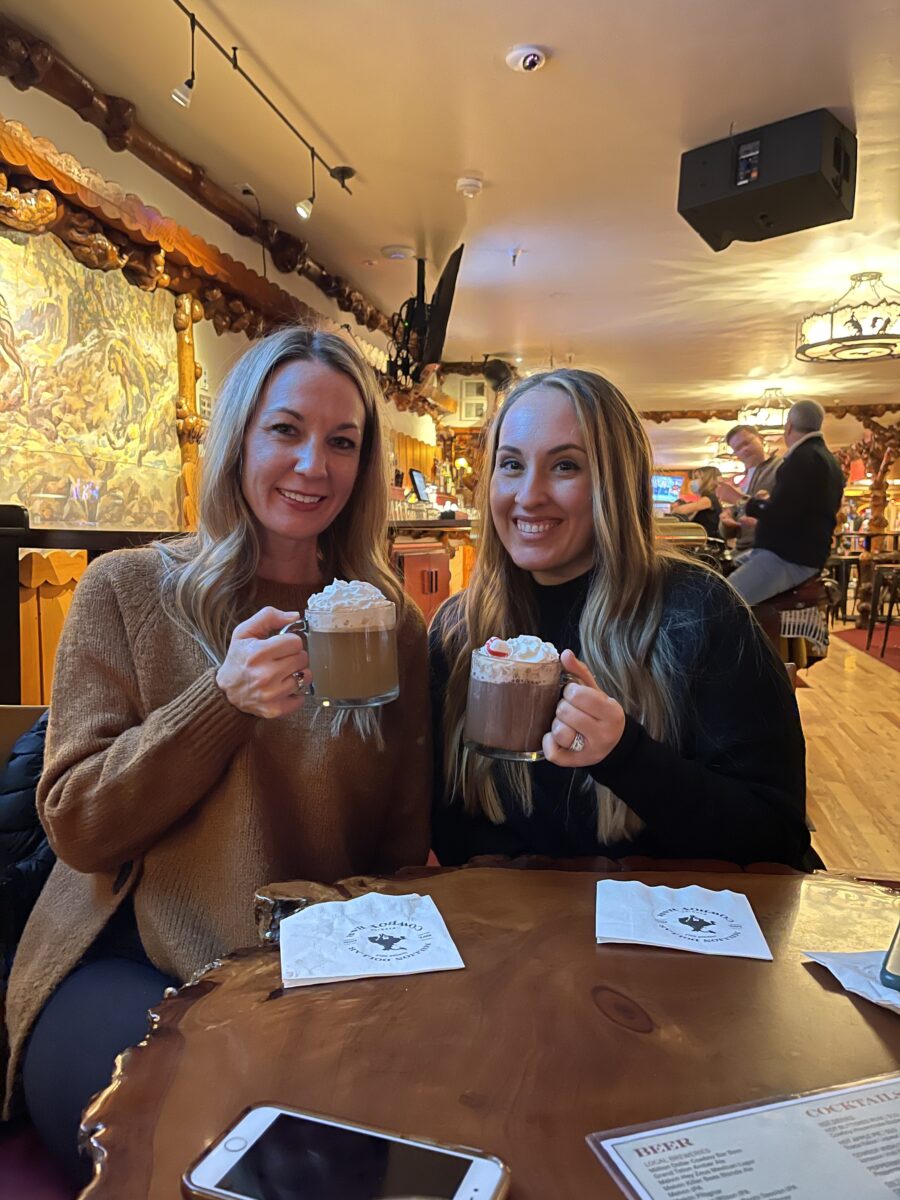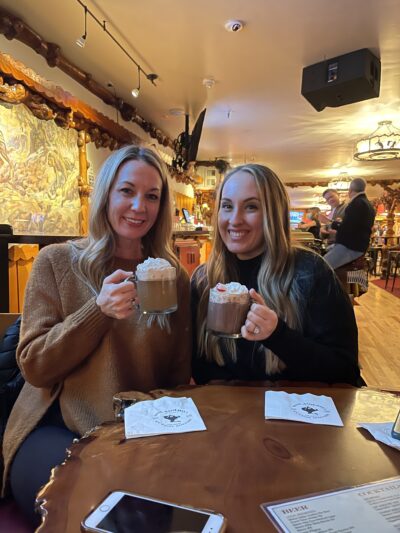 Restaurants in Jackson Hole, Wyoming
Roadhouse Brewing Co
Let me just say, the entire week that we were in Jackson we did not have one bad meal. Everything was amazing!
Since we rented an AirBNB we made most of our breakfasts at the house and a few dinners too. The first meal we had when we got to town was at Roadhouse Brewing Co. I ordered a mimosa, then moved on to one of their flights, and got the Basque Chorizo Flat Bread and it was amazing.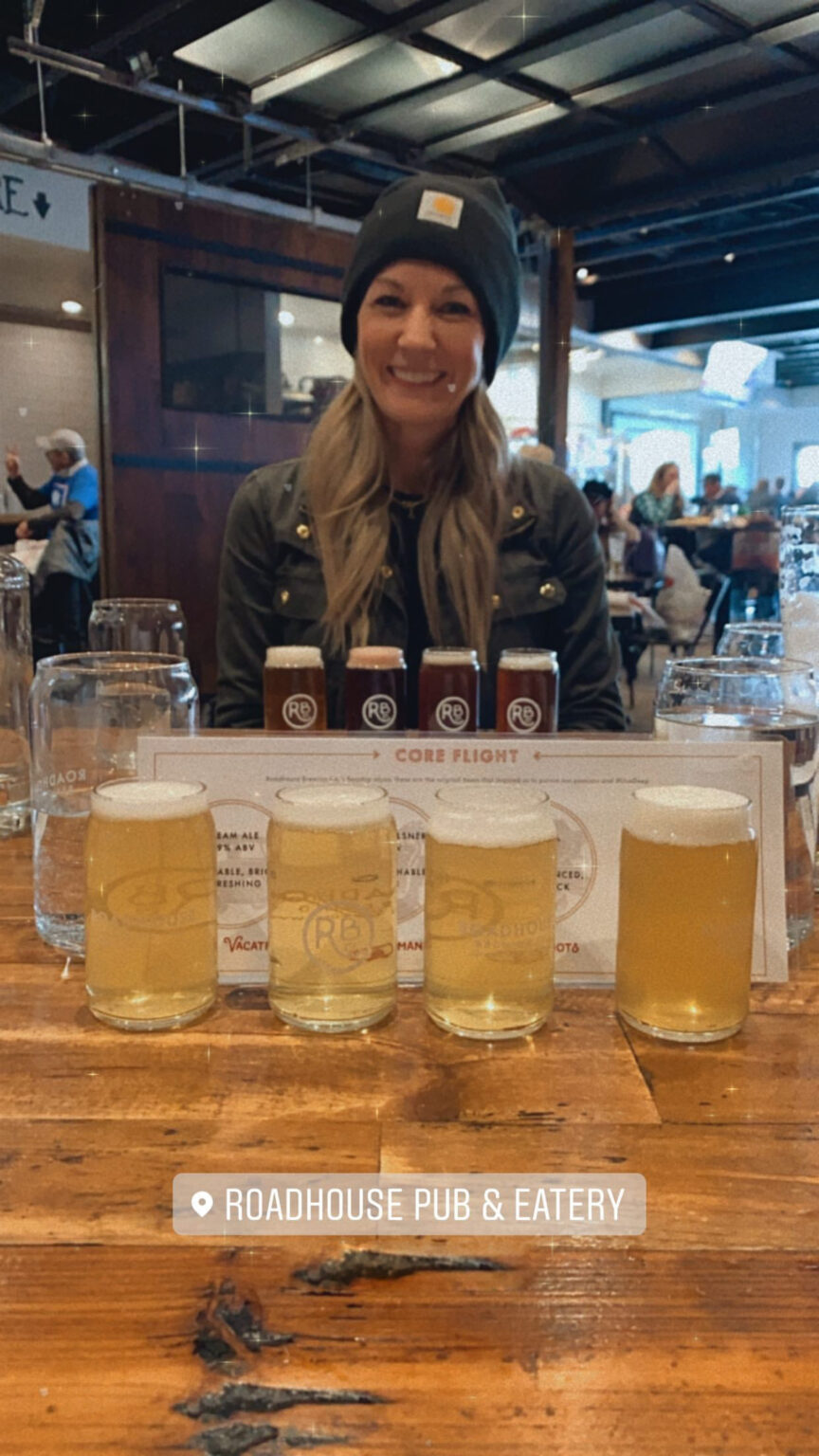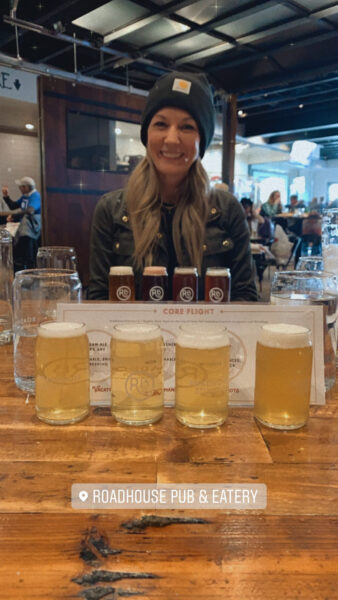 Gun Barrel Steak and Game House
This meal was probably the best meal we had while we were in Jackson Hole. I highly recommend making a reservation in advance. The atmosphere at Gun Barrel Steak and Game House was just what I pictured Jackson Hole to be like. There were taxidermy animals all over and one amazing fireplace right in the middle of the restaurant.
We ordered the parmesan artichoke dip and the bison capriccio to start with. The parmesan artichoke dip was hands down the best I have ever had. For dinner, we got the special that night which was a mix of bison sirloin, elk ribeye, and a venison bratwurst. We got a side of mashed potatoes and green beans to go with it. Everything was so delicious!
Virginian Restaurant
The next morning we got up and headed to the Virginian Restaurant for some breakfast. As soon as we walked in it reminded me of this hole in the wall breakfast spot that I grew up going to so I knew it was going to be good. As I always do, I ordered the ½ order of the biscuits and gravy and a side of bacon and it was perfect. The ½ order was plenty of food! Everyone else loved their meals too. I don't think you could go wrong with anything on their menu. P.S- Their pancakes are massive! We saw the table next to them ordered them and wow!
Hand Fire Pizza
For dinner that night we went to Hand Fire Pizza located on the square. We ordered a few beers and decided to split three of the pizzas. The three we ordered were the Queen of Savoy, Burrata Be Kiddin' Me, and Bison of a Gun. The Burrata Be Kiddin' Me was all four of our favorite out of the three. The Bison of a Gun came in second. It was really different but a great flavor. Our biggest complaint about this restaurant is that they don't serve ranch with their pizza. It even says it on the bottom of their menu. I don't know about you but ranch and pizza go together like peanut butter and jelly! We were pretty bummed about that. Sorry for the terrible pictures below!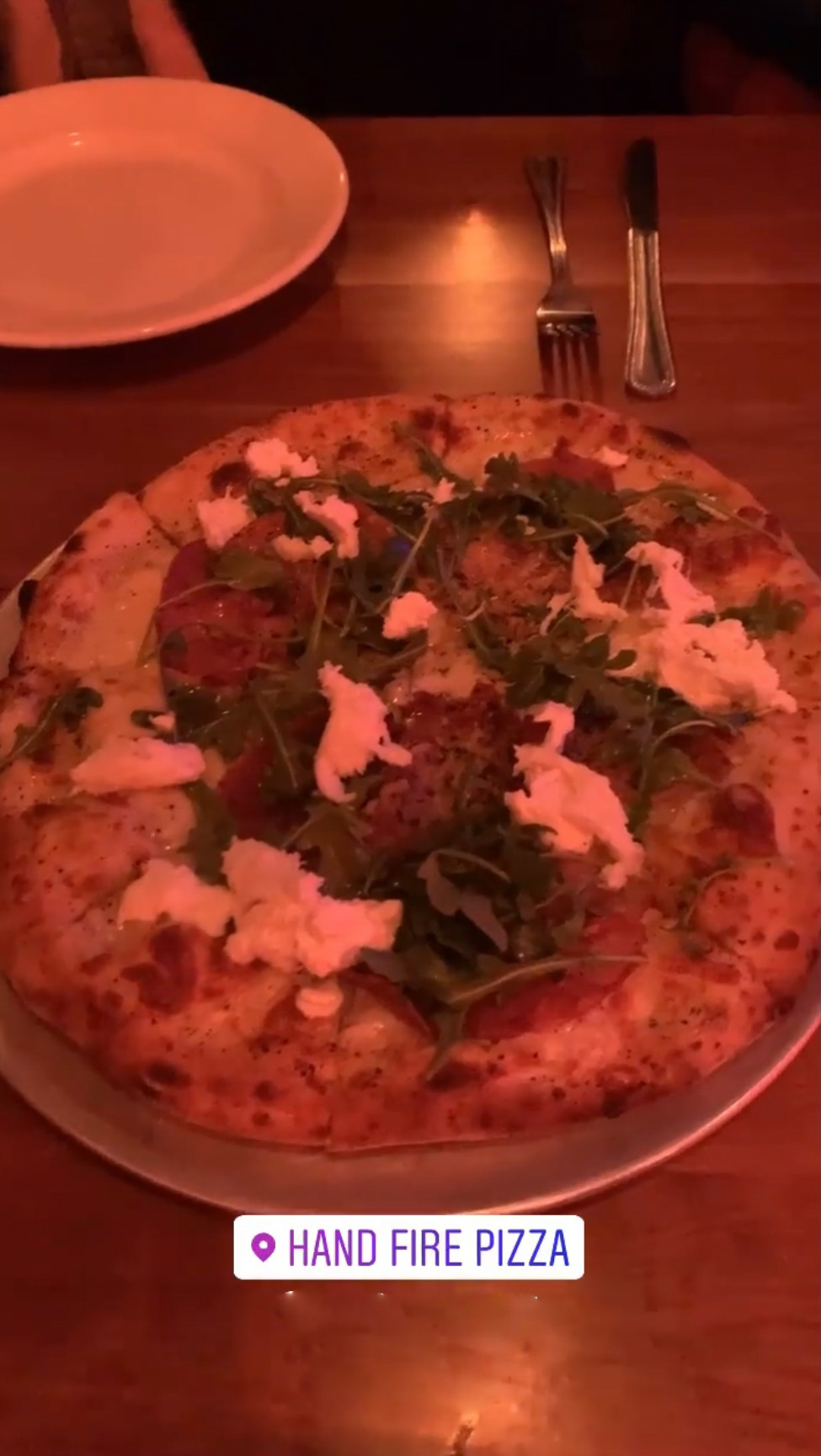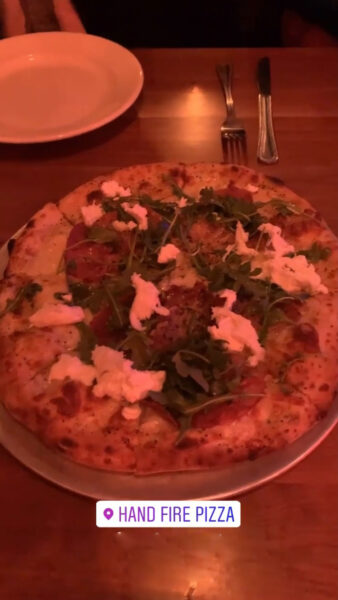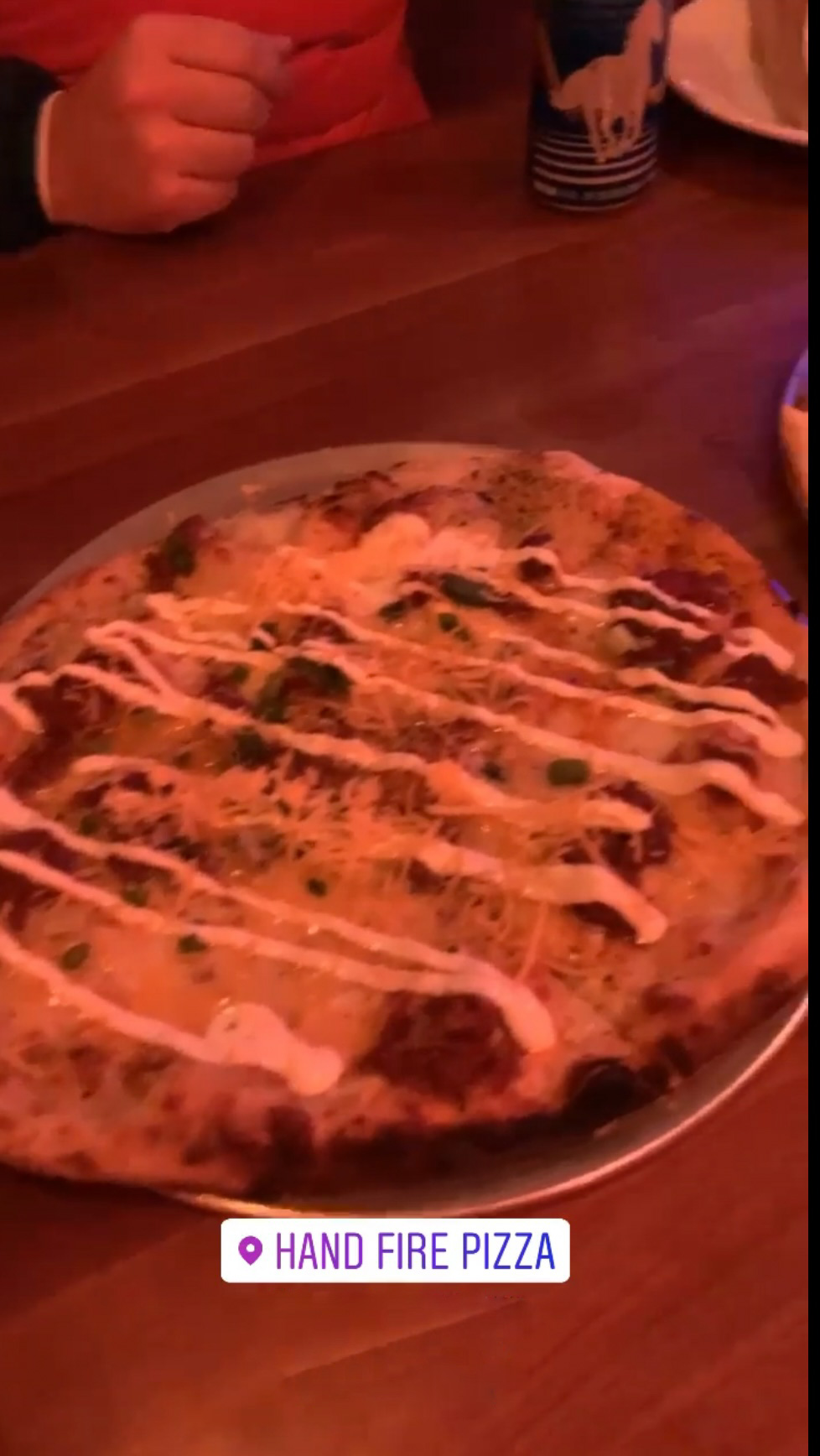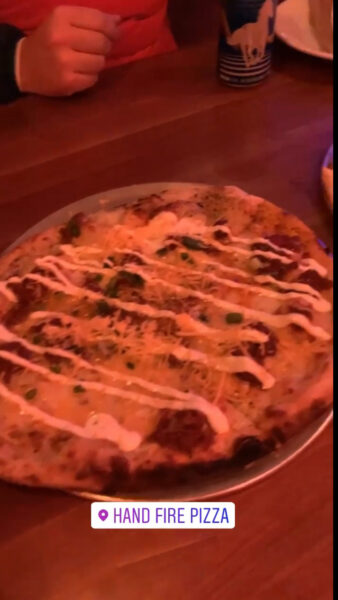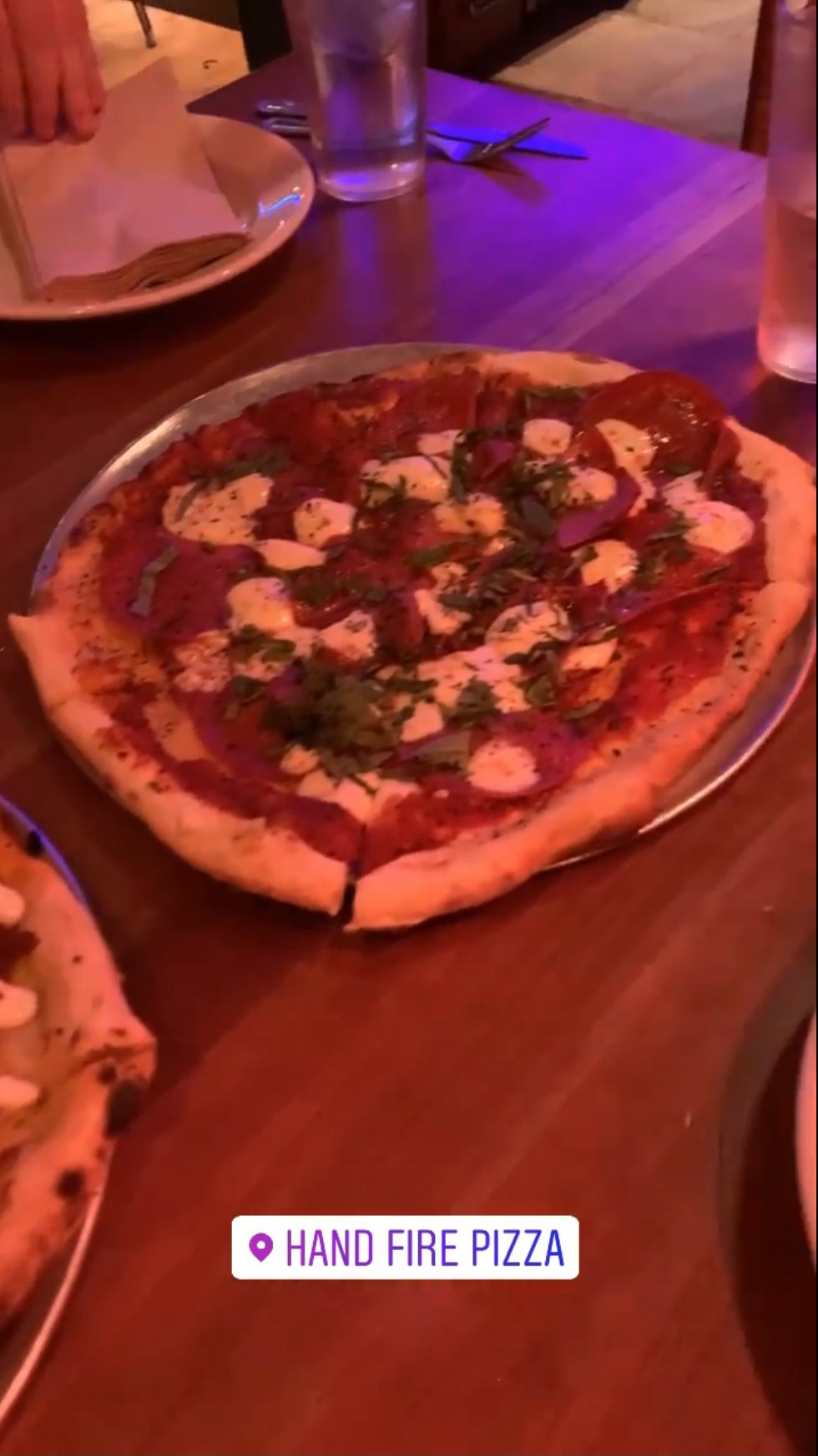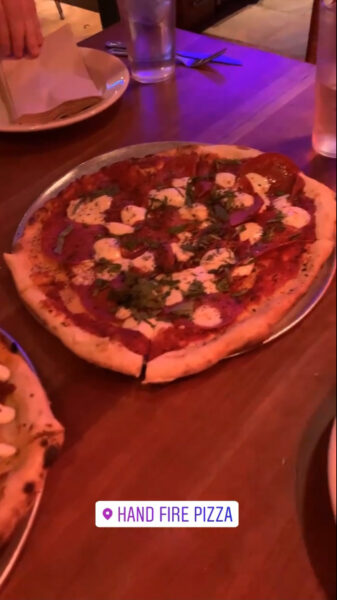 Stillwest Brewery and Grill
The last meal that we had out was at Stillwest Brewery and Grill. We wanted to find a cool brewery to grab lunch at and this place was perfect! I got a Nashville Hot Chicken Sandwich, which was delicious, and a flight of beers.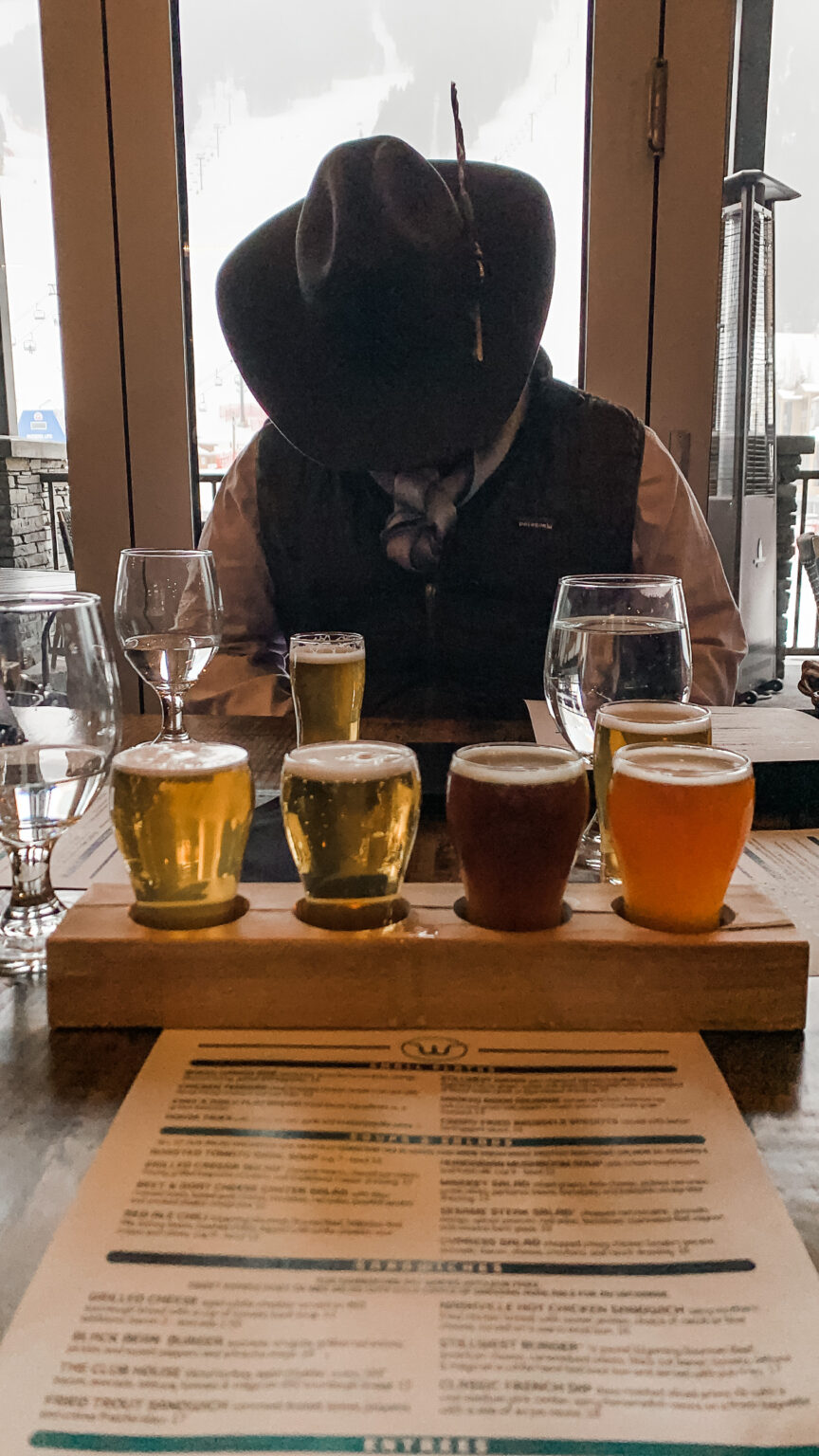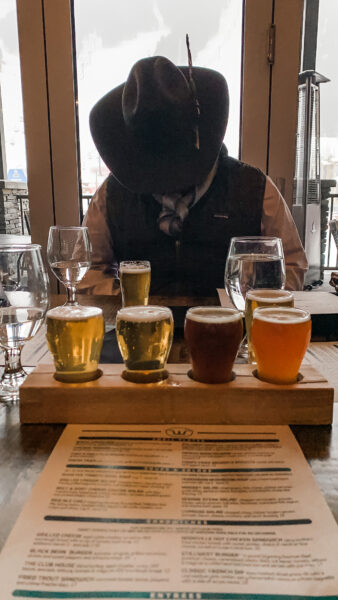 Is Jackson Hole Worth Visiting?
100000% yes! We go to a new ski town every year and we all agreed this trip might just be our best trip yet. The town of Jackson is so cute, our house was incredible, and the snow conditions were amazing! Also, the weather was perfect. The highs were in the 20s every day with no wind so we never felt cold. We had a few good snow storms which led to some pretty crazy powder on the mountain (check out the video below). Going to Jackson Hole, Wyoming during January had us a tad worried that we would freeze our bums off, but we didn't. Aside from the weather and our house being great, every place we went to eat was awesome. There was not one restaurant that we went to that wasn't great. This is defiantly a place you should add to your bucket list!
Want to read about more places I've been? Check these out...