Ahhh the Bahamas! There is nothing better!
The Bahamas holds a special place in our hearts because it's where my parents honeymooned and where we got engaged.
Exuma has been on my bucket list for a few years and is where I really wanted to go for our honeymoon. Well, with the cost of our wedding, it wasn't really in our budget to go to Exuma for our honeymoon. So, we decided to celebrate our first year as husband in wife in the place we had been dying to go to forever, Exuma.
Let me just say, pictures do not do this place justice. It is hands down the most beautiful place I have ever seen.
When doing our research on where to stay we came to realize it would be more cost efficient to rent a house from VRBO. There are resorts on the island and even a Sandals All Inclusive Resort (which was really expensive), but we knew that to make this trip work within our budget we were going to have to rent a house.
Renting a house turned out to be the best decision we made. It gave us the freedom to really explore the island and see the culture. If we would have stayed at the Sandals resort we probably wouldn't have left.
Our house sat right on Hoopers Bay which was simply gorgeous. The house had a nice view of the water and some really pretty landscaping. Hoopers Bay is super quiet! I think we maybe saw two people the whole week, which meant we had the beach to ourselves.
To get around the island we decided to rent a car. In Exuma they drive on the opposite side of the road which took some getting use to. Thankfully, there is only one road on the island so we couldn't get lost and didn't have to deal with a ton of traffic. We rented our car from Berlies and they were great!
After settling into our house, we headed to the store. There are a few grocery stores on the island but the one in Georgetown has the biggest selection. Side note: the whole island closes down on Sundays so nothing is open. We flew in on a Saturday so we did our shopping when we got there and didn't have to worry about it too much.
I did a lot of research before our trip (if you know me then you know I love researching everything), and found out the food on the island is pretty expensive. My husband's co-worker had been to Exuma and suggested that we pack a cooler of meats to bring with us. This sounded crazy and not doable to me, but once again I researched. Turns out, a lot of people pack coolers with ice packs or dry ice and bring it as a checked bag. A few days before we left I froze a ribeye steak, chicken breast, shrimp, deli meat, and bacon. The day of our trip I put all the frozen meats in a soft sided cooler with big ice packs. Our travel time wasn't awful (flew from Austin to Miami and Miami to Exuma) so by time we landed the meat was thawed out but still cold. As soon as we got to our house it all went straight into the refrigerator. We never had an issue with customs! On top of bringing meats with us, I packed a lot of dry goods in my suitcase to have in the house. I packed pancake mix, syrup, cookies, energy bars, single sized bags of popcorn, and crackers. All we had left to buy at the store was fresh produce and eggs.
We ate a few meals out during the week. They were all great but all expensive (about $140 for two meals and drinks). One of our favorite meals we had was the Sunday Pig Roast at Chat 'N' Chill. You take a water taxi ($15 a person) over to Chat 'N' Chill and can hang out all day on their beach. The pig roast is $20 for a plate and they have a full bar. It was fun to just hang out on the beach and feed the stingrays that would swim by looking for food.
The day after we went to Chat 'N' Chill we decided to get in the car and explore the island some. We wanted to check out this beach I had heard of when researching, Tropic of Cancer Beach. The beach gets its name because it lies on the Tropic of Cancer line (the most northernly circle of latitude on Earth). I feel like I can't even begin to tell you how amazing this beach was. It was the most beautiful beach I have ever seen. I have a strong feeling this beach/water will stay on the top of my list of most beautiful beaches/water forever.
To get to Tropic of Cancer Beach is a little bit of an adventure. There are no signs to tell you to turn off of the main road. Once again, I researched how to find the beach and came across a message forum that said "look for the blue reflector lights on the light poll and turn left". Thank goodness I looked up how to get there before we left or we would've never found it. The road you turn off on is pretty much like off roading. It is nothing but an eaten up road filled with pot hots. We drove very slow! Once you park and see the water, it's breathtaking!
One of the main reasons I wanted to go to Exuma was to swim with the pigs. Of course it was amazing! We took a half day excursion (this is where my phone decided she wanted to live the rest of her days at the bottom of the most beautiful ocean ever..sad) to see the pigs, some endangered iguanas, and do some snorkeling at a blue hole. The one thing we regret is that we didn't do the full day excursion which also took you to a sand bar and Thunderball Grotto.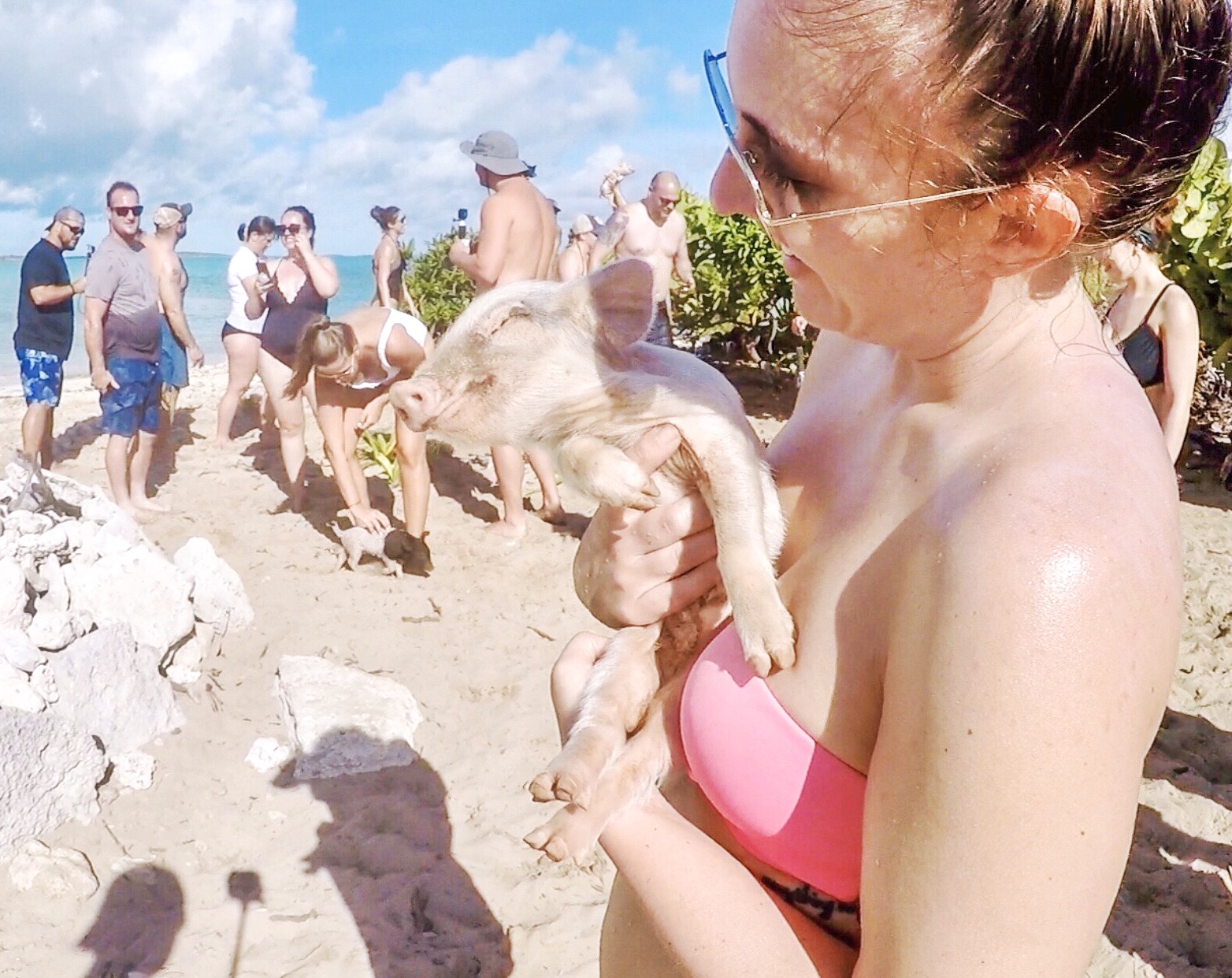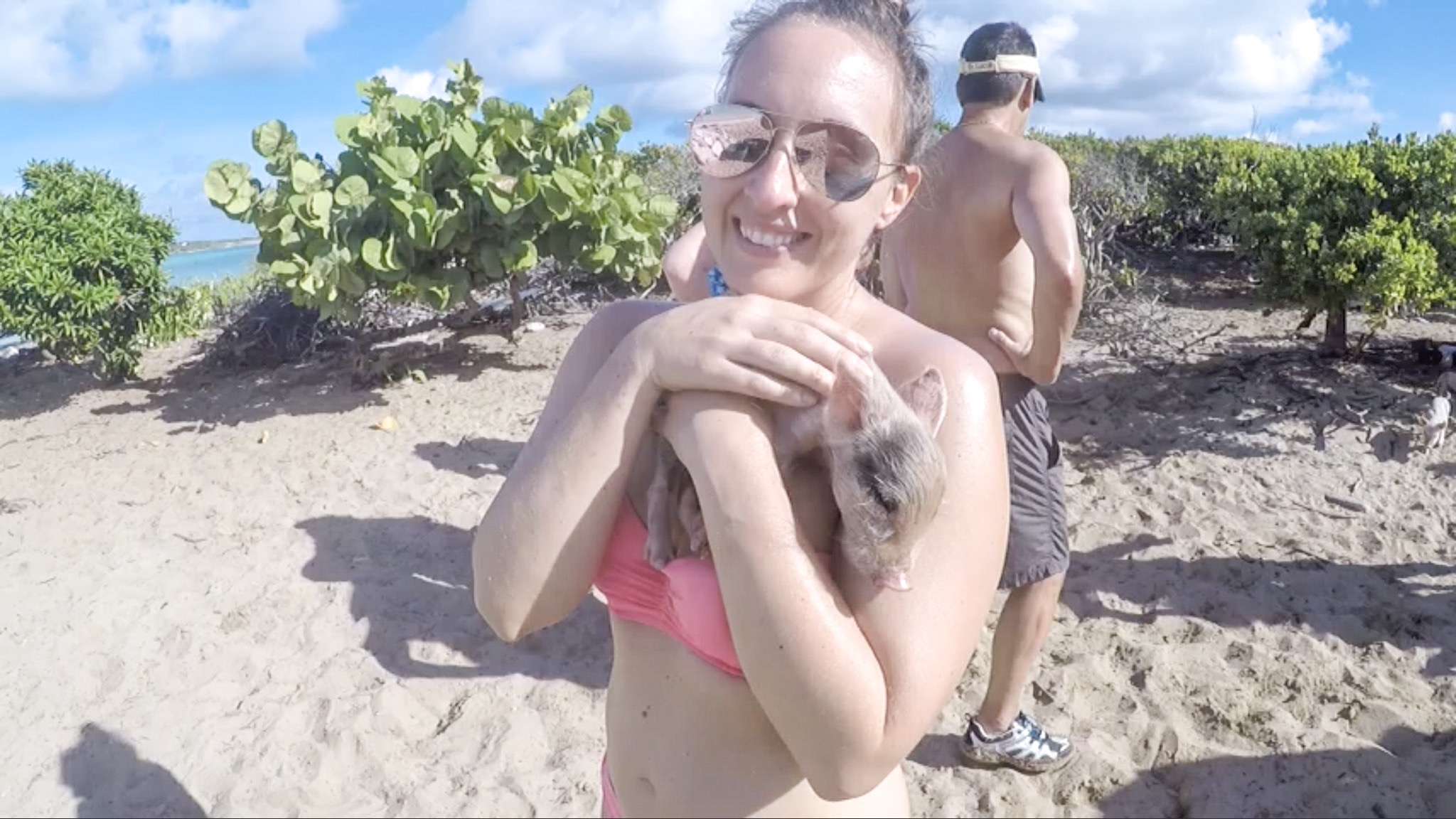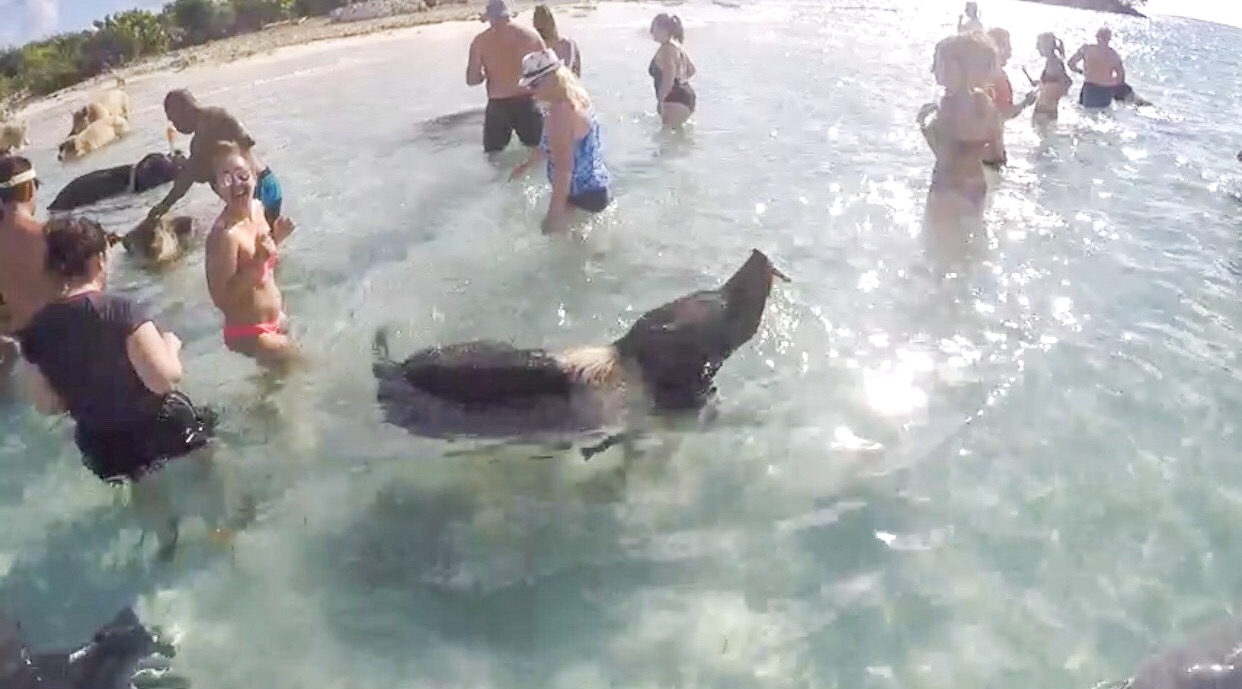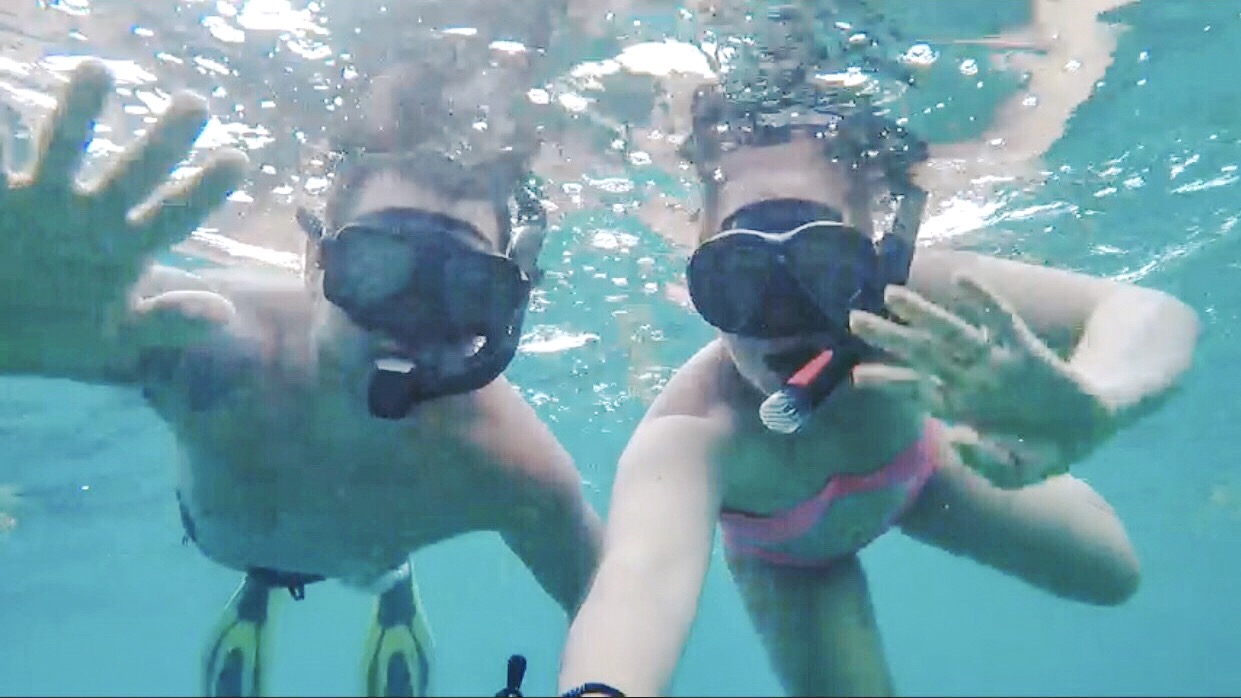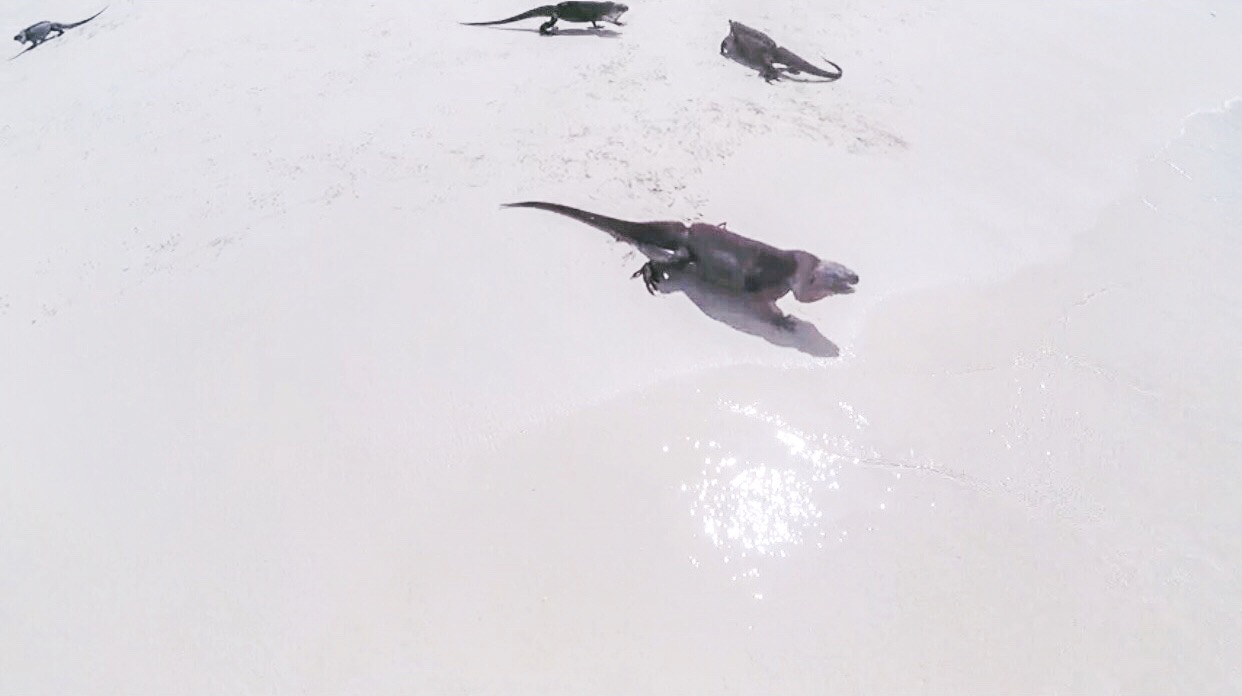 One tip that I wish that I would have known going into the trip was to bring bug spray. The sand fleas (gnats) are SO bad there and my legs and back got all bit up. Next time I'll bring bug spray for sure!
This trip was really one for the books! I loved everything about it and we are already day dreaming of buying a vacation house there one day. The people are all so nice and the water is truly like nothing I have ever seen before. If you are looking for a quiet and relaxing vacation (there aren't a ton of things to do on the island) then this is defiantly the place.