"Keep close to Nature's heart... and break clear away, once in awhile, and climb a mountain or spend a week in the woods. Wash your spirit clean."
-John Muir
This quote from John Muir ,"the Father of National Parks", couldn't be more true for me. Spending time in nature is such a nice break from the day to day hustle and bustle of the real world. Taking time to spend away from the city helps me recharge and really appreciate this amazing world that we live in. Nature is breathtaking!
My husband, one of our best friends, and I had started to plan a trip to Mammoth Lakes a few months back when we heard how much snow they were getting and that they were going to keep their mountain open for skiing and snowboarding throughout the summer. If you don't know, my husband, our friend, and I go on a yearly snowboarding trip every February. The thought of being able to get two snowboarding trips in this year was super exciting! Little did we know that this trip was going to be filled with much more than just snowboarding.
Mammoth Lakes isn't super easy to get to since it is kind of out on its own in eastern California. After a lot of researching, we decided to fly into Reno-Tahoe and drive to Mammoth. The Reno airport is about 3 hours from Mammoth Lakes. Every other airport that I look into was around 5 hours away.
Our trip started off rocky by us missing our early morning flight. Apparently, the entire city of Austin decided to all fly out on the same morning (it was the first weekend of summer, we should have known better) and it took us forever to check our bags and go through security. Since we missed our flight, we had to fly stand by and we ended up getting put on a flight that left two hours later than our original flight. Unfortunately, our friend didn't make it on that stand by flight. He was able to get on a flight out 13 hours later.
We made it to Reno and had 10 hours to kill while we waited for our friend to land. So what did we do for 10 hours? We started off by grabbing lunch at a cool brewery named The Depot. They had a great beer selection and really good food! We started off with the cornbread fritters, I got the fish and chips, and my husband got the burger.
After eating, we headed to the casinos! Before we started gambling we pulled into a parking garage, set an alarm for an hour, and tried to take a little nap in the car. We had gone to bed at midnight and had to get up at 3am to catch our 6am flight (that we missed), so we were pretty tired. Once nap time was over, we managed to blow through a few hours and a bit of cash and then headed to the airport to wait for our friend.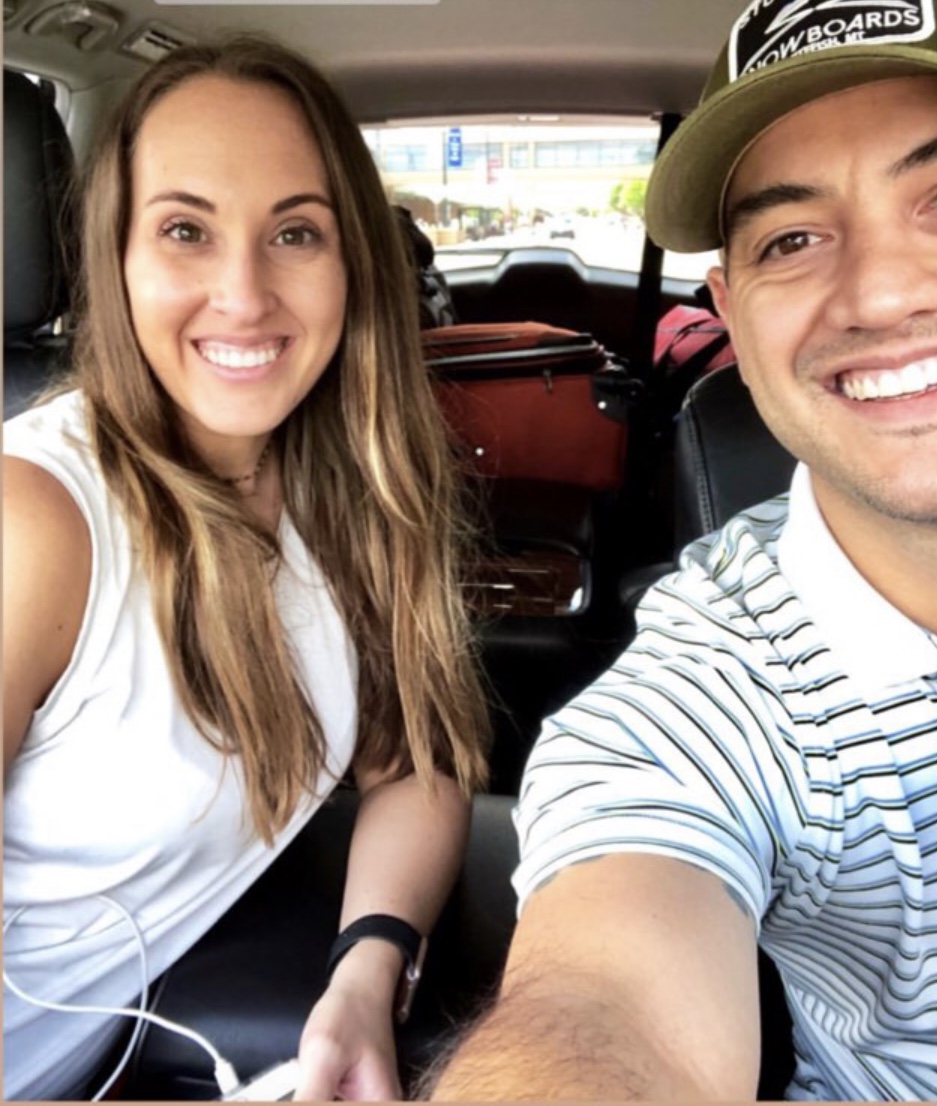 We ended up getting into Mammoth around 1:30am and went straight to bed. We rented a two bedroom two bath condo that was pretty centrally located to everything in town.
Once we woke up, we went and grabbed breakfast at a great place called Good Life Cafe. It had great reviews on Yelp and it didn't disappoint! I got the eggs benedict and it was amazing!
After breakfast we decided to drive around and explore. We ended up driving up to June Lake which was beautiful!
After taking in the scenery at June Lake, we headed back to town and hit up the local grocery store to stock up on goods for the week and then headed to dinner. One of our favorite things to do when we go to mountain towns is try the local pizza. We ending up going to a place called John's Pizza Works and we weren't disappointed.
The next day we got up, got ready, and headed up the mountain to the ski resort to get some snowboarding in. I am still shocked at how much snow was on the mountain. It was such a different experience than I am use to during the super cold months. I actually was getting hot and sweaty! It wasn't so bad while we were riding the lift or coming down the mountain, but once we got to the bottom of the run I realized I was so hot. Note to self: next time we go summer snowboarding wear less layers.
After snowboarding we grabbed some lunch at Burger's then headed back to the house to relax for a bit. Once we got some good nap time in, we headed to Wild Willy's Hot Springs to get a nice soak in and check out the sunset. This was one of my favorite things we did and the views were breathtaking. These hot springs are in the middle of nowhere with nature fully surrounding you. It was pretty amazing.
One of the other things we were excited to do was go hiking. We did some research on the app All Trails and found a hike that had great reviews and pretty views. When the road up to the trail head was closed because of snow, we should have known better. We thought it wouldn't be so bad to just walk up to the trail head from where the road was closed off. We were wrong. We ended up hiking in snow (uphill) for 2.5 miles till we got to the trail head and realized there is no way we could follow the trail because everything was blanketed in snow. So, we turned around and headed back the 2.5 miles to the car. At least we still had some great views!
The day after hiking we were planning on getting another day of snowboarding in but my husband ended up getting sick with a cold and wasn't feeling up for it. Since we weren't going to go snowboarding anymore, we needed to find something to do that day so we started researching. We knew hiking was out of the question (all the trails were covered in snow) and we pretty much had visited all the lakes in the area, so we decided to make an hour drive up north to an old ghost town called Bodie. Bodie is the largest unrestored ghost town in the west. It was pretty amazing to see how people lived in the late 1800's-early 1900's.
For our last full day in Mammoth, we hired a guide to teach us how to fly fish. First off, our guide was amazing and so easy to learn from. Secondly, fly fishing is way harder than I thought! Our guide took us to a park for the first hour or so and taught us how to use the rod and how to cast. Then we headed to the creek to try and catch some trout! The creek he took us to was beautiful and filled with tons of trout. We ended up catching 3 fish and hooking 5 ( I think). Troutfitters was who we went through to book our guide and they were great!
We definitely had some hiccups this trip between travel, sicknesses, me losing my debit card (oops), and not being able to check out Yosemite (the pass to get there was still closed), but over all this was another great trip that I am so grateful that we got to do. I would totally recommend taking a trip to Mammoth and soaking up as much nature as possible.
Where we stayed: VRBO
Places we ate: Good Life Cafe, Johns Pizza Works, Burgers, Epic Cafe, Gomez's Mexican, Delicious Kitchen
xo Kaleena