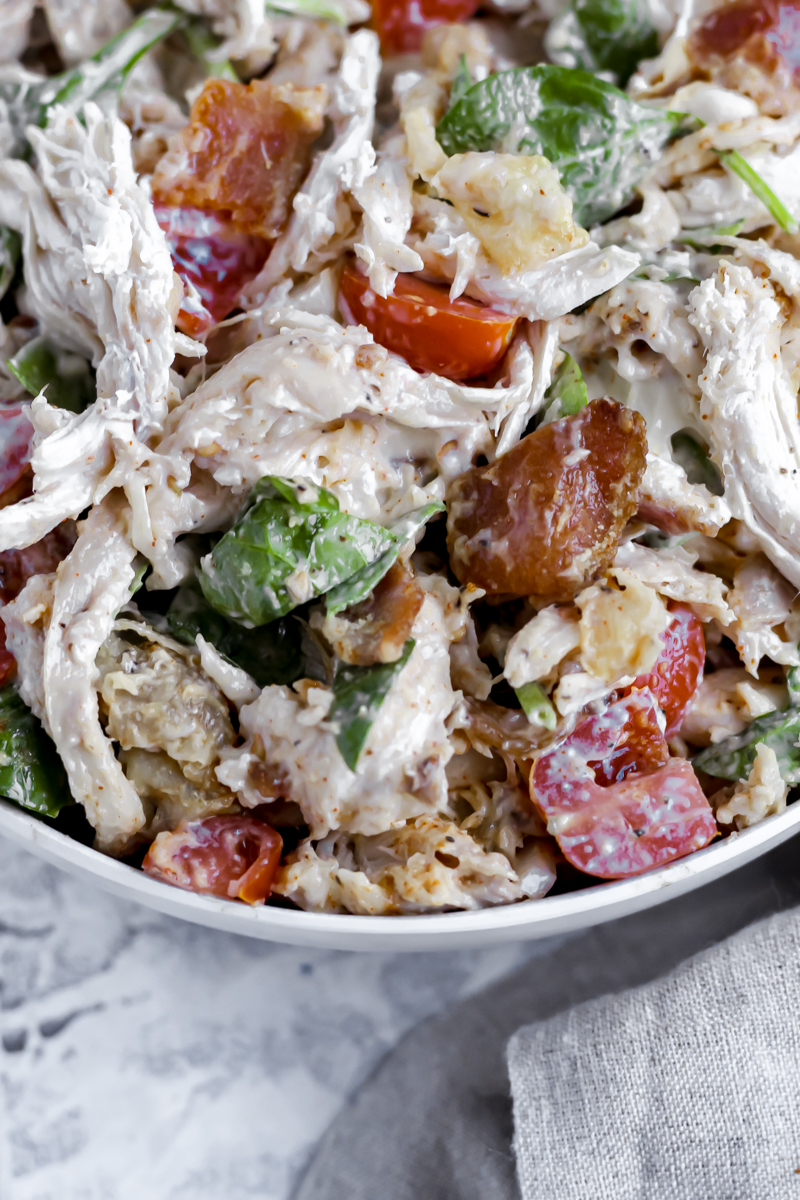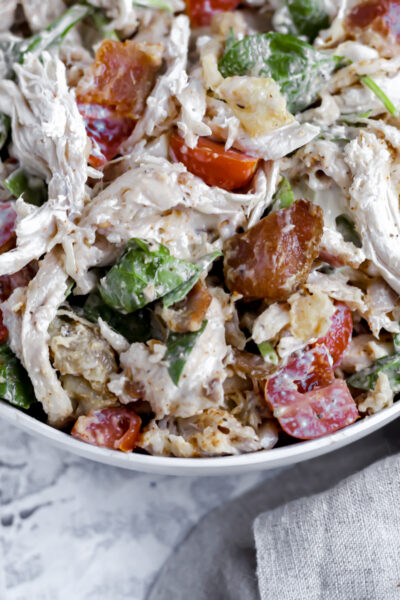 I love a good chicken salad! Chicken salad is one of those things that you can make a big batch of and eat on it for days. This Whole30 BLT Chicken Salad is so easy to make and is perfect for lunches on its own or you can use it to make lettuce wraps!
How to make BLT Chicken Salad
Making this Whole30 BLT Chicken Salad is super easy. What I find to be a game changer for this recipe is using a rotisserie chicken.
First you are going to debone the rotisserie chicken and put all the chicken into a big bowl.
After you are done deboning the chicken, you will cook the chicken till it's nice a crispy.
While the bacon is cooking, you will dice up the onion, tomatoes, and roughly chop the spinach.
Add all the ingredients to the bowl with the shredded chicken and combine well.
Substitutions
This Whole30 BLT Chicken Salad is so good on its own, or you can use lettuce cups and making these into BLT Chicken Salad lettuce wraps.
Another fun way to change up this recipe is to add pasta and make it a BLT chicken pasta salad. Adding pasta to this dish will make it not Whole30 or Paleo, but it would be great for after your Whole30 or for your Food Freedom.
I use rotisserie chicken for this recipe because it is so easy! Whole Foods plain rotisserie chicken is Whole30 and Paleo if you are wondering where to find one. The rotisserie chickens at my local grocery store are not Whole30 or Paleo. If you can't find a Whole30 compliant rotisserie chicken, you can use chicken breasts and cook it on the stove or poach it then shred it.
The mayonnaise that I use for this recipe is Primal Kitchen's Avocado Mayo. If you have a favorite Whole30 compliant mayo you like then totally use that!
If you aren't a big spinach fan, then you can swap out the spinach for whatever kind of lettuce you like!
Looking for more lunch recipes? Check these out...
Gluten Free Italian Pasta Salad
Bacon and Chicken Brussel Sprouts Salad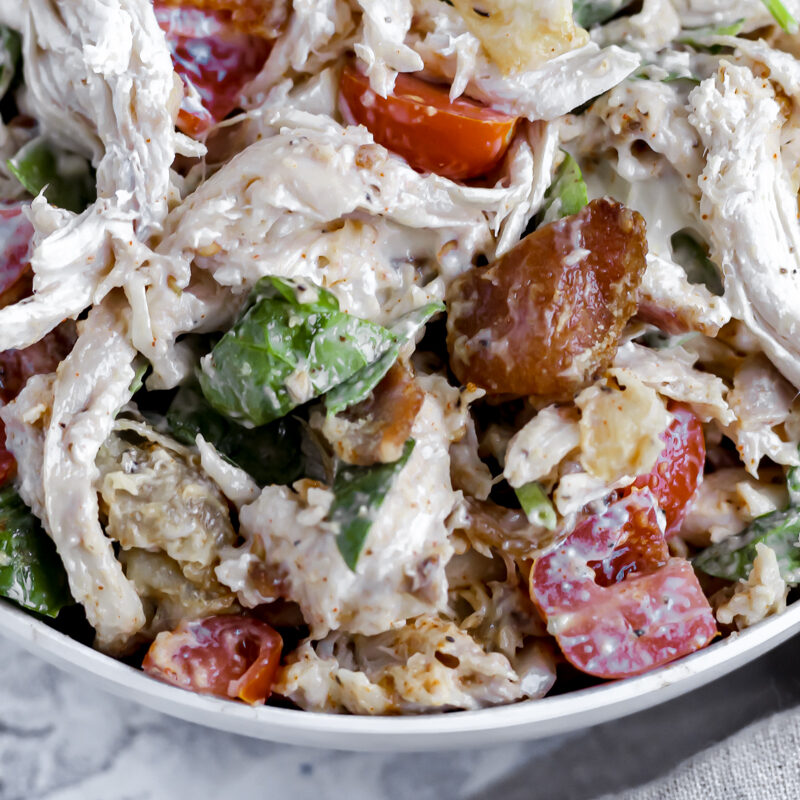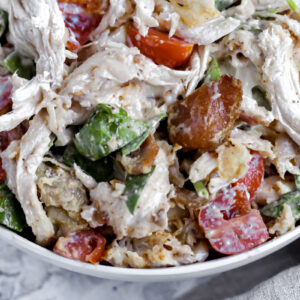 Whole30 BLT Chicken Salad
Whole30 BLT Chicken Salad recipe that is easy and delicious 
Ingredients
1

whole rotisserie chicken

shredded

1

cup

grape tomatoes diced

1

cup

baby spinach roughly chopped

½

cup

onion diced

4

slices

no sugar bacon

½

cup

mayonnaise

1

tsp

garlic powder

1

tsp

onion powder

½

tsp

paprika

½

tsp

pepper

¼

tsp

salt
Instructions
Cook bacon strips till crisp (whichever method you prefer. I cook mine on the stove top) and set aside

Shred the rotisserie chicken and place chicken in a big mixing bowl

To the mixing bowl with the chicken, add the mayo, tomatoes, onion, spinach, garlic powder, onion powder, salt, pepper, and paprika 

Crumble crisp bacon into the mixing bowl and combine all ingredients with a spoon Serve chilled as is, or this recipe is great with some added pasta of your choice (brown rice, chickpea pasta, traditional, etc.)
Share this recipe on Facebook