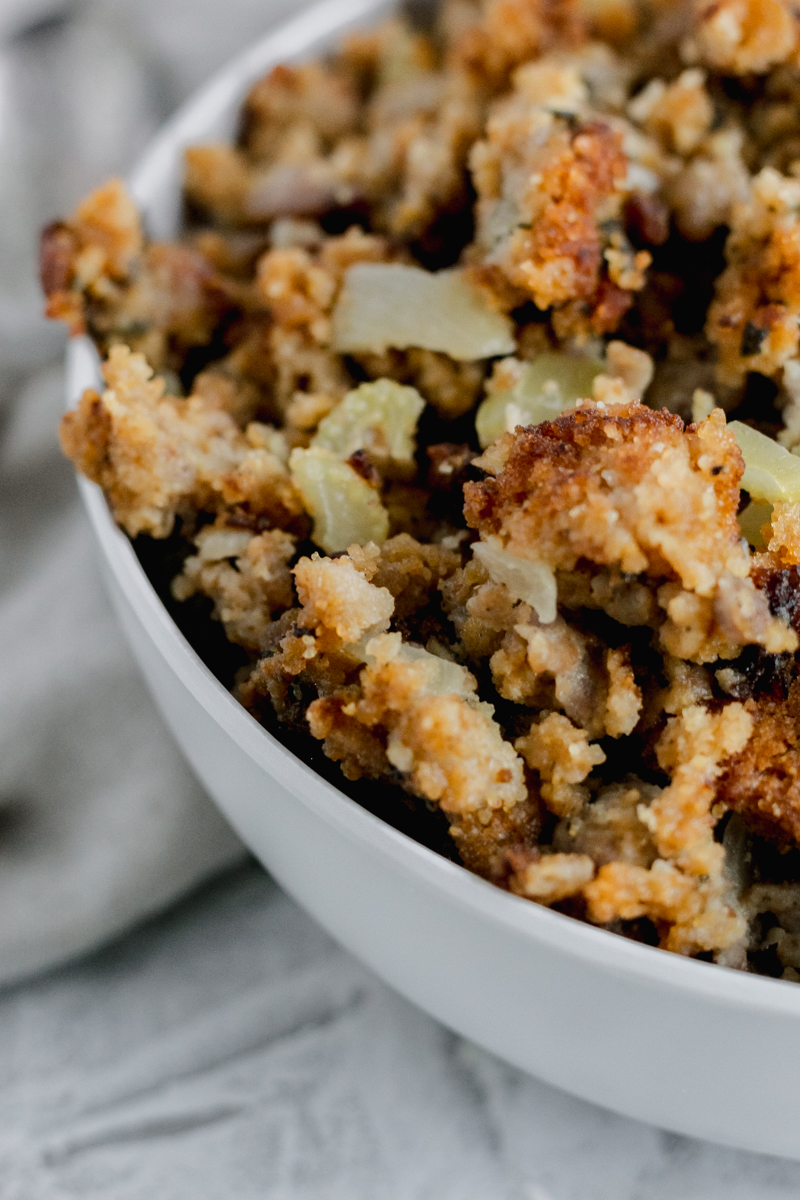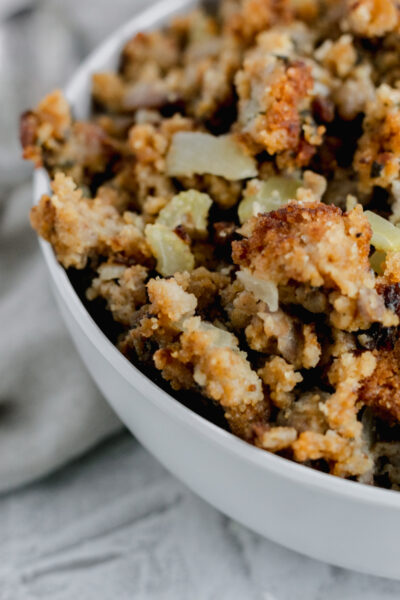 I feel like there are a ton of Thanksgiving dressings (or stuffing whatever you prefer to call it) recipes out there. This Gluten-Free Cornbread Dressing recipe is full of flavor and has that traditional comfort of Thanksgiving from your childhood.
One of the things that I find funny about dressing is that depending on where you live is what you call it. I did a poll on my Instagram stories to see whether people call it dressing or stuffing, and by a landslide, dressing won. But, I had a friend who grew up in Iowa message me shocked that dressing won. I then started paying attention to what people called it and noticed all the people from the south called it dressing and the people from the north called it stuffing. Do you agree?
Whatever you like to say, dressing or stuffing, this recipe is sure to be a crowd-pleaser! My husband's grandpa LOVES this recipe and requests that I make it every year. He says it tastes just like the dressing his mom made when he was young. Talk about tugging on my heartstrings!
So this recipe calls for gluten-free cornbread mix (I use my Easy Skillet Cornbread ), but you can use regular cornbread mix if you like! One trick/tip that I do while mixing the cornbread is adding some honey. And, if you are feeling fancy, you can use my Easy Breakfast Sausage recipe instead of buying the store-bought kind. Also, you can make the cornbread a day ahead (one less thing to do on Thanksgiving Day). If you make the cornbread a day ahead, leave it on the counter overnight to dry out. Follow the step for crisping the cornbread under broil still!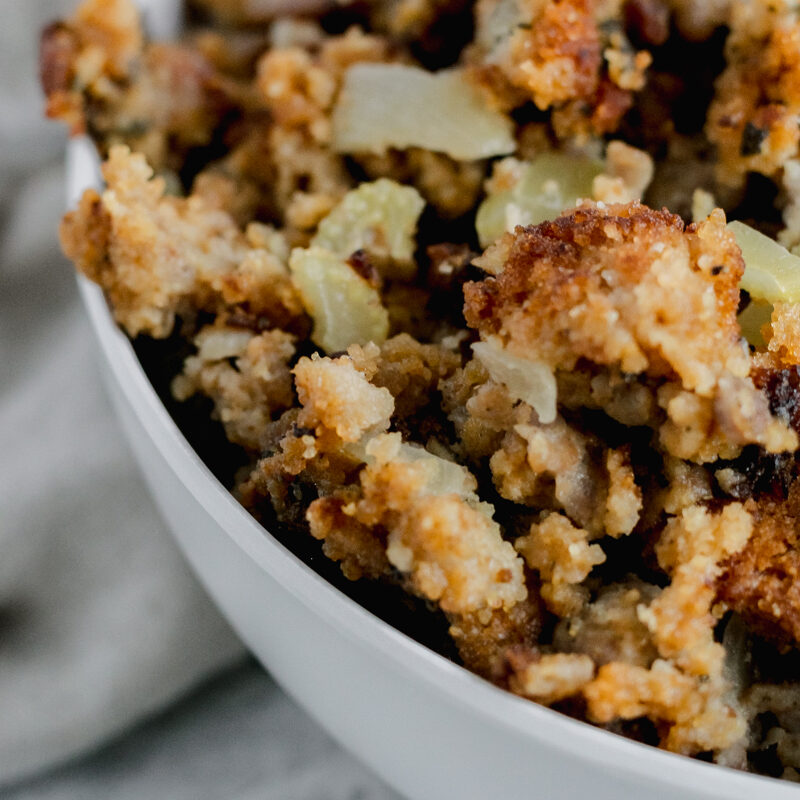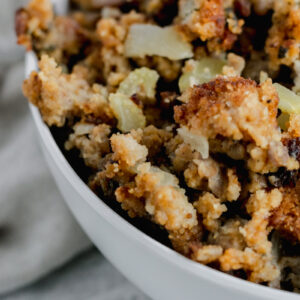 Gluten-Free Cornbread Dressing
A dressing recipe that is full of flavor and the comfort of Thanksgiving
Ingredients
4

cups

coarsely crumbled and toasted gluten-free cornbread

1

lb

pork breakfast sausage

2

cups

diced celery

1

cup

died onion

¼

cup

chopped fresh sage

1

cup

chicken broth or stock

1

egg lightly beaten

1

tsp

poultry seasoning
Instructions
Make cornbread according to package (I like to add some honey to the cornbread mixture...you can also do this a day before and leave it out on the counter to dry out)

While cornbread is cooking, dice celery and onion

Add celery and onion to a large pan and satué on medium heat with your favorite cooking fat (I like to use ghee)

When celery and onion are almost tender (about 4 mintues) add in the ground sausage and brown

Add cooked sausage, celery, and onion to a large mixing bowl

After cornbread is cooked, crumble 4 cups of cornbread and place on a cookie sheet, broil on high till crisp (about 5-6 mintues) Be sure to keep an eye on it so it doesn't burn

Turn the broiler off and preheat oven to 350

Finely chop the fresh sage and add it to the mixing bowl with the celery, onions, and sausage

Add the crisp cornbread, chicken broth, egg, and polutry seasoning to the mixing bowl

Mix together well and place in a casserole dish (9x13)

Cover with foil and bake for 45 minutes. The last 10 minutes cook uncovered
Share this recipe on Facebook