This post contains affiliate links. I earn a small commission if you choose to purchase through qualifying links.
As yall probably already know, I love anything with buffalo sauce. It's totally my jam. This Healthy Buffalo Chicken Dip is a house hold favorite! My husband requests it all the time.
If you don't know, the Whole30 community likes to do a big January Whole30 every year, which just happens to fall during playoff football season. When my husband and I did our first round of Whole30 we felt like there was no good Whole30 "football food" so this lovely recipe was born.
This buffalo chicken dip is not just great for football Sundays, it's a great weekend snack year round and is perfect for get togethers and parties. I also love to take this recipe and make my Buffalo Chicken Bacon Wrapped Jalapeño Poppers.
I like to use Primal Kitchen's Mayo and Frank's Original Hot Sauce in this recipe, which are both Whole30 compliant. You can totally make your own mayo or use a different brand of hot sauce, those are just my favorite.
To keep this Healthy Buffalo Chicken Dip Whole30 you can serve it with celery and carrots or for your life after Whole30, this dip goes great with crackers!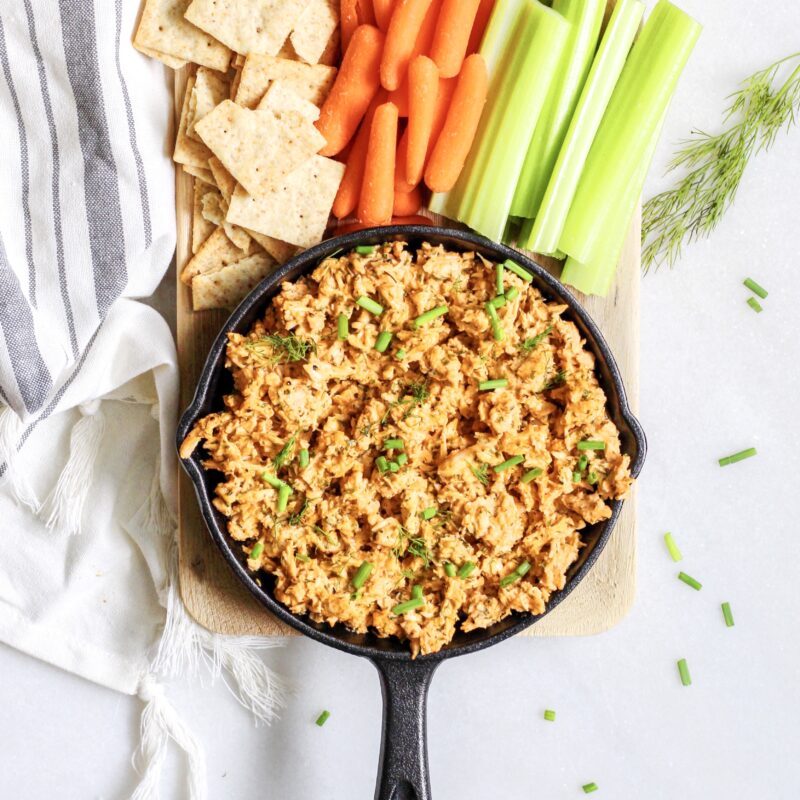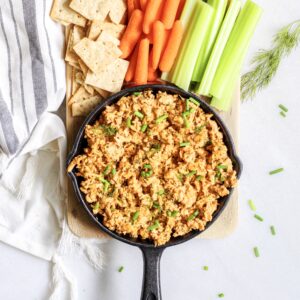 Healthy Buffalo Chicken Dip
A healthy buffalo chicken dip that is Whole30 compliant and an awesome appetizer for parties.
Ingredients
1

lb

Chicken Breast

¼

Cup

Whole30 Compliant Mayo

I like to use Primal Kitchen's Mayo

¼

Cup

Frank's Original Hot Sauce

1

teaspoon

Garlic Powder

1

teaspoon

Dried Chives

1

teaspoon

Dried Parsley

1

teaspoon

Onion Powder

1

teaspoon

Dried Dill

½

teaspoon

Salt

Plus extra to season chicken breast

½

teaspoon

Pepper

Plus extra to season chicken breast
Instructions
Preheat oven to 350°

Cut chicken into cubes and season with salt and pepper

Cook chicken on medium heat for about 6 minutes

When chicken is cooked through, transfer to the food processor and pulse till chicken is shredded

Place the shredded chicken in a medium sized mixing bowl then add mayo, hot sauce, and all the seasonings

Combine well and transfer to an oven safe dish and bake for 15 minutes (optional: garnish with fresh dill and chives)
Share this recipe on Facebook