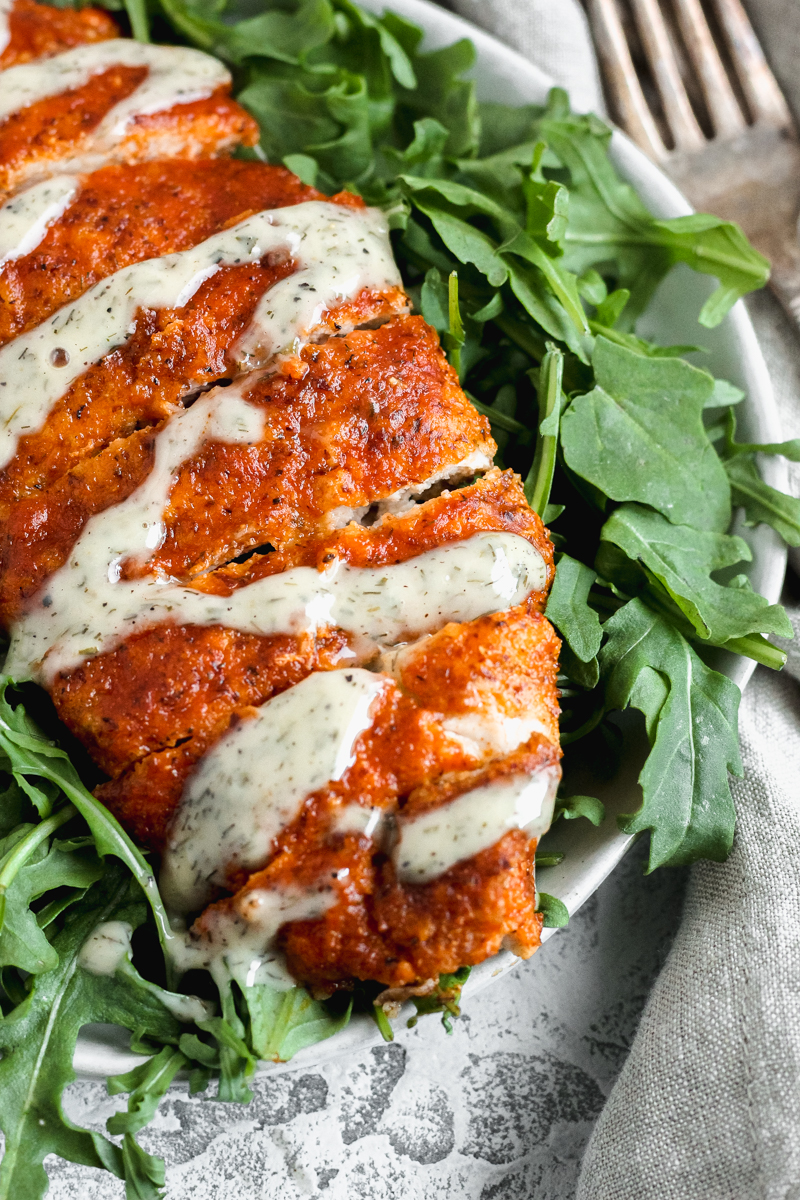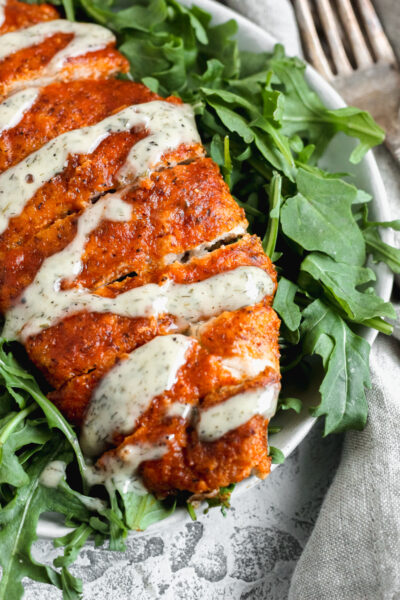 If you're new around here, just know that I love anything with buffalo sauce. So much so that I have quite a few buffalo chicken recipes, like Whole 30 Buffalo Chicken Dip, Whole30 Bacon Wrapped Buffalo Chicken Jalapeno Poppers and Whole30 Buffalo Chicken Meatballs. Now I can add these Whole30 Crispy Buffalo Chicken Breasts to the book!
One of the things I love the most about this recipe is that, in my opinion, it tastes better than buffalo chicken that you get at a restaurant. It's so full of flavor and makes for a great weeknight dinner when paired with veggies or a salad.
Tips
One big tip to keep in mind while cooking these Whole30 Crispy Buffalo Chicken Breasts is to not keep flipping them in the pan. Since they are coated with almond flour, if you keep flipping them then the coating will start to fall off. I just flip them one time and that's it!
In the recipe directions, it says to place the chicken on a cooling rack and cook under the broiler for a few minutes after you cover the chicken in the sauce. You definitely don't have to do this step, but I feel like popping them under the broiler for a few minutes helps to make them really crispy.
Pairing these chicken breast with Whole30 compliant ranch, like Tessemae's Creamy Ranch, is like the cherry on top!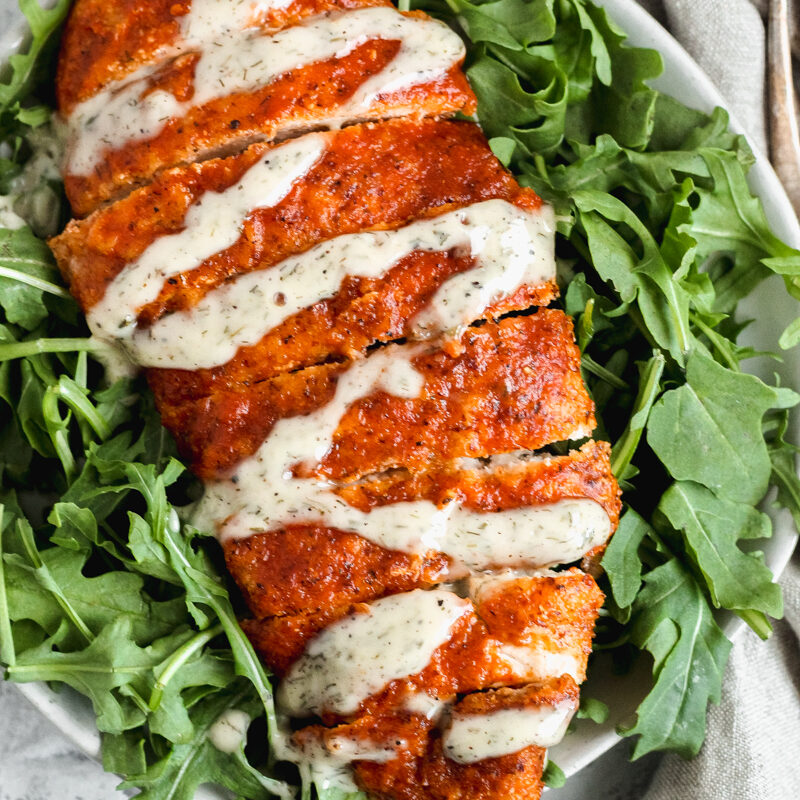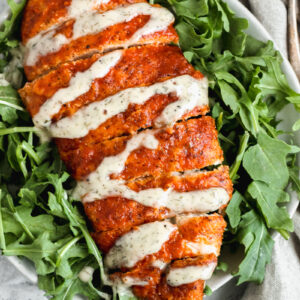 Whole30 Crispy Buffalo Chicken Breasts
Crispy chicken breasts that are full of buffalo flavor
Ingredients
2

chicken breasts

1

egg

¼

cup

almond flour

2

tbsp

tapioca flour

1

tsp

garlic powder

½

tsp

onion powder

½

tsp

dry parsley

¼

tsp

salt

½

tsp

pepper
For the sauce
¼

cup

Franks Hot Sauce or Crystals Hot Sauce

½

tsp

ghee

½

tsp

garlic powder
Instructions
Heat a tablespoon of cooking fat of choice in a skillet (I prefer to use ghee)

Whisk the egg in a small to medium sized bowl

Add the chicken to the bowl with the egg and stir to coat

On a small plate, combine the amlond flour, tapioca flour, garlic powder, onion powder, parsley, salt, and pepper

Using a fork, pick up one chicken breast at a time and place on the plate with the almond flour mixture and flip to coat both sides

Place coated chicken in skillet and cook 5 minutes a side (depending on how big your chicken breast is) making sure to only flip the chicken once

While the chicken is cooking, add the sauce ingredients to a medium sized sauce pan and heat on low

Once chicken is cooked, use a fork to pick up the chicken and place it into the sauce pan to coat with the sauce

Optional- after coating chicken with the sauce, place chicken on top of a cooling rack that is on top a foil lined cookie sheet and place under the broiler for 3-4 mintues
Share this recipe on Facebook